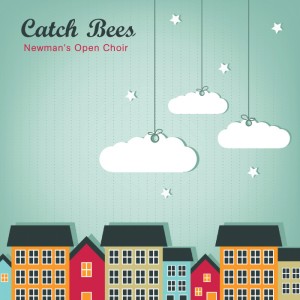 Catch Bees, the newest project from Philip Waggoner (of Sunshine House), is poised to release it's debut album, Newman's Open Choir, on Saturday night at Everyday Joe's Coffee House in Fort Collins.  Quite simply this album is a triumph.  Flirting with everything from Americana to Classical, Newman's Open Choir takes the listener on a musical joyride through genre after genre and it's impossible not to marvel at the artistry infused into each as they wash over the eardrum.
The record begins with 45 seconds of feedback that gradually builds tension until it is resolved by a few notes plucked out on an acoustic guitar.  About minute in, Waggoner's voice softly slips into mix with a sense of maturity often reserved for more seasoned artists.  Accented with strings, horns, and a variety of other instrumentation, the album displays well thought out and carefully arranged songs that bring to mind bands like Wilco, Beach House, and The Head and the Heart while not paying tribute to any one influence explicitly.  It's a delicate line to walk and Waggoner does it gracefully.
While this is an album that should be listened to straight through, from beginning to end like folks did in the old days, there are a few tracks that stand out upon first listen.  "Atlanta," takes Folk Pop to another level with triumphant horns that give way to shuffling drum beat, well placed electric guitar licks, and a swelling organ that ties everything together to build a song that will stand up well to repeated listens.
Midway through the record, Waggoner offers the listener a brief escape from the lyrical world of the album with a four minute solo piano piece entitled "St. Thomas."  The piece clearly draws on a deep knowledge of classical music and composition, and while "St. Thomas" is indeed a departure from the rest of the project, it somehow fits in alongside the more pop flavored songs like an old friend.
As the album draws to a close, the curiously upbeat "Summer Theme" surges and recedes with a chorus of sunny background vocals warming the edges of the tune as strings swirl ominously in the background as if forecasting the arrival of the the darkly majestic "Wild Beasts" which rounds out this wildly creative and stimulating collection of songs.
If this debut record is any indication, Catch Bees has the potential to make a indelible mark on the music scene here in Colorado and across the country.  This is thinking man's Dream / Chamber Pop that Philip Waggoner has created, and it is bound to appeal to a wide range of music fans who enjoy listening to music with an educated ear.
Don't miss Catch Bees at Everyday Joe's in Fort Collins on Saturday March 3rd
and at The Walnut Room in Denver on Saturday March 10th 
Music has always been a part of my life. It probably all started listening to old Grateful Dead, Peter Paul & Mary, and Simon & Garfunkel records that my parents had, but it wasn't long before they were taking me to concerts like Starship, Crosby, Stills & Nash, and Huey Lewis & The News. I got the bug to write about music after reviewing an Eric Clapton concert for a creative writing project in high school but didn't really take it up seriously until 2002. Since then I have published countless articles in The Marquee Magazine and done some work for Jambase.com, SPIN Magazine, and various other outlets. I started Listen Up Denver! as a way to share the music information that is constantly spilling out of my head with people who care. Please enjoy!