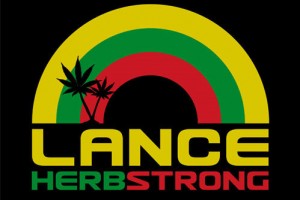 The trio known as Lance Herbstrong have just returned from  playing Mayan Holidaze in Mexico where they shared the stage with The Disco Biscuits, Umphrey's McGee, and STS9.   Back from beach blanket bingo,  they just dropped their second album, and have already begun work on their third.  At home in Austin, Kamal Soliman took a rare free moment to talk to us at Listen Up Denver! about Meth for Breakfast, Colorful Colorado, and the Wakarusa Music Festival.
Listen Up Denver!: For our readers who are not familiar with Lance Herbstrong, how would you describe your sound?
Kamal Soliman: For anyone who is not familiar with what we do at all, I would start by saying that it (Lance Herbstrong) is a DJ based musical project that is really about remixes and mash ups of songs of all genres that we love, with live instrumentation on top.  Peter DiStefano, from Porno for Pyros, is our guitar player and then myself and Bill Sarver as the two DJ's. It's a very reminiscent sound, we like to combine the familiar with the new electronic sound of today and I think its evolved into something that people have now identified with us as our "Lance Herbstrong" sound. We are having a great time doing it and I don't foresee us stopping…ever.
LUD!: You guys just dropped your second album, Meth Breakfast.  What can we expect from the new album?
KS: Meth Breakfast is a rock and roll record.  Each of our albums…well it's only our second record right now but we are already in the works on our third…each album kind of has a distinct feel to it. We didn't really plan it that way but both of these records just happened to be a collection of songs that we have been working on over the course of "X" amount of months. Tokelahoma kind of came together with a lot of reggae on it…it's a little bit of everything that we do with a very chill sound while still being upbeat. Meth Breakfast is rock and roll predominantly and its very high energy right out of the gate.  There are a lot of very familiar, very famous classic rock songs, as well as a couple of new gems that people probably haven't heard that we have put the Lance Herbstrong spin on. It is an exciting record. It's symbolic of party go time [laughs] for lack of a better term. It's a record that will fire you up. Whereas Tokelahoma will put you more in a groovy chill space, Meth Breakfast is exciting and upbeat. Again it is familiar, but in that old rock and roll way.
LUD!: So, why the title Meth Breakfast?
KS: You know, I've been thinking about the proper way to explain this to a lot of people because we certainly have been met with resistance to the album title and the metaphor that we chose.  We don't take any of this too seriously, obviously none of us are meth heads, it's not our drug of choice.  We decided early on that we would frame these records to be symbolic of its own type of high.  Weed was the predominant one in Tokelahoma.  Originally "Meth Breakfast" was actually just a term, an inside joke.  We drove  from Chicago with tons of traffic to get to Electric Forest and just barely made it to our scheduled set time.  We played back to back sets from three to five in the morning.  We still had to set up camp for the weekend and it turned into a disaster. We couldn't get anything done by the time the sun came up we ended up passing out in the shitty little tents we had, and were joking that we were going to need some meth for breakfast in order to pitch our tents. It was just a silly term, and it stuck. We quickly realized that our second collection of songs was shaping up to be a lot of rock and roll, and then decided to categorize the sound and matched it with the drug. The appropriate high energy drugs are either Cocaine or Meth and Meth Breakfast just kind of stood out because it's super intense right out of the gate. When people see the artwork they may be very surprised. It's kind of like we almost fancy ourselves as a modern day Spinal Tap of sorts. Somebody was comparing Meth Breakfast to Spinal Tap's record Smell the Glove.
LUD!: Like your first album, Tokelahoma, you guys have chosen to give your new music away for free.  Can you share the groups thoughts around this?
KS: Well most of what we do are unlicensed remixes.  So, the music industry being what it is, trying to pursue something from the original artist and publishing companies can take months and cost tons of money.  The songs that we are going after a lot of times are the iconic songs by some of the biggest groups ever and we realized early on that it's an uphill battle and wasn't really worth it. We do this for ourselves. Bill and I started this as a project for fun, it was never intended to be a live thing.   I actually worked in the music business,  I was tour manager for Thievery Corporation for the last three years and just recently gave it up.  With my  third child I wanted to be home more and make it possible to go on the road with Lance Herbstrong.  One of our early songs was a mash-up of a Manu Chao track with a Thievery track and that song kind of jump started things for us. I mean people noticed it, both artists heard it and loved it.  Thievery's label ESL Music commissioned a few more remixes for their artists from us, which were very successful.  We actually have three songs for sale that ESL licensed and once we had records out we had some saints in the industry around us that just booked us to play some shows and open for some other bands. The reaction right away was very positive and we realized we had something. Pete quickly came on board and joined the band because we  remixed a Porno for Pyros song and he was a friend.  But, going back to your original question, we have done this for fun. Bill and I started doing this just for ourselves. We resonated with people and our original intention was not to make money, although it would be nice. We just want to get with everybody else, and more often than not these days, people are giving their music away to get the attention of the concert going public. It has allowed us to become a profitable touring band, even in our first year. We have no plans to change that any time soon.
LUD!: I understand that you recorded your first music video ever for "Dragon Attack," and it released earlier this month.  Tell us a little bit about that experience.
KS: Yeah, actually the video had really little to do with me and the other guys in the band. The guy who made it is a high school friend of mine, Scott Forrester.  He has been living in LA and doing the actor and film thing for quite a number of years.   I passed him an advanced copy of the record and he loved it. "Dragon Attack" resonated with him; it kind of gave him the kick in the ass to do something on his own.  He asked for permission to use this song, and  to cast and shoot the video.  It was really his concept,    the whole thing, including the culmination of the female fight club at the end. It was in line with something we would do on our own, and it was at no cost to us. He made that video for a couple hundred dollars and a lot of volunteer time from the people involved. It turned out great! He did it on the premise of, hey, if you don't like it, we won't put it out. But he did it, and I thought it was shot very well, and edited very well.  For a lot of people that didn't know the original song, they thought the  video made the song come to life for them.
LUD!: So I know you are no strangers to Colorado and have played here several times in the last twelve months.  What do you enjoy most about our state?
KS:  We consider Colorado almost our second home. We have probably played in Colorado more that we have played anywhere else. Certainly more than we have played here in Austin. We love it there. I think most of the youth are open minded; they know what they like in music and they are willing to go see it and give people a chance.  We have had some opportunities at the Belly-Up that worked out well and a friend of mine from Austin opened the 1UP in Denver.  We played his grand opening party as well as his New Year's Eve celebration. Colorado has been great. We did the Collegiate Peaks Music Festival, Cervantes', and the Larimer Lounge; it's just has been good man. We get a lot of support from the people there and we just love to go back.
LUD!:  So, you played Wakarusa last year. Can you share with us your favorite memories of playing in 2011?
KS:  Wakarusa was a little bitter sweet for us last year, but we are back on it this year which is great. Normally bands don't necessarily get to play back to back, especially if they are a smaller band like us. What happened last year was on the last day we were supposed to play on the main stage right before EOTO, which was a killer spot, and probably would have gotten us some great exposure. Then, at the last minute, they decided to shut the main stage down because too much of the crowd had left and they didn't feel they could have the main stage going with the split of audience. So they moved us and EOTO to different tents. We ended up in a time slot that did not originally exist, and we were competing with EOTO, as opposed to going on right before them.  We made the best of it.  We had a little audience and invited everyone up on stage.  It was great, we had a blast. The people that were there were really into it and we felt good about it in the end.   I was there all weekend with Thievery Corporation as their tour manager and we had an amazing time, and we are fortunate to be asked back again. I need to give credit to the promoters for making right about what happened last year and giving us another chance. We are going to do two sets and we are really excited about it. It's a great festival and we can't wait to get back there.
LUD!: Well the 2012 lineup is featuring some great acts including EOTO, Pretty Lights, Matisyahu, and of course two sets from you guys. So when it comes to this year's line-up, who are you looking forward to seeing the most?
KS: Actually I am really excited about A.Skillz & Krafty Kuts. I am excited to see those guys. We play A.Skillz & Krafty Kuts tracks in our longer sets. If we do smaller sets we usually keep it to anything we have remixed or put our touch on. There is probably only about a handful of tracks we play out that we have not edited in some way.  One of the unique things about a Lance Herbstrong show is that you are going to hear songs that you know, but you are going to hear them differently. There are a couple of A.Skillz & Krafty Kuts songs that we play in a longer three or four hour set.   We appreciate what those guys are doing, and I am curious to see their vibe and say hello.
LUD!: You guys have played a lot of festivals including Lollapalooza.  What is it that makes Wakarusa different than other festivals you have played?
KS: Well, for one, most of the festivals we have played have been urban settings and Wakarusa is in the hills, country camping, which you can't duplicate in an urban setting.  I work for C3 Presents and we produce Lollapalooza, Austin City Limits, and a number of big events.  Most of those events are in urban areas and they come with a whole host of challenges. Wakarusa is a camping style festival… I think there is a feeling that you get at an all-night place that is pure, safe, and in nature, that you just can't duplicate anywhere else. So, I would say Wakarusa is unique and beautiful.  Also, at Wakarusa you can step outside the fence line.   I remember last year I walked down to some little waterfalls on a creek and it was just so beautiful. There were a bunch of kids just swimming and smoking and you could walk right back up and get into the concert…it was amazing.
Listen up Denver…check out two tracks from the new album right here.  "Stroke Me"and the video for "Dragon Attack."  Trust me Denver, these boys are like the gov't cheese on an Original Chubby's burrito, and you just won't be able get enough.  Lucky for you, Lance Herbstrong's  new and improved strain of music  continues to be dispensed free for your listening pleasure.   Grab your free copy of the new album Meth Breakfast now and give these guys a try.
Wherever the music is, you'll find me with my camera, shooting on street corners, from barstools at clubs, from the side of the stage at theaters, and from photo pits in places like Red Rocks. Clicking away, trying to capture the emotive essence of music, and all those moments that we forget because of one too many Pabst Blue Ribbons.