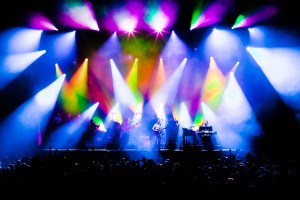 Photo by Chad Smith
Why You Should Go: Fans who have followed Umphrey's McGee for any period of time know that there are only two guarantees: you never know what you're going to get, and Umphrey's always delivers. Whereas this band's stellar reputation is based on marathon concerts that mix original, technically demanding tunes with complex epics and playful covers (ranging from Toto to Metallica), it has chosen the same kind of attention to melody, songcraft, and musicianship that make those artists stand apart. Umphrey's chemistry, however, is something all its own, built upon a relentless live schedule of 100-plus shows a year, a solid base of musical training, and friendships that go back to when they walked in the shadows of the Golden Dome at the University of Notre Dame. These days, the band plays for crowds from all over the US and beyond, and incorporates a sophisticated mix of cutting-edge technology, including a stellar light show.
Opening the show will be Jimkata, an electro rock act out of Ithaca, NY.  They blend heavy beats, synthy hooks, and big guitars to create music with both modern and timeless appeal.
Venue: The Fillmore Auditorium – 1510 Clarkson, Denver, CO  80218 – (303) 837-0360
Doors: 7:00 PM
*Price: $35.00 Buy Tix
*All times and prices are gathered from other sources and we am not responsible for mistakes or inconsistencies. They are intended only as guidelines. Please, always call the venue if you desire the most accurate information possible.