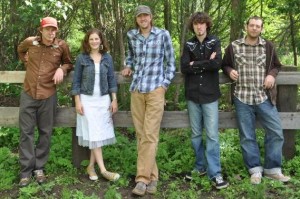 Photos of Southern Sun Show by Jon Prins
The Scene: Dead Winter Carpenters hail from the beautiful North Side of Lake Tahoe so they are no strangers to the mountains. For the last two years the group, made up of Jenni Charles (Fiddle, Vocals), Jesse Dunn (Guitar, Vocals), Sean Duerr (Guitar,  Vocals), Dave Lockhart (Upright Bass) and Ryan Davis (Drums), has been injecting their roots inspired rock into many different markets across the country but they have found a second home right here in Colorado.
With this being the last Monday of the famous Mountain Sun Stout Month, many folks showed up early to grab a few of the special beers that were flowing freely. DWC are frequent visitors of colorful Colorado and have built up a solid fan base. Many of these diehard fans are slowly becoming friends with the band and that in turn is morphing some DWC shows into more of a community gathering than a concert.
Dead Winter Carpenters:  The band burst out of the gate with a new song called "Walkin'" to start the show and then blazed through some more new tunes including "Detrimental Tendencies," "Forty Four," and "Devil Town."  The audience soaked up these new numbers and responded enthusiastically as they settled into the show. "Leavin' With A Smile > Tahoe Girl" was the next combo that really got the crowd moving and then an announcement of a special guest perked the interest of many faces in the crowd. Oakhurst mandolin player, Max Paley, emerged to sit in with the Carpenters for the rest of their set and contributed to several highlights including a rocking "Sun Don't Shine," and cover of Neil Young's "Hey Hey My My." The familiar tune, "Funky Bitch," popularized by jam titans Phish but written by Son Seals, had the room vibrating. Both band and audience were clearly having a great time with this number.
After a short break for a delicious stout, the group returned for their second set. Moving forward and trying to get some more of their new songs out to fans, The Carpenters delved right into four new songs of their upcoming album. "Cabin Fever" kicked things off while "East on 8″ wrapped up the run of great new material. A very percussive take on Scissor Sisters "Take Your Mama" allowed the band to stretch out for a bit before eventually settling into the traditional "Old Home Place." The band closed their second set with a furry as they tore through Dunn's "Holy Moses" which segued into the fiddle tune "Elzic's Farewell" before slipping back into "Holy Moses." The Irish fiddle tune "The Road to Lisdoonvarna" finally ended this fabulous hoe down.
Dead Winter Carpenter's clearly feel very welcome here in Colorado and plan on returning many, many times in the near future.  "We love the Rocky Mountain hospitality, and it's become a second home to us," said guitarist Jesse Dunn. I know in a few weeks, many will be longing for the Carpenters to come back home and rest assured that these guys have big plans set for the festival season. Catch these guys before they get big!
Energy: A-
Sound: B+
Musicianship: A
Stage Presence: A
Set/Light Show: N/A
Overall: A-
I am a live music junkie, photographer, traveler and free spirit living in Boulder, CO. Going and seeing live music is my passion. Taking photos of various subjects has become a very enjoyable hobby for me over the years. Going out and capturing live music, scenic landscapes and candid shots of people are what I really like best.