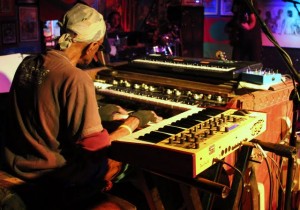 Photos by Jon Prins
The Scene:  When I walked into the vibrant, yet mellow, Quioxte's with plenty of time before the show started, there was already a decent group of hardcore fans huddled around the stage, eagerly awaiting the arrival of Steve Kimock and keyboard legend, Bernie Worrell.
While many people were there to see this music icon live for the first time, Steve Kimock has been blowing people's mind for quite some time now. Sadly, he still remains relatively unknown to a vast majority of music fans out there outside of the Jamband community. He has played with most of the jam scene's biggest stars including Jerry Garcia. Tonight, he would lead a cast of highly skilled friends through some great Kimock tunes and covers. His friends consisted of the legendary Bernie Worrell (Parliament Funkadelic, Talking Heads) on keys, Andy Hess (Gov't Mule) on bass, and Wally Ingram (Stockholm Syndrome) on the skins. This lineup looked powerful, and oh did they deliver.
Steve Kimock:  The group kicked things off with the Kimock original "Cole's Law." This melodic song is a Kimock staple and that takes you on a great musical journey. Most of the songs in the first set clocked in at over fifteen minutes and allowed the group to stretch these songs out and not force anything. They Just letting these songs develop as each player contributed his own style. "Thing One" was a great show stopper that came midway through the set. Kimock started the song with the familiar guitar intro, then the rest of the guys came in and carried this tune to new heights. Kimock's riff remained the core of this number but during the jam, the rhythm section laid down a solid groove that allowed Bernie Worrell to contribute a fantastic keyboard solo while Kimock relaxed in the shadows. This song clocked in at over twenty minutes and every second of it was pure magic. Marvin Gaye's "Inner City Blues" featured guest vocalist, Kim Dawson and her sultry voice melted many hearts in the crowd. This upbeat number had the audience ready to rock as they anticipated the second set.
Unfortunately, the crowd on this particular night was very chatty. It seemed like wherever you went, in the front, or in the back, many people were simply talking and not paying any attention to the music. At several points during the night the band even asked people to quiet down. To me, having the band ask us to simmer down was totally acceptable.
Early in the second set, the group busted out with an untitled new tune and Kimock had some incredible guitar work on this one. As he led the charge with his warm, soothing guitar tone, another new track entered the fray. Many fans were pleased to have a few new tunes to digest but a slew of covers would help end this rockin' second set. All Saint's "Rock Steady" with Kim Dawson on vocals had the crowd getting down hard. Kim sang lead again on a tune familiar to Bernie Worrell, The Talking Heads' "Take Me to the River." Than another first for many people including myself was seeing Bernie Worrell sing. While I knew he sang on his solo record, I have never witnessed him belting out any lyrics live and in the flesh. George Clinton's "Red Hot Mama" was the song that Worrell took lead on and this was a great way to end an extraordinary night of music.
After a few minutes off stage, Kimock returned and asked the audience if we wanted one more. Sadly very few people were enthusiastic about an encore and were instead more interested in chatting with others and just not paying attention. Kimock shook his head and left the stage, deciding not to return for an encore. I was upset with the crowd and so were a few others. Despite the obvious chit chat during the show, the music was amazing. It was another great Steve Kimock show and one can only imagine how good the next night was. As always, it was a great honor and pleasure to witness this one of a kind guitar wizard.
Energy: B-
Sound: A-
Musicianship: A+
Stage Presence: A-
Set/Light Show: B
Overall: B+
I am a live music junkie, photographer, traveler and free spirit living in Boulder, CO. Going and seeing live music is my passion. Taking photos of various subjects has become a very enjoyable hobby for me over the years. Going out and capturing live music, scenic landscapes and candid shots of people are what I really like best.