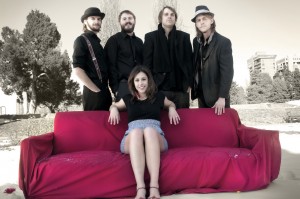 The Scene: Cervantes' Masterpiece Ballroom hosted a dual venue event dubbed "The Spring Thaw Showcase" last weekend and seven local bands were given the chance to "showcase" their talents on two different stages. These bands would normally not play the stages they were on, but were given the opportunity… if they provided some sweat equity leading up to the night. Bands were given tickets prior to the show, and they hit the streets promoting the evening, and giving the tickets away so people could get a chance to see them strut their stuff. It was obvious that a couple of the bands did a majority of the room filling, but everyone floated back and forth between The Ballroom and The Other Side, listening in on some new sounds in the process. Hot Cheeze Soup, Twine!, Jeff Brinkman, Your Babies Daddy, Rocktin Grove, Hey Rosetta!, and The Oak Creek Band all performed but unfortunately I could only be in front of one stage at a time.
Jeff Brinkman: When I arrived at Cervantes', I chose The Other Side as my starting point. Jeff Brinkman was in the middle of an energetic set, and the songs I heard charmed both me and the crowd. Singer-songwriter's can pull away from the pack in various ways and Brinkman does it by combining solid song writing with an upbeat and positive stage presence. He doesn't just stand up there strumming and singing; he puts emotion into his set, moves around, and connects with his audience. Mark Kranjcec accompanied Brinkman on acoustic guitar, and he delicately added a different guitar tone to the equation.
Rocktin Grove: Next up on The Other Side was Rocktin Grove.  As seven musicians filled the stage, the room got filled with some of the most unique genre melding tunes I have heard in a while. First off, these guys bring the funk…straight up. They were laying down grooves that pulled nearly everyone into the smaller venue, and pulled me right into their fan base. When I go out to hear local music, I want to have fun. I want to see a band to give it their all, and not be able to contain their new-on-the-scene excitement. Rocktin Grove just recorded their first demo at the end of January, so they are defiantly new on the scene, and they sure put every ounce of their souls into the set.
When the Rocktin Grove played funk, it looked like that's what they were meant to do as they rhythmically bobbed their heads and got us all to do the same. These guys could have stopped there, just focusing on their funky side, and I still would have been blown away but they had so much more in their arsenal. Electric Mandolin, Fiddle, Sax, Banjo, Acoustic Guitar, Drums, and Electric Guitar all poured out sounds influenced by Jazz, World music, Rock, Classical and Bluegrass. I am so glad I came across such a newly launched and well executed project!
That all said, the potential for disaster was there. All those different instruments and sounds could have awkwardly run into each other and tripped all over the stage and considering Rocktin Grove are just getting started, I kind of half expected that to happen. Instead what I saw was a tight, professional and surprisingly smooth and fluid set. These dudes may be new to playing in this formation, but they obviously are each experienced musicians. I can see these guys opening up for Fox Street All Stars or Kinetix, and getting a very warm response. Rocktin Grove is sure to join the ranks of Denver's best and most fun loving bands if they keep putting in the work that was evident in a set like this one.
Oak Creek Band: Based on the crowd size and their connection to the music, The Oak Creek Band was who people came out to see. Originally hailing from Sedona Arizona, The Oak Creek Band is now calling Denver home, and they have really gotten their name out there and established themselves on the scene.
When they hit the stage, their sound was not at all what I was expecting. The band's name evokes thoughts of country and roots rock, and although there were bits of both, it was not in the rowdy or rough and tumble way I had envisioned. What I heard was more refined late seventies early eighties radio rock that at times reminded me of something like Sheena Easton's "My Baby Takes The Morning Train" or mainstream Fleetwood Mac. Their music also had a transcendental feel, and hints of new age spirituality. I love surprises, and this was a sound that that had an identity all its own.
The harmony filled vocals were laced with pop and soul, and the lyrics were thoughtfully meaningful. This band seems to want to connect with fans on a deeper level, and the fans seemed to want to reciprocate. The Oak Creek Band's music is highly energetic, especially when their indie rock side comes out, but it is also surprisingly soothing. They had a great turnout, and they seem to have already established some roots here in Denver.
The Oak Creek Band expressed their gratitude to the crowd and Cervantes on numerous occasions, and even stated that playing Cervantes was a dream of theirs. They also said that playing the Bluebird is another, and I would say that is an attainable goal for them by the end of the year.
In the meantime, some of the members are getting ready to take part in Revenge of the 90s, a concert featuring over 40 local musicians and songs from the days of Clinton and the "dot coms." They night will also feature members of The Fox Street Allstars, Rose Hill Drive, Kinetix, Kyle Hollingsworth Band, YAMN, Filthy Children, The Congress, Broken Tongues, and more.
Click Here for Tickets for Revenge of the 90's
Energy: A-
Sound: B+
Musicianship: B
Stage Presence: A-
Set/Light Show: B-
Overall: B+

Brian Turk grew up in the shadow of the Catskill Mountains, near Woodstock, NY. He comes from a family of music lovers, audiopliles, Dead Heads and avid concert goers.The musical magic that can only be created in the Catsklills, both past and present, is what Brian cosiders the epicenter of his music addiction. The music of The Band, and most recently The Levon Helm Band, is the soundtrack of home for him. Brian's mother took him to his first concert at 5years old...it was Johnny Cash and Roseanne Cash at Jones Beach Amphitheatre. For Brian, music is a family affair. He feels the same way about live music...we all convene to celebrate together. Brian's writing life started when he wrote his favorite author, southern fiction writer Clyde Edgerton, a fan letter at age 13. When most kids were idolizing baseball players and television, he was worshipping writers and musicians. The two became friends and Clyde shared his craft with Brian. The next year Brian attended Duke University's Young Writers Camp. This is the extent, of what Brian considers, his "formal" training in writing. From then on his goal was to capture snapshots of life through words. Brian has been involved with live music in various facets over the years, and combined with his enthusiasm and love for Denver's music scene, he creates a vivid description of what he sees and hears. If you see him out at a show, dancing with a notebook in hand, say hello.