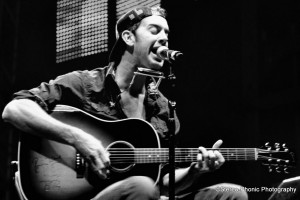 Photos by Johne Edge
Fifteen albums and almost twenty years have passed since G. Love & Special Sauce was the house band at The Plough and Stars in Cambridge, Massachusetts.  Garrett Dutton (aka G. Love) and his band's enthusiasm for playing music and constant touring have steadily built a large and well deserved fan base across the country.  You can catch their brand of Hip-Hop Blues this Saturday March 10th at The Ogden Theatre, or later this month on March 22nd at the Bud Light Street Beat in Vail.  Recently Listen Up Denver! caught up with G. Love in between tour stops to talk about Wakarusa and the Colorado music scene.
Listen Up Denver!:  Back in 2009 you played Wakarusa and shared the bill with some amazing acts like STS9, Matisyahu, Trombone Shorty, and Galactic.  Can you share with us your favorite memories of playing Waka in 2009?
G. Love:  Wakarusa was a great vibe. The year we played you could tell the vibe was on. We had a couple sit-ins with Luther Dickinson and had a very bluesy set. You could tell Wakarusa was a small festival that was about to blow-up and get a lot bigger.
LUD!:  The 2009 Waka lineup included Colorado artists EOTO, Euforquestra, and Elephant Revival…just to name the bands that start with the letter "E."  The 2012 Waka lineup will feature 13 artists from our fair state.  Any thoughts on why so many acts are coming out of Colorful Colorado right now?
G. Love:  Colorado is just a great state for live music. Seriously, it may be one of the best live music havens left in the free world. Since we first started rolling through CO in '94 we always felt the love. The music junkies in Colorado create a very nurturing creative atmosphere which in turn helps artists to consistently achieve great performances. Whenever you have this kind of love from the people, and a wealth of venues of all sizes, you create a perfect atmosphere for new talent to rise. Go Colorado!
LUD!:  The Wakarusa 2012 lineup is featuring some great acts including Pretty Lights, The Avett Brothers, The Weir, Robinson, & Greene Acoustic Trio, Slightly Stoopid, and of course G. Love & Special Sauce.  When it comes to this year's lineup what are you looking forward to the most?
G. Love:  I'm hoping that the Avett Brothers and I can rock something off the new record Fixin to Die which they produced. We haven't had the opportunity to be on the same bill since the release, so this could  be very exciting.
LUD!:  Back in 2009, Jeff Raines of Galactic joined you on stage at Wakarusa.  With The Avett Brothers and Slightly Stoopid both on the 2012 Waka bill, any chance of special guest appearances this year?
G. Love:  You know me, I come to play all day and all night, so I'm pretty sure we will be mixing it up.
Listen Up Denver!  is looking forward to mixing it up with G. Love May 31st- June 3rd,  in the Ozark Mountains at Wakarusa Music Festival.  Can you say summer festival season road trip?

Wherever the music is, you'll find me with my camera, shooting on street corners, from barstools at clubs, from the side of the stage at theaters, and from photo pits in places like Red Rocks. Clicking away, trying to capture the emotive essence of music, and all those moments that we forget because of one too many Pabst Blue Ribbons.