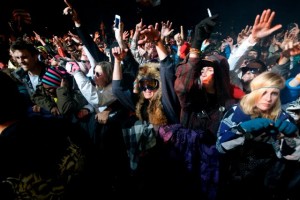 The Scene: The 2nd Annual Snowball Music Festival took over Avon, Colorado this past weekend and the experience was no less than stellar despite cold temperatures and snow. The folks at Snowball put on an amazing three days of music full of crazy banana suits, tons of 80's ski gear, and plenty of snow filled good times. It was a whirlwind of a festival so I've carefully selected highlights (and one lowlight) from all three days of high altitude musical mayhem.
Friday featured the likes of Rusko, Elephant Revival, Major Lazer, Big Boi, Bag Raiders and others on four stages. It was also the coldest day by far with temperatures dipping down to zero with the occasional snow shower mixed in. I've never wanted to be packed in among the crowd as much I did this weekend. Amazingly, this may have just heated the party up even further. Body heat just seemed to warm the whole environment not to mention it facilitated an endless amount of jovial conversation. I met snowballers from Utah, New York, and everywhere in between, many of whom had braved bad weather and days of driving to come to Colorado for the festival. It became clear pretty quickly that we deep in an era of electronic music and despite Snowball's best efforts to push the indie rock vibe, most people I spoke with seemed to have come for the electronic aspect of the festival. Despite this, I witnessed many incredible acts from a wide variety of genres including Fort Collins own Dubskin who decided to brave the cold and go shirtless on Friday afternoon. Needless to say, the reggae tinged beats sounded perfect in the snowy weather.
It may have helped if they had plowed the grounds before the festival as partiers bundled head to toe frequently went slipping and sliding down a short hill on their way to the main stage. It was certainly a funny site, but it would prove disastrous later in the weekend when the sun finally came out and turned the park into a sea of mud and snow.
Friday Highlight: Rusko. As the sun set on Avon, the party was only beginning when British DJ Rusko (Christopher Mercer) took to the main stage. I consider Mercer the original gangster of Dubstep, a legend whose sound transcends bass music and goes beyond the world of repetitive Dubstep production. His set was an awe-inspiring display of lights and bass that ignited the crowd into an ice melting frenzy. Rusko's drunken British mumbling over the course of the set was moderately distracting but in the end the bass won out and everyone seemed to embrace Mercer's wild style.
Mixed in with the young crowd was an interesting collection of older music lovers who seemed to be dancing just as intensely as everyone else…further proof that electronic music is taking over the world. Playing the majority of tracks off his upcoming album which is cleverly titled Songs, Rusko proved once again that he can pump up any crowd at any time. Highlights included the always classic "Big Head Slags" and new remixes of "Somebody to Love" and "Hold On."
Saturday Highlight: Break Science Ft. Chali 2nA. Saturday arrived much warmer and more comfortable than Friday and I found myself front row that afternoon for the arrival of Break Science. Adam Deitch and Borahm Lee were joined by rapper Chali 2na of Jurassic 5. Immediately, I knew this was going to be one for the ages as Chali's smiling face emerged on stage ready to break down rhymes over wobbly beats. I've always loved Jurassic 5 so this was a dream come true. Before long, Chali had the crowd amped, hands waving side to side as he broke down classic J 5 songs before giving it up to Adam and Borahm to do the electronic side of the show. This was the perfect mix of Dub and Hip-Hop demonstrating once again that Chali 2na is still one of the best in the business. Scanning tracks from their new album Monolith Code, Break Science also proved why are they are quickly becoming a household name in electronic circles. Led by the wicked drumming of Adam Deitch, these guys know how to drop a beat and stoke the crowd.
Best Local Act from Saturday: Kinetix. Denver's own Kinetix rocked the Ballroom Stage on Saturday afternoon and provided a nice break from the electronic mayhem that had dominated the festival for the past day and a half. I managed to slip in after a chaotic set from French duo Dada Life and was pleasantly surprised by the smooth guitars and classic rock voices of Eric Blumenfeld and Adam Lufkin. Fresh off national tours with The Flobots and Beautiful Girls, Kinetix appeared to be happy to be back in front of the hometown crowd. Jamming out songs from their 2010 release Let Me In, Kinetix had the local crowd buzzing.
I recall listening to Kinetix in high school and thought of them as a much looser more jam-oriented group, so the set at snowball was certainly surprising. It seems the local boys have finally developed a rock sound they are comfortable with and it has brought them tremendous success over the last year or more. I think they may have slipped in a song or two from older releases and though I can't confirm this, I can confirm the instant nostalgia from hearing one of Colorado's best local acts. It was truly a classy way usher in the night on Saturday.
Sunday Highlight: Minnesota. By Sunday morning my aching body barely allowed me out of the hotel room. But sure enough, by 3:15 I was standing eagerly backstage waiting for Minnesota and his devilish beats to take the Groove Tent Stage. Minnesota is Christian Bauhofer of Santa Cruz California and he's been steadily rising up the EDM charts over the past several months with his spacey electronic groove and remixing abilities. Before the show started I overhead an older fellow talking about "these kids and their dub-step." Sure enough, two songs into Minnesota's set he had an evil grin on his face and was dancing like his hair was on fire. I guess you could call Minnesota Dubstep, but it's more of a Moby-esque Dubstep: mellow and smooth like butter. I recognized a few tracks off his album Ancient Machines including the fantastic "Breath" and found myself dancing pleasantly while a massive crowd packed tightly into the tent. Minnesota later said this was the biggest crowd he's ever played to. Congrats to this fresh face in the music world.
I'll never forget this show because the energy in the Groove Tent was seriously contagious. Check out Minnesota's 1st release Ancient Machines out now on Mal Label, I guarantee a truly sonic experience.
The Sunday Disappointment: Afroman. Afroman's bus broke down coming over Vail Pass so we were treated to an awesome performance from the Montebello Marching Band, a mediocre performance from rappers, C-Way, and two songs from Afroman, who greeted us with a "what's up Snowfest" introduction. Rocking a swanky suit and clutching a double-barreled electric guitar, Afroman clearly prefers the warmth of southern California to the cold of Avon, Colorado. After belting two strange songs into the microphone, he walked off stage to a mix of boos and laughs from the extremely clouded crowd. After hearing about the shenanigans of Afroman's set last year this was an utter disappointment and left the crowd literally scratching their heads.
The Run Down: Overall, I had an amazing time at Snowball 2012. I had the opportunity to speak with numerous artists during the three-day event including At Dawn we Rage who expressed their happiness with the hospitality and setting that Snowball provided. Artists from Snoop Dogg to TV on the Radio rocked the main stage all weekend and providing lifelong memories as they ignited the Colorado high country. Photographers, videographers, and snowball staff helped to make this a premium event as they posted daily videos and pictures that captured the experience.
Unfortunately, it seemed to me that the town of Avon isn't entirely receptive of this Festival so one can only hope they continue to allow Nottingham Park to be taken over by 10,000 people. Let's also hope Colorado's recent history of failed music festivals doesn't repeat itself because the Snowball Festival deserves to be a mainstay for years to come.
Organization: A
Crowds: A
Prices: C
Line Up: A-
Venue: B+
Overall: A-
I've worked various positions in the music industry with Madison House, Rock The Earth and Bohemian Nights. My dream is to travel the world and seek out all the good tunes, beer and food that make life so special. I have a healthy obsession with live music and I'm thrilled to share the epic moments with you.