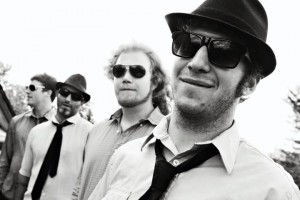 Photo by Lisa Siciliano
Why You Should Go: From the beginning of their time together, the Fox Street All Stars have been profoundly influenced by the culture and music of the south and, specifically, New Orleans.  Since they first got serious about the band, a yearly pilgrimage to the New Orleans Jazz Fest to bond over late nights jam sessions and bellies full of beer of Crayfish has been practically mandatory.  "A lot of serious band decisions have been made on our yearly Jazz Fest visit," said drummer Eric Low who considers the New Orleans style of drumming to be at the core of his playing due to years studying under the legendary Crescent City drummer Stanton Moore of Galactic and Garage A Trois.
For the last four years the Fox Street All Stars have had the honor of not only headlining the official Galactic After Show Party at Pete's Monkey Bar, but also of having Moore sit-in with them for several numbers.  Each year things seem to get a little more hectic up on the stage as the tradition embeds itself more firmly into the Denver nightlife scene.  Last year Joey Porter, Lyrics Born, and Tony Hall all joined the band on stage as Fox Street rocked Pete's into the wee hours of the morning. "This year we are trying to get the sit-ins coordinated a little bit more and make it a bit more of an actual thing, rather than just having them jump up there and jam," said Guitarist James Dumm. While Stanton Moore is pretty much a shoe-in, with folks like Corey Glover, DJ Logic, and Corey Henry on the bill with Galactic this year, you never know who else might turn up at Pete's and help funk the place up a bit!
Venue: Pete's Monkey Bar – 717 East Colfax Avenue, Denver, CO  80203 – (303)831-4000
Doors: 9:00 PM
*Price: $5.00 at the door
*All times and prices are gathered from other sources and we are not responsible for mistakes or inconsistencies. They are intended only as guidelines. Please, always call the venue if you desire the most accurate information possible.