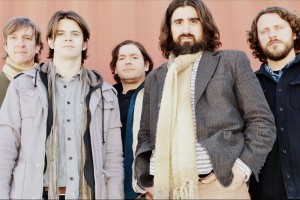 Listen Up Denver! has a couple of pairs of tickets to see The Band of Heathens on Friday night at Cervantes'.
All you have to do to enter this contest is post "A Band Of Heathens Joined In" on our Facebook Wall.  
PLEASE NOTE: Entry deadline is 5pm MST Thursday March 15th and the winner will be notified by email or Facebook no later than 7pm MST the same day.  Please be prepared to respond quickly to confirm you can attend or we'll pick another winner.
Last October, Gordy Quist and the rest of The Band of Heathens got cozy at Cervantes' Masterpiece Ballroom for two nights and recorded a live two DVD and CD set called The Double Down – Live in Denver. Listen Up Denver! had the chance to catch up with Gordy Quist while he was at home in Austin recently, and he was nice enough to share some of his thoughts on the last time he was here in the Mile High City.
LUD!: Last time The Band of Heathens were in town, you recorded your two night run at Cervantes' for a DVD. What is your take on the experience?
Gordy Quist: I thought it turned out great as far as what we were trying to accomplish. It was our first time trying to do two nights in the same city and I think that's something we'd like to do more in the future. It's nice to post up in one place and get to enjoy a city a little bit. It also creates more of an event, a community event, for people to travel to. That was our initial vision for the weekend, and as far as that goes, I think it was a success. I was shocked, and pleased, with how many people traveled really far to come be a part of it. It ended up going really well with the audio and video recording. We actually didn't know if we were being able to pull it off. We didn't know if we were trying to do too much but it ended up working out great; a bunch of people stepped up and helped us out. It was our first time and we didn't really know what we were doing. We had done a DVD before, but a TV station here in Austin that came to us with the idea, and they ran everything. So we didn't actually have to put any of it together.  This time we had to hire an audio crew and do the post-production editing and everything.  I was our first time doing all that.
LUD!: One thing that stands out in my memory about your "Double Down in Denver" weekend is the insane amount of guitars you all had on stage, and out in the trailer. You guys sure do love guitars…
GQ: I love guitars. I love the different sounds that they all make. Each one is different. There are a couple of different approaches you can have to playing live. The easiest, and most affordable, way is to pick one or two guitars, and just "'this is going to be my sound." No matter what guitar you're playing, to some degree, your tone is going to come through, and it's going to sound like you, because a lot of tone is in your fingertips…but different guitars have different textures, dimensions, and sonic palettes.
On the other hand, if you're afforded the luxury of having the guitars at your fingertips and you are able to bring them on the road, and have the time, the crew, and enough stage space, it's kind of nice to be able think of a texture and be able to just go grab that guitar. I will say, we don't normally have that many guitars out during a show. That was a special thing because we were recording; we really wanted to make sure we got the tone. There is no way we would be able to bring that many guitars on a normal run. Some of them were borrowed as well. We are definitely a band that is really into tone and amps. We are always tweaking our amps and tweaking the guitars. It's fun.
LUD!: When you recorded "The Double Down-Live in Denver," Colin Brooks was still with the band, but he left soon after. Did his leaving come as a surprise?
GQ: In some ways it caught me by surprise. When we were shooting the DVD none of us knew that was coming directly down the line. He wanted to move on and do some other things. Everyone needs to do what they need to do to be happy and pursue what they want to pursue. We are all still friends and everything is all good between us.
LUD!: You went from three singers and guitarists to two. How is the transition going? How has it affected your sound?
GQ: It's definitely going to affect the sound. Will it be lacking in anyway? I don't think so. We have reproached everything now as a five piece instead of a six piece, and it's fun. Everyone in the band is excited to be doing this. There is more space in the band sonically, and there are times when you feel like you are playing with a totally different band. Since the New Year we have been playing as a five piece, and we have been having a blast. I think it's been really well received. It's different, but I like it, and I think fans have been really digging it.
LUD!: You've played and seen a lot of music. What has been your greatest musical experience as a fan?
GQ: There were shows my parents brought me to as a kid that had a profound effect on me. But recently, getting to play the Austin City Limits TV show, and recording an episode as an artist, is almost one thing I classify as my highlight as a fan as well. It was almost like this weird out of body experience. I was looking around at the backdrop I grew up watching on TV, and it almost feels like you aren't there. I don't know. It was just really bizarre. That was a career highlight. But I have to say, the Railroad Revival Tour with Mumford and Sons, Old Crow Medicine Show, and Edward Sharpe and The Magnetic Zeros last year was great. It was modeled after Festival Express. They went from Oakland to New Orleans, and stopped in Austin. They set up a big outdoor stage, all three bands played, and it was a really communal event. It wasn't just a concert, it was like the old traveling medicine show that would come from town to town. The musicians were having a really good time with it, and each band was kind of drifting on and off the stage during other bands sets, and people were sitting in. It was really loose and just fun. It was so much more than just a concert.
LUD!: So we know you dig Mumford and Sons, Old Crow Medicine Show and Edward Sharpe and The Magnetic Zeroes. What else have you been listening to lately?
GQ: The New Tom Waits record, which I'm digging. There's this record by these guys called The Barr Brothers that I really like. They used to be in a band called The Slip who I saw ten years ago and really liked. Wilco is one of my steady go-to's, and I love their new album. I really dig Dawes; the cat's out of the bag on those guys! Hopefully most people have heard of them by now.  I really love Dawes. I love both of their records, and they are amazing live.
The Double Down-Live in Denver will be released on March 20th, but The Band of Heathens will be bringing copies to their March 16th show at Cervantes' Masterpiece Ballroom with the Ryan Montbleau Band.
Can't wait till the 16th? Well Listen Up Denver! has a couple of copies of
The Double Down-Live in Denver sitting right here.
All You Have To Do To Be Entered To Win Is Post "Double Down" on the Listen Up Denver! Facebook Wall! 
Brian Turk grew up in the shadow of the Catskill Mountains, near Woodstock, NY. He comes from a family of music lovers, audiopliles, Dead Heads and avid concert goers.The musical magic that can only be created in the Catsklills, both past and present, is what Brian cosiders the epicenter of his music addiction. The music of The Band, and most recently The Levon Helm Band, is the soundtrack of home for him. Brian's mother took him to his first concert at 5years old...it was Johnny Cash and Roseanne Cash at Jones Beach Amphitheatre. For Brian, music is a family affair. He feels the same way about live music...we all convene to celebrate together. Brian's writing life started when he wrote his favorite author, southern fiction writer Clyde Edgerton, a fan letter at age 13. When most kids were idolizing baseball players and television, he was worshipping writers and musicians. The two became friends and Clyde shared his craft with Brian. The next year Brian attended Duke University's Young Writers Camp. This is the extent, of what Brian considers, his "formal" training in writing. From then on his goal was to capture snapshots of life through words. Brian has been involved with live music in various facets over the years, and combined with his enthusiasm and love for Denver's music scene, he creates a vivid description of what he sees and hears. If you see him out at a show, dancing with a notebook in hand, say hello.