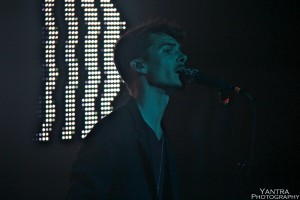 Photos by Margaux Galligan
The Scene:  It was quick and painless getting into the Summit Music Hall on Saturday night. Inside the crowd was slim at first but filled out quite nicely by the end of the night. The night was produced by Euphonic Conceptions, and let me tell you they take everything into consideration when planning their events. They are much more than just simple concerts and each time I attend one of their shows, I notice a new detail. Whether it is the vendors strewn about the venue, or the constantly changing visual artists that make up the areas outside of the dance floor, there is always something to keep your mind occupied between the sets of music and Saturday was no exception. They certainly had a theme in mind when planning out this show. Massive screens stretched on either side of the stage well above the performer in order for the folks on the upstairs balconies to see. 2 more LED screens hung both in front and behind the artists creating a stunning light show much more to my liking then the abrasive bright strobes that sometimes are used in the electronic setting.
Phutureprimitive: As the crowd slowly filtered in and filled the dance floor, Portland's Phutureprimitive set the tone for the night. I was only able to catch the last half of his set, but was beyond impressed with his laid back Downtempo style. His visuals consisted of smiling faces and even an animation of Alice from Alice in Wonderland. His set came to an end of after a remix of Gary Jules' "Mad World" that literally stopped me in my tracks as I was walking to grab a drink. It was haunting and mesmerizing in all of the right ways. Phutureprimitive was, without a doubt, the perfect preparation for the psychedelic mind fuck that was about to happen.
Eskmo:  This event had been on my calendar since the day it was announced all because of this man. Brendan Angelides, better known as Eskmo, is a San Francisco based producer and sound designer that is almost single handedly responsible for my personal plunge into the world of electronic music. I remember the first time I heard one of his mixes I said to myself "what the hell is this? It's hardly music, but I absolutely love everything about it."
When he's not in the studio, Angelides carries a field recorder that captures the sounds created by the world around him and then transforms them in the studio into the mind bending productions that you hear. On stage with him are a whole plethora of midi controllers, beat machines, and random household items.  What a lot of people don't understand is that there is a lot more that can go into being an electronic performer. It's not always just mixing songs and pressing buttons. Eskmo is a perfect example of this. All of his songs feature an array of strange sounds being made by him while he simulataneously sings his own vocals.
Everyone who came into his set thinking it was just going to be some run of the mill Dub-step was in for a huge surprise. His sounds were intricate, delicate, and almost had an industrial feel to them. He would pull out pieces of paper between singing lyrics and rip them into shreds by the microphone. He sampled himself banging a symbol, pounding on a shovel, and cracking open beer cans to create an amazing sound collage.
Watching him work on stage and seeing the passion he exuded while screaming into the microphone and manipulating his devices solidified, at least to me, that Eskmo is by far one of the most inventive and groundbreaking artists to hit music in the past few years. He humored me with tracks off of his earlier works including the Ancestor Mix (Download if for free here), which made my night as it was the first time I had ever heard his ridiculously Avant Garde sound. As he wound toward the end of his set, his transitions were flawless and he dropped in a few of his more popular tracks including "Cloudlight." He also threw in shout-outs both Denver and his hometown of San Francisco.
While his sound was entrancing, the screens around him were dazzling as they displayed psychedelic visualizations that further contributed to me being completely lost in what he was doing. It's difficult to even describe the sounds he make, let alone figure out how to dance to them. It was almost as if he brought people to happy convulsions with the super slow downtempo sound. Everyone was grooving together in some weird flowing wave of energies. He ended the set and left me in complete awe as he had gone above and beyond all expectations I had. I feel if you didn't know who Eskmo was going into this show, you left dying to hear more.
VibesquaD: By the time Eskmo had left the stage, it was safe to say that everyone was in the mood for something a little more upbeat. Aaron Holstein, better known as VibesquaD was just the man for the job. Being a local of this fine music scene it was no surprise that his fans came out in full force ready to boogie down. Holstein has been heavy in the scene in one way or another for upwards of 10 years.  His most recent project, Vibesquad is a blend of hip hop breaks with bone rattling bass lines and psychedelic drops.
He is currently touring to promote his upcoming album Orphan Alien pt.2 which is obviously a follow-up to 2011's Orphan Alien Pt 1.  He came out strong and fast from the very beginning as he sent massive vibrations of heavy bass love radiating out into the crowd. The strange slow moving wave that Eskmo created gradually evolved into a full on, jump up and down, funky as can be dance party. He is a master of blending the robotic sounds of electro music with the down-to-earth Hip-Hop beats that many of us grew up on.  His set flowed from old tracks to ones folks haven't heard yet with ease. The ear to ear grin on his face throughout the entire set was proof that he loved every minute of what he was doing up on that stage.
He was his own hype man in every sense of the word as he jumped up and down while controlling the machines in front of him. He clearly pulled out all of the stops for his Denver people, and with good reason, as they are a big part of why he is becoming a huge force to be reckoned with in the electronic scene. Friday marked the start of a massive tour that is sure to be a huge milestone in his career. After a few more solo dates he will be teaming up with Bassnectar for the massive VavaVoom Tour which is sure to expand Vibesquad's audience in many much needed ways. Saturday night proved to me that he deserves it, and I feel like he will be doing huge things in the upcoming future.
Overall, the night was one to be remembered, as well as one to kick yourself for missing out on. I'm more and more surprised every time I make it out for a Euphonic Conceptions event. They take the concert experience to the next level. I highly recommend getting out to one of their events if you aren't already planning on it. If not for the communal feeling of love, or the stunning visual displays, do it for the breathtaking artists they are bringing out and helping to build names for.
Energy: A
Sound: A
Musicianship: A
Stage Presence: A
Set/Light Show: A+
Overall: A
I rode my skateboard from school in 7th grade to my buddy Vince's house where he put on the song "Perfect Government" by NOFX and I was hooked. The next day I bought the album Duh by Lagwagon. The next year I saw Against Me! at the Starlight Theater in Fort Collins, my mom dropped me off. I've since devoted every waking hour to anything done with passion. My speakerbox bumps everything from Lil' Wayne to Pablo Casals. I was never very good at making music, but I am damn good at listening to it. I've been filling up yellow notepads with random thoughts and misspelled words for as long as I can remember. I enjoy whiskey of all sorts, Newport cigarettes and the company of my family. I've got an addiction to run-on sentences that I'll probably never cure. A solid handshake with a stranger who has become a friend over a few beers means the world to me. You'll often find me wide eyed and wandering with an ear to ear grin. I live for funky break beats and spreading the love.