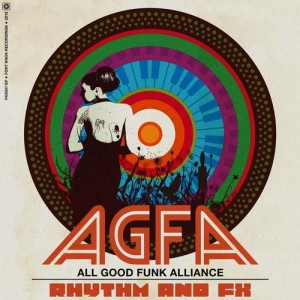 On March 6th, renegade Funk n' Soul label, Fort Knox Recordings dropped All Good Funk Alliance's Rhythm & FX EP on Beatport.    Although no strangers to Fort Knox faithful, having appeared on Fort Knox Five's Dodge City Rockers EP, this EP is the group's first on the label and it lays the groundwork for the release of the brand new All Good Funk Alliance full length album Jacks of All Trades which is due out in May.
Frank Cueto and Rusty Belicek, the musical masterminds that make up AGFA, drop 4 solid tracks on the Rhythm & FX EP that are a must for any DJ's crate.  Funky songs like "Move Yo Body" and "So Smooth" are laden with drums, synth, and big bouncy bass lines.  These tracks will have you wanting to strap on a pair of quads so you can skate around in circles with your best girl beneath a sparkling Nu-Disco ball.
In celebration of AGFA joining the Fort Knox Family, they are out on tour with label mates Fort Knox Five and Thunderball. The tour kicked off in Jackson Hole, WY on March 9th and will make four stops in Colorado before traveling west to sunny California.
Heralding the arrival of the RHYTHM & FX Tour will be another Fort Knox family band, and Denver favorite, SEE-I. On March 15th, SEE-I brings their bombastic blend of Funk, Soul and Reggae to Cervantes' Masterpiece Ballroom.  For a chance to win a pair of tickets to this not to be missed show, post the phrase "I want to go to SEE-I" on the Listen Up Denver! Facebook page before noon on Thursday.
Continuing the musical invasion from our nation's capital All Good Funk Alliance, Fort Knox Five, and Thunderball play the next night at Cervantes' Other Side.  Rolling in from DC on the ones and twos, AGFA along with Jon Horvath and Steve Raskin, will fill the night air of Five Points with a blend of Funk, Breaks, Drum n' Bass, Dub, and Downtempo stereophonic-thrillers.  Call in to work sick if you have to, but whatever you do, don't miss these shows.
FORT KNOX FIVE VS. THUNDERBALL
ALL GOOD FUNK ALLIANCE
Thu/Mar-15 – Vail, CO – Samana Lounge
Fri/Mar-16 – Denver, CO – Cervantes Other Side
Sat/Mar-17 – Durango, CO – Abbey Theater
Tue/Mar-20 – Breckenridge, CO – Three Twenty South
SEE-I
Thu/Mar-15 – Denver, CO – Cervantes Masterpiece Ballroom
Fri/Mar-16 – Crested Butte, CO – Crested Butte Center For The Arts
Sat/Mar-17 – Steamboat Springs, CO – The Music Fest at Steamboat Grand Ballroom
Sun/Mar-18 – Winterpark, CO – Ullrs Tavern
Wherever the music is, you'll find me with my camera, shooting on street corners, from barstools at clubs, from the side of the stage at theaters, and from photo pits in places like Red Rocks. Clicking away, trying to capture the emotive essence of music, and all those moments that we forget because of one too many Pabst Blue Ribbons.