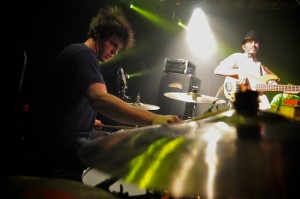 Photos by Kit Chalberg
For four years now, Fox Street All Stars have been funkin' it up into the wee hours of the morning at Pete's Monkey Bar after the Galactic Mile High Mardi Gras throwdown at The Fillmore.  This year things have changed a bit.  While Fox Street will still be setting up shop at Pete's, Galactic has moved a few blocks East on Colfax to The Ogden Theatre and they have stretched the party out to two nights.  As expected, Fox Street followed suit and will be holding court at Pete's on both Friday and Saturday nights.
The guys have revealed that on Friday night they are giving it to the most important member of any band, the Drummer! They put out a challenge to all of Denver's most fearsome drummers, to take on their drummer, Eric "Pappy" Low face to face! Some of Denver's finest have answered the call: Nate Barnes from Rose Hill Drive, George Horn of Kinetix, Scott Roush of Jonah and the Whales, Jeff Jani of The Big Motif, Johnny Schmidt of Trio Blue, and who knows who else might show up . . . remember Galactic is in town 😉
Saturday night Fox Street is planning on focusing one of their true core competencies, Funk!  While they may well have some special guests join them, they aren't giving up any secrets just yet.  You'll have to head out to Pete's to catch them in action!   Cover is only $5 and you can expect hours of music from one of Denver's favorite party bands!
Listen Up Denver! recently had the chance to catch up with Fox Street guitarist James Dumm to talk about, among other things, the band's annual Galactic After Parties.  Continue reading to see what he had to say . . .
LUD!: How many years have you guys been doing this Galactic After Party at Pete's?
James Dumm: This is at least four on the Galactic after party but we have also played a couple of Black Crowes parties over there and we did the Warren Haynes shows last year.
LUD!: It's two nights this year right?
JD: Yep, two nights.  This year we are trying to get the sit-ins coordinated a little bit more and make it a bit more of an actual thing rather than just having people jump up there and jam, which is always fun, but sometimes it's more fun than others.  We'd much rather have people get in touch ahead of time rather than have them just say 'you know who I am, I'm gonna jump up and jam.'  Last year Lyrics Born gave me the look like 'is it cool if jump up' and I gave him the nod and he came up, did his thing, said 'thanks,' and hopped off.  It was amazing.
LUD!: How many sit-ins do you have set up so far, or is it still too early?
JD: Initially, part of why we were so pumped for these shows was because Soul Rebels Brass Band was supposed to be on the shows, but they have since cancelled.  We were going to try and coordinate with them to do kind of a parade down from The Ogden to Pete's.  We got to be pretty good friends with their tour manager over three shows we did together with The New Mastersounds and he was going to try and make that happen for us.
Right now we are just working on what to do with Stanton if he shows up.  We are going to have two drum kits up there so Eric and Stanton can play together which would be amazing.  For guitar players, singers and piano players it's pretty easy, but when you have Drum and Bass player sit-ins it's a little more difficult to get it all coordinated.  In short it's a lot easier for the guitar players and piano players to bullshit.  You can't really invite a drummer in and say 'play our song.'
LUD!: Are you going to rehearse before hand or what's the plan?
JD: I'm not sure we are going to rehearse so much as coordinate through Eric to be sure that it's all set up for him to come in and do his thing.  There are a few songs that Eric and Stanton have talked about or Stanton Moore originals that we are talking about getting worked up to the point where we could do them with him, we'll see.
He's a big Zeppelin guy and there are all kinds of other directions that we could take it.  One thing we are a little worried about is that the shows at The Ogden might go late, but we are on a pretty friendly basis with him and he's been the one guy that has come through every time we've done this.
If that peaks your interest, you'll have to head out to Pete's this weekend to see what ends up coming together.  One thing is for sure, Stanton Moore, or no Stanton Moore, these shows are going to high energy, funk fueled parties that you don't want to miss!  This is the stuff of legend!

Music has always been a part of my life. It probably all started listening to old Grateful Dead, Peter Paul & Mary, and Simon & Garfunkel records that my parents had, but it wasn't long before they were taking me to concerts like Starship, Crosby, Stills & Nash, and Huey Lewis & The News. I got the bug to write about music after reviewing an Eric Clapton concert for a creative writing project in high school but didn't really take it up seriously until 2002. Since then I have published countless articles in The Marquee Magazine and done some work for Jambase.com, SPIN Magazine, and various other outlets. I started Listen Up Denver! as a way to share the music information that is constantly spilling out of my head with people who care. Please enjoy!