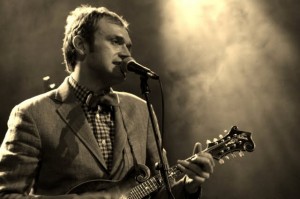 Photos by Jon Prins
The Scene: Punch Brothers have a special place in the hearts of Colorado bluegrass lovers, and their Monday night performance at The Bluebird Theatre felt as if it were in front of a home-town crowd. Telluride Bluegrass is probably one of the most important catalysts in connecting Colorado with this progressive five-piece, and the festival was also an integral part in the formation of the band itself. In that sense, I guess you could say that Colorado helped give birth to Punch Brothers, and we should be able to claim them as our own in some way.
The vibe of the night was all about Telluride. Fans chatted about this year's lineup, whether they were camping or not, and how they have watched Chris Thile play it's stage over more than a decade. The warm day had some of us wearing our Chaco's for the first time this year, and everyone was ready for a festival season pre-party!
Aoife O'Donovan: I first saw Aoife O'Donovan perform when Swallow Hill brought her progressive bluegrass band Crooked Still to the L2 Arts and Culture Center last September. Her voice took a hold of me then, and has never let go of its grasp. As a matter of fact, I placed that show in my top five of 2011, and I listen to Crooked Still's version of "Orphan Girl" at least once a week. The raw emotion in O'Donovan's voice brings me to tears each and every time. I try to hold it back, but it's involuntary. So, if I have made it clear that this woman's voice affects me like no other female voice I've ever heard, I will move on.
O'Donovan solidly stands on her own, and it was great to hear material she penned. "Lay My Burden Down" was one of those well written originals, and it was so good that Alison Krauss and Union Station recorded it for their 2011 release, Paper Airplanes. Krauss may have beat O'Donovan to the punch on recoding the song, but O'Donovan truly sings it like she owns it. The crowd was a bit chatty during the beginning of the set, but O'Donovan's charm eventually subdued them.
Along with "Lay My Burden Down," O'Donovan played other songs available on her Peachstone EP, but it was her cover of Richard Thompson's "1952 Vincent Black Lightning" that totally silenced the crowd. O'Donovan's got pipes, and the fierceness of her roar is equaled by her delicate touch.
Punch Brothers: I listened to Punch back in 2008 and it didn't seem to resonate with me. Up until the other night, I hadn't really listened to Punch Brothers since. After hearing nothing but great things about their live performances over the past couple of years, I figured I should at least check out one show.
I was blown away right from the start and so was the rest of the sold-out crowd.  The title track off of their new album, Who's Feeling Young Now?, got the crowd going nuts! Yes, nuts! They had just started their set, and the crowd was already in a frenzy for Punch Brothers unique form of progressive Bluegrass. "Next to the Trash" brought out their playful side and I quickly realized there are no boundaries for Punch Brothers. They approach the songs with the precision of classical musicians, but leave all the restrictions behind.
They may be technical musicians, but they are all about fun. One minute you are stomping your feet and part of a proper hoedown, and the next you are fixated on the detail of an instrumental piece. Hell, there were a few moments when their jams were on the verge of psychedelic. "Rye Whiskey" was about as boisterous as you could get, and the crowd knew it from the first pull of the bow. The 1920's Gypsy-Jazz shuffle of "Patchwork Girlfriend" was a fine example of how well these guys can play without taking themselves too seriously.
One of the highlights of the evening for me was when the lights dimmed down low and they broke into Radiohead's "Kid-A". Considering Radiohead was playing a highly anticipated show here in town the following night, I thought it was quite fitting. "Hundred Dollars" had an infectious head nodding groove, and Thile's edge of the stage solos on the mandolin blew people's minds.
Every time these guys finished a song, the applause became louder than for the last. By the time they covered The Strokes' "Heart In A Cage," the cheering was near deafening. Finishing the set off with the floating harmonies of "New York City" they left the stage, and the crowd bellowed for more. I have seen a lot of shows at The Bluebird, and I don't think I have ever heard a crowd as enthused as this one! Punch Brothers returned to the stage, and called out Aofie O'Donovan for a two song encore. The first, "Here and Heaven," was from a project called The Goat Rodeo Sessions, which O'Donovan and Thile are both a part of.
I am so glad that I gave these guys another shot. I can't say I will be spinning their albums that much, but I will be counting down the days until I get to see them at my first Telluride Bluegrass Festival this year! There is no way you can harness the energy of this band on to a studio recording, and there is no way to not be bowled over by it at a show.
Energy: A
Sound: A
Musicianship: A
Stage Presence: A
Set/Light Show: B+
Overall: A
Brian Turk grew up in the shadow of the Catskill Mountains, near Woodstock, NY. He comes from a family of music lovers, audiopliles, Dead Heads and avid concert goers.The musical magic that can only be created in the Catsklills, both past and present, is what Brian cosiders the epicenter of his music addiction. The music of The Band, and most recently The Levon Helm Band, is the soundtrack of home for him. Brian's mother took him to his first concert at 5years old...it was Johnny Cash and Roseanne Cash at Jones Beach Amphitheatre. For Brian, music is a family affair. He feels the same way about live music...we all convene to celebrate together. Brian's writing life started when he wrote his favorite author, southern fiction writer Clyde Edgerton, a fan letter at age 13. When most kids were idolizing baseball players and television, he was worshipping writers and musicians. The two became friends and Clyde shared his craft with Brian. The next year Brian attended Duke University's Young Writers Camp. This is the extent, of what Brian considers, his "formal" training in writing. From then on his goal was to capture snapshots of life through words. Brian has been involved with live music in various facets over the years, and combined with his enthusiasm and love for Denver's music scene, he creates a vivid description of what he sees and hears. If you see him out at a show, dancing with a notebook in hand, say hello.