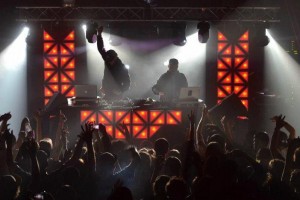 Photo by Nodnarb Taylor
The Scene: The crowd at Cervantes' Masterpiece Ballroom wasn't quite what I expected on Friday night, and it was a pleasant surprise. I thought the crowd would be made up of white furry yeti boots, spirit hoods, and a whole bunch of oblivious candy kids, but instead there was a great mix of people giving off a staggeringly positive and uplifting vibe. I am new to electronic music, and I sometimes think that everything revolves around STS9 and Pretty Lights, since they were my first exposure to the scene. Over the past few months I have started to realize that not all electronic based music draws the same crowds. The sounds that the Archnemesis DJ's produce are not nearly as overwhelming and interplanetary as say, the instrument toting STS9, and more grounded fans seem to be attracted to their sets.
Ableminds: This Denver trio are linked by a common thread: the University of Denver Music program. Jordan Linit (Kinetix) and Charles Parker Mertens (Future Jazz Project) originally came up with the idea for this project, and then they brought drummer George Horn (Kinetix, Larva Ink) into the mix. Jazz men at heart, they approach the music with precision, and their improvisational attitude makes each set different. A lot is going on when these guys are on stage, but everything seems well organized. Guitarist Linit utilizes a laptop to DJ, machines to live-loop, and buttons to glitch, as bassist Mertens does the same. The two of them are in constant communication as they count, time, strategize, and attack. You will hear Funk, Reggae, Hip-Hop, beats and Bass as they assemble the sounds right before your very eyes.
This was the second time I had seen Ableminds in the past month or so, and I really dig what these guys are doing. They fit in well with the night of madness at Cervantes, and had the crowd at The Bluebird captivated when they opened up for Bonobo a few weeks ago. Blending live instruments with computers, samples, synthesizers, loops, and bass bombs is nothing new…but something in the technical, yet free, approach of Ableminds grabs new fans by the collar every time they take the stage. I can honestly say that both times I have seen Ableminds, people seemed to immediately pick up what they were putting down. Both Linit and Mertens will be performing at REVENGE OF THE 90's!, which will be held at Stoney's Bar and Grill on March 30th.
Fisk: The Front Range is getting frisked and cuffed by producer Greg Fisk and his "Tree Thuggin'" fisticuffs. Seriously, this guy arrested the crowd with his hard hitting and energetic round on the stage. If I were to order this set at Starbucks, I would ask for a "down-tempo/mid-tempo, trip-hop/glitch-hop with an extra shot of old school hip-hop samples and non-fat crunk." I love to hear the Hip-Hop I grew up on in a new way.
Last Friday night Fisk was all about Notorious B.I.G., and I was all about nodding my head. Fisk is a DJ, and he obviously has been for a while. Watching his set reminded me of the blunt infested basements of the Catskills, where my friends would crouch over turntables, flick faders from right to left, and pinch the right cup of a pair of headphones between their shoulder and chin. He straight represented on the Hip-Hop front, and he took the crowd to amazing heights as he built the music up and let the beat drop. Out of all the electronic music I have heard to date, what Greg Fisk did Friday night took the cake for me, and the energy he threw from the stage was just as powerful as the beats thrown from the woofers.  Fisk was possessed by something, and the demon told him to "make the crowd nod their heads so heard they'll break their f'ing necks."
Up Until Now w/David Murphy of STS9: Up Until Now (Jay Murphy) took his place behind a table of technology, and his brother David Murphy of STS9 took his spot right next to him. The two brothers hit the ground running and built on the energy that Fisk had been throwing out. STS9 is loved around these parts, and the fact the David Murphy was present brought people out of the woodwork. The brothers set seemed natural and fluid, and they really seemed to be enjoying themselves up there.
Both brothers constructed their electronic creations with buttons, do-hickeys, and whatchamacallit's, but Dave busted out the bass as well. Drum machines and synthesizers helped fulfill the obvious goal of these two men which was to make people dance. Dominic Lalli of Big Gigantic added his saxophone skills to the set, and it was on!
Archnemesis: Archnemesis is the alter ego of Curt Heiny from world music influenced electronic/live trio Telepath, and M.O. Theories Justin Aubuchon. Their set was full of samples from all time periods and genres, and they made sure the beat hit hard.
I had been listening to People's Radio nonstop the week prior to the show, and was really looking forward to this set. The intensity of hearing them live, the trance inducing sound, and the monumental surge of energy that was flowing through Cervantes simply can't be described. All I know is I got completely lost in this set, and wrapped myself in the blanket of bliss that was all around me. I wish I could tell you more, but I was abducted by Archnemesis.
Energy: A
Sound: A-
Musicianship: A-
Stage Presence: A-
Set/Light Show: A-
Overall: A-

Brian Turk grew up in the shadow of the Catskill Mountains, near Woodstock, NY. He comes from a family of music lovers, audiopliles, Dead Heads and avid concert goers.The musical magic that can only be created in the Catsklills, both past and present, is what Brian cosiders the epicenter of his music addiction. The music of The Band, and most recently The Levon Helm Band, is the soundtrack of home for him. Brian's mother took him to his first concert at 5years old...it was Johnny Cash and Roseanne Cash at Jones Beach Amphitheatre. For Brian, music is a family affair. He feels the same way about live music...we all convene to celebrate together. Brian's writing life started when he wrote his favorite author, southern fiction writer Clyde Edgerton, a fan letter at age 13. When most kids were idolizing baseball players and television, he was worshipping writers and musicians. The two became friends and Clyde shared his craft with Brian. The next year Brian attended Duke University's Young Writers Camp. This is the extent, of what Brian considers, his "formal" training in writing. From then on his goal was to capture snapshots of life through words. Brian has been involved with live music in various facets over the years, and combined with his enthusiasm and love for Denver's music scene, he creates a vivid description of what he sees and hears. If you see him out at a show, dancing with a notebook in hand, say hello.