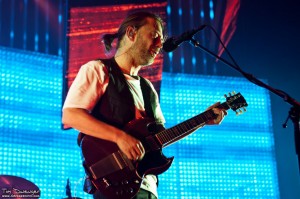 Photos by Tim Dwenger
The Scene: The line stretched nearly 100 yards as the clock approached 6:30 on Tuesday evening at the 1st Bank Center.  There were kids barely into their teens, college students and 20 somethings quickly finishing their pre-show beers, and there were plenty of folks in their 30's and beyond, well beyond.  The diversity of the crowd was a testament to the mass appeal of the band that we were all there to see, Radiohead.   No, they aren't really on the radio much, and they don't have many "catchy" tunes; they are an art rock band that has managed to make the transition into the mainstream, and that's no easy task.
As many Denver music fans know, tickets for this show went almost instantly and there were many people griping and wondering why the show hadn't been moved to the Pepsi Center which could accommodate almost three times as many people.  I for one tip my hat to AEG for not having this show in a massive arena and allowing those of us lucky enough to get tickets to have the experience of seeing this band in the relatively intimate confines of the 1stBank Center where there isn't a bad seat in the house.
Other Lives: Oklahoma band Other Lives opened the night and delivered 30 minute set of material culled from their self titled 2009 release and their recent album Tamer Animals.  Their dark and brooding songs were a fitting warm-up for Radiohead and while they didn't feature quite the same electronic experimentation, they won over a big crew of fans.  As they introduced their number "On Our Way," I heard more than one fan scream out "I love you guys!"  (Editor's Note: See our review of their December show at The Hi-Dive here)
Radiohead: I was talking to a friend the morning after this show and when he asked "so, how was it?"  All I could do was respond with one single word: "Wow!"  I though for a second or two about just using that one word as my review of the show, but I thought better of it.  Instead I'm going to present myself with the nearly impossible task of putting words to this monumental night of music.
Let's get one thing out of the way right up front, I'm not a huge Radiohead fan.  At least, I'm not a huge fan of their recorded material.  I'll listen to them now and then, but I've never really connected with their albums the way some people do.  That said, since I caught them at Red Rocks 10 years ago, I've been eagerly awaiting their return as I know they are capable of putting on one of the best live shows on the planet.  To say I went into the show on Tuesday with high expectations is an understatement.  I went into the show EXPECTING to have my mind blown, and you know what . . . Radiohead delivered!
I was lucky enough to witness the first three songs of the show through the lens of my camera in the photo pit directly in front of the stage and while it was exhilarating to be so close when the band broke into "National Anthem," I really feel that to experience the true power and majesty of a Radiohead performance you have to be able to take in the whole scene, something you can't do from the front row.
From further back in the room the six musical wizards that were responsible for much of our mind altering experience on Tuesday, were dwarfed by a dynamic lighting rig that stretched nearly to the roof of the modest arena.  There were lights, LED panels, and what looked like giant fiber optic tubes.  I literally heard gasps from those around me when the curtains fell and the lights came to life.  It was stunning to watch as the panels that displayed images of Thom Yorke, Jonny Greenwood and the rest of the band, moved into different configurations between songs and literally changed the appearance of the whole stage.
On the stage, the band was in a tight groove as they drew heavily on tracks from their new record, The King of Limbs, for the first half of the set.  While I'm not terribly familiar with the album, "Codex" sucked in me as Yorke slowed the pacing of the show and sat down at the piano to usher in the calm before the storm.  When the last notes of the tune had died away in the corners of the room, the band turned back the clock to two of their most well received albums to date and delivered "Nude" off of 2007's In Rainbows and their smash "Karma Police" from 1997's OK Computer.  Around the room, all eyes was trained on the stage as fans sang along with every word of the latter song.
As the set moved on it became distinctly noticeable that the energy in the room was steadily growing and I have to believe it was intentional as the band clearly had everyone in the room eating out of the palm of their hand.  Yorke's gyrating during their most recent single, "Lotus Flower," drew massive cheers and as the band slipped from there in "Reckoner," the set seemed to be building to a climax.  Sadly, as the next song, "Street Spirit (Fade Out)," faded out, Radiohead waved goodbye, walked off stage, and left a palpable energy hanging in the air.
I was a little bit confused because while the show was good, my mind had not yet been blown.  Little did I know that the main set was only an appetizer for what was about to happen.  Over the next 35 minutes the band returned for not one, but two encores, played a total of seven songs, and nearly blew the roof the place.  Yorke kicked things off by acknowledging the pent up energy when he stepped up to the mic and said "let's kick this mutha up a bit!"  While "How To Disappear Completely" didn't quite do that, they incited a massive dance party when the stage hands rolled out two extra drum kits and Radiohead delivered a percussion heavy version of "These Are My Twisted Words" that was another highlight of the night for me.  Following it up with the grunge tinged "Lucky" kept spirits high before they wrapped up the first encore with "Everything In It's Right Place" from 2000's Kid A.  
As I stood there screaming for more and wondering what they could do to top what I had just seen, never once did I think that a largely acoustic tune from The King of Limbs would prove to be my personal "wow" moment, and the one song that I would pay almost anything to see performed live again.   Yorke emerged to a deafening roar armed only with an acoustic guitar and broke into "Give Up The Ghost" as Greenwood stood in the shadows to his left.  When his voice filled the air and his fingers strummed the guitar strings I was mesmerized, but my jaw literally dropped and I was pulled from my trance when Yorke's ethereal voice sliced through the swirling soundscape and he sang over his own looped vocals.  It was masterfully executed and may have been one of the single best musical moments of my life.  As far as I was concerned, that was all I needed, I could go home happy with my mind radically blown…but they weren't done yet.
I was still marveling at the beauty of "Give Up The Ghost" as the band ran through "You and Whose Army?" but I was pulled back into the moment when the intro drum beat of "Idioteque" pierced the air and electrified the crowd.  Pulsing lights and throbbing bass filled the arena floor with dancers while Thom Yorke stood at the center of it all and surveyed the scene.  It was a spectacle of the grandest order as Radiohead proved yet again that they are the greatest live band of our generation.  If you ever have the chance to see them, trust me, don't miss out.  Even if you don't really connect with their albums . . . remember, I don't either.
Energy: A
Sound: A
Musicianship: A+
Stage Presence: A+
Set/Light Show: A+
Overall: A+
Music has always been a part of my life. It probably all started listening to old Grateful Dead, Peter Paul & Mary, and Simon & Garfunkel records that my parents had, but it wasn't long before they were taking me to concerts like Starship, Crosby, Stills & Nash, and Huey Lewis & The News. I got the bug to write about music after reviewing an Eric Clapton concert for a creative writing project in high school but didn't really take it up seriously until 2002. Since then I have published countless articles in The Marquee Magazine and done some work for Jambase.com, SPIN Magazine, and various other outlets. I started Listen Up Denver! as a way to share the music information that is constantly spilling out of my head with people who care. Please enjoy!