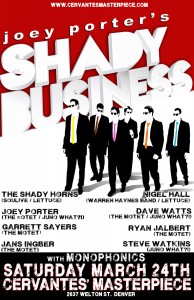 Why You Should Go: Joey Porter is hosting an ALL-STAR funk throwdown at Cervantes' this Saturday.  The members of Juno What?! will be in attendance (Porter, Watts, Swatkins) as well as The Motet's Garrett Sayers and Ryan Jalbert. As if that weren't enough, other featured guests this night include Nigel Hall (Scofield, Warren Haynes, Soulive, Lettuce) and The Shady Horns from Soulive and Lettuce. Come RAGE with the nastiest pickup funk band you may ever see!
As if that wasn't enough, Monophonics will be opening the evening.  Over the past seven years, these guys have staked their claim as one of California's premier bands. Raised amid the Bay Area's rich musical culture, Monophonics has proudly carried on the tradition of music native to their hometown, which flourished during the birth of psychedelia.  Formed in 2005; originally an instrumental ensemble comprised of guitarist Ian McDonald, bassist Myles O'Mahony, saxophonist Alex Baky, trumpeter Ryan Scott, and drummer Austin Bohlman, the band has recently added the dynamic soul vocals of keyboardist Kelly Finnigan. The result is a psychedelic soul & heavy funk sound, which harks back to the styling of the late 60′s and early 70′s, all while keeping its feet planted in the present.
Listen Up Denver! has a couple of pairs of tickets to see Joey Porter's Shady Business & Monophonics on Saturday night at Cervantes'.
All you have to do to enter this contest is post "I Wanna Get Shady with Joey Porter" on our Facebook Wall.  
PLEASE NOTE: Entry deadline is Noon MST Friday March 23th and the winner will be notified by email or Facebook no later than 5pm MST the same day.  Please be prepared to respond quickly to confirm you can attend or we'll pick another winner.
Joey Porter Trio
 Monophonics – "Gun Powder" 
Venue:
Cervantes' Masterpiece Ballroom, 2637 Welton Street, Denver, CO 80205 – 303/297-1772
Doors:
8:00 PM
*Price:
$18.00
Buy Tix
*All times and prices are gathered from other sources and we are not responsible for mistakes or inconsistencies. They are intended only as guidelines. Please, always call the venue if you desire the most accurate information possible.