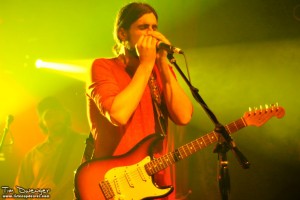 Photos by Tim Dwenger
The Scene: A crowd of Transplated Bostonians and Austinites came out to support their hometown bands on Friday night at Cervantes' when Band of Heathens and Ryan Montbleau came to town.  Young professionals ordered top shelf drinks at the bar and it was a nice change of pace which made me realize that I can't remember the last time I ironed a shirt. Hell, I don't even recall the last time I've worn one with a collar on it! Another defining characteristic of the audience was their rigidity. I didn't realize this until a friend pointed it out; but she was so right. The crowd was just standing there like blanched cardboard for most of the night. I wouldn't classify either band as "dance music," but they definitely had my feet moving. I guess the liquor finally took effect around 12:30, because the crowd started to loosen up and get down. Even though they were stiff at first, they were extremely encouraging and attentive.
Ryan Montbleau Band: The audience may have been a little stiff, but the Ryan Montbleau Band was throwing out nothing but soul. Montbleau's voice reminded me of a young Stevie Wonder at times, and the first half of the set had an R&B feel to it, especially "Sweet, Nice 'n High" which was originally recorded by soul-super-stars Rhinoceros.
As much as I loved Montbleau's smooth and fluid voice, it was the performance of the band as a unit that really impressed me. Lyle Brewer's lead guitar was a driving force of the night, as was the vibrant rhythm section. Yahuba's world inspired hand drumming was tight, but I especially loved his well-placed chimes that rang sweetly many times during the set.
"75 and Sunny" was the song the crowd was waiting for, and it presented the more mainstream side of the band. Even though that song was the crowd favorite, I preferred the funked-up-soul from earlier in the set. The middle of the road pop rock sound of "75 and Sunny" may be where Montbleau is coming from, but his new album For Higher is where he is headed. Recorded in New Orleans and featuring Anders Osborne, Ivan Neville, and George Porter Jr., this album is filled with Funk and Soul. I am glad Montbleau is taking a departure from his normal sound, and am looking forward to the May 17th release date of For Higher.
Band of Heathens: It is always a blast when Band of Heathens come to town and Friday was no different. Again, I just wish the crowd was as rambunctious as the explosive set. The last time these guys were at Cervantes, the crowd was rockin' like a Texas roadhouse. However, the band was filming a two night run last time, and people came in from all over for the event, so I guess it's an unfair comparison.
I am going to make one thing clear right from the start…there simply isn't anything I don't like about this band. A few months ago, a friend turned me onto Dawes by saying "They embody everything you love about music." He was right. I not-so-secretly wish I lived in 1978, absolutely love roots rock with some grit and soul to it, and I list The Band as one of my top two favorite bands (with the Grateful Dead taking the other spot.) The thing is, I think BoH is embodying it even more. They just have more growl and I love their Texas barroom swagger.
The night kicked off with "Should Have Known," a song that just rips from the start. This was the first time I have seen BoH play without Colin Brooks, who left the band late last year, and they seemed just fine to me. During a conversation last month, Gordy Quist had told me that "There is more space in the band, sonically" without Brooks, and I really saw that. Everyone had more room to stretch out, and so did their jams.
"Hurricane," which Levon Helm originally recorded on his album American Son, allowed BoH to bear some teeth. These guys can rock, no doubt, but they also have a sweetness and smoothness to them that came out in "Gris Gris Satchel." The first song I ever heard by BoH was "Jackson Station," and hearing it live just makes me fall in love with the band all over again. It also probably best sums up all of the elements the band brings together.
Their two night run in October ended with a set of Grateful Dead songs, and we got an all Grateful Dead encore this time around. The last three, "Brown Eyed Woman," "Ramble on Rose," and "Deal," fit right in with the BoH sound. I sure hope that BoH is going to make playing Dead songs a Cervantes' tradition, and continue it at Red Rocks once they get there.
Setlist: Should Have Known, What's This World, Walking and Talking, Golden Calf, Handbags and Gladbags, Say, Hurricane>The Other Broadway, Gris Gris Satchel, Sin City, Free Again, Transit Wind, Jackson Station, LA County Blues, Look at Miss Ohio, Talking Out Loud, Second Line, Medicine Man, I Ain't Running
Encore: Quinn the Eskimo, That's What Love Will Make You Do, Brown Eyed Women, Ramble on Rose, Deal
Energy: A-
Sound: A
Musicianship: A
Stage Presence: B+
Set/Light Show: B+
Overall: A-
Brian Turk grew up in the shadow of the Catskill Mountains, near Woodstock, NY. He comes from a family of music lovers, audiopliles, Dead Heads and avid concert goers.The musical magic that can only be created in the Catsklills, both past and present, is what Brian cosiders the epicenter of his music addiction. The music of The Band, and most recently The Levon Helm Band, is the soundtrack of home for him. Brian's mother took him to his first concert at 5years old...it was Johnny Cash and Roseanne Cash at Jones Beach Amphitheatre. For Brian, music is a family affair. He feels the same way about live music...we all convene to celebrate together. Brian's writing life started when he wrote his favorite author, southern fiction writer Clyde Edgerton, a fan letter at age 13. When most kids were idolizing baseball players and television, he was worshipping writers and musicians. The two became friends and Clyde shared his craft with Brian. The next year Brian attended Duke University's Young Writers Camp. This is the extent, of what Brian considers, his "formal" training in writing. From then on his goal was to capture snapshots of life through words. Brian has been involved with live music in various facets over the years, and combined with his enthusiasm and love for Denver's music scene, he creates a vivid description of what he sees and hears. If you see him out at a show, dancing with a notebook in hand, say hello.