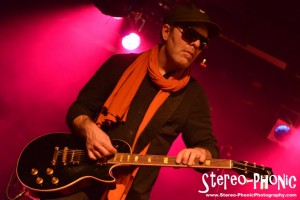 Photos by Johne Edge
The Scene: Louis Armstrong, whose visage adorns the wall of Cervantes' Other Side, was famous in Denver's Five Points as an inventive performer both as a musician and a lyricist.  Proud of their musical heritage, Cervantes' Masterpiece Ballroom and The Other Side continue to book music for Denver's more adventurous listeners. Looking for the next big thing, they often book artists that are difficult to categorize.  Last Thursday's line-up is a prime example, as a one-man band, playing his self-proclaimed "Island-Infused Drum n' Bass Gospel Ninja Soul" opened up for an equally diverse DC super group that features members of Thievery Corporation.
The Opener: Zach Deputy. Listen Up Denver! was lucky enough to catch Zach Deputy on back to back nights.  First on March 14th at the Fox, (check out the review and photos here) then we caught him playing in support of See-I.  Deputy creates his rich one man band sound live on stage with intricate guitar work and accompanied looping.  The soulful singer threw some beat boxing into his set to make sure the crowd was up and moving on the dance floor.  Good stuff from Mr. Deputy, make sure you check him out.
See-I: At around a quarter past 11:00, See-I took the stage for the first of two sets.  This super group is made up of  musicians from DC area bands Thievery Corporation, Nappy Riddem, Fort Knox Five, and Empresarios.  After the musicians jammed a bit, brothers Rootz and Zeebo Steele joined them decked out in their trademark Pith helmets and Aviator glasses and the band took off on a musical journey that wove together elements of Reggae, Dub, Funk, Rock, and Jazz.  Having caught these guys back on November 11th (see our review here), I knew better than to not get out on the dance floor.  So, with camera in hand, I braved the crowd filled with dancing young ladies.  It was a tough job, but someone had to do it.
Throughout the night Denverites were treated to a mixture of songs off the bands self titled debut album like "Haterz 24/7″ and "Dangerous," and See-I classics like "The King."  Just to make sure everyone's dancing shoes were laced tight, the group wove elements of P-Funk's "We Want The Funk," and Steve Miller Band's "Fly Like An Eagle," in and out of their originals.  The band took a 15 minute intermission around 12:15 and as DJ Uplifter kept folks dancing, I made my way to the bar for a can of cold adult refreshment.  See-I came back on stage and kept the party going until closing time.  Truly inventive performers, like Satchmo before them, these guys remain one of the best examples of one world music. 
Energy: A+
Sound: A-
Musicianship: A
Stage Presence: A
Set/Light show: A
Overall: A
Wherever the music is, you'll find me with my camera, shooting on street corners, from barstools at clubs, from the side of the stage at theaters, and from photo pits in places like Red Rocks. Clicking away, trying to capture the emotive essence of music, and all those moments that we forget because of one too many Pabst Blue Ribbons.