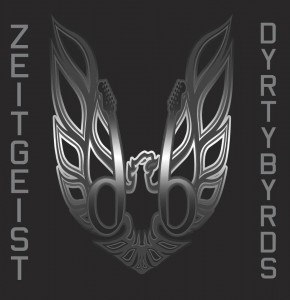 Dyrty Byrds are known for their straight-no-chaser southern tinged Rock and Roll, and their new album stays true to form. Zeitgeist is guitar heavy and aggressive, but still maintains a certain southern charm. In addition to being axe men, Eric Martinez (Bloodkin), Tori Pater (Polytoxic), and Sam Holt (Outformation) all shared songwriting duties on the album. Having three guitar players enables them to layer different tones and bring many different flavors into the mix but The Dryty Byrds aren't all guitar.  Holding it down in the rhythm section are Mike "Spanky" McCluer on bass and Andy Clapp on drums. Paul "Dr. Poz" Cohen lends some saxophone on "To Play Is To Win," and Polytoxic's Chadzilla, who also engineered and produced the album, contributes to backing vocals and percussion on various songs.
The album opens up with Pater's patented southern growl on "Stomping Grounds," and the song introduces you to one of the themes on the record: the challenge to change in the presence of trying times as a nation. "To Play Is To Win" is an ode to real Rock and Roll, and although it speaks of revolution, it is not a political one.
"Southern Angel" is one of the softer tracks on the album, but the grit comes right back with "Home of the Free" and so do the references to change, greed, and our political climate. Martinez's vocals on the guitar heavy "El Rey" give it a dark and stormy feeling.
The album changes pace and intensity as the styles of the different songwriters shine through and give everyone a chance to be heard. "Gone Fishing" is upbeat and has a more acoustic presence, but gets punctuated by an Allman Brothers like electric tone. It's a song that paints a picture of slow days in the south, and taking time to get away from it all. "Vampire Poets" is another spooky creation by Martinez, while Holt gives us some 1970s muscle car rock with "Daredevil." You could slip this song onto the Dazed and Confused soundtrack, and it would fit right in.
Dyrty Byrds can also touch on a lighter side of rock as well, as they did with "Flagpole Sitting," and they can strip down and go acoustic for tracks like "Words To Live By." The latter track is probably one of my favorites on the album and it shows me that Dyrty Byrds are just good ol' southern boys at heart who like to "Trust in Whiskey." The album closes out on an upbeat note with the extremely danceable and party provoking "Catch the Lights."
The Dyrty Birds will be hosting a release party for Zeitgeist at Cervantes Other Side on March 23rd at 9pm.
West Water Outlaws & Jonah and The Whales will be joining in on the fun!
Brian Turk grew up in the shadow of the Catskill Mountains, near Woodstock, NY. He comes from a family of music lovers, audiopliles, Dead Heads and avid concert goers.The musical magic that can only be created in the Catsklills, both past and present, is what Brian cosiders the epicenter of his music addiction. The music of The Band, and most recently The Levon Helm Band, is the soundtrack of home for him. Brian's mother took him to his first concert at 5years old...it was Johnny Cash and Roseanne Cash at Jones Beach Amphitheatre. For Brian, music is a family affair. He feels the same way about live music...we all convene to celebrate together. Brian's writing life started when he wrote his favorite author, southern fiction writer Clyde Edgerton, a fan letter at age 13. When most kids were idolizing baseball players and television, he was worshipping writers and musicians. The two became friends and Clyde shared his craft with Brian. The next year Brian attended Duke University's Young Writers Camp. This is the extent, of what Brian considers, his "formal" training in writing. From then on his goal was to capture snapshots of life through words. Brian has been involved with live music in various facets over the years, and combined with his enthusiasm and love for Denver's music scene, he creates a vivid description of what he sees and hears. If you see him out at a show, dancing with a notebook in hand, say hello.