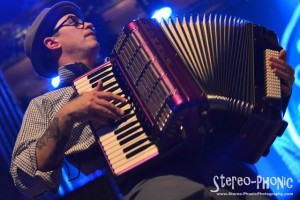 Photos by Johne Edge & Sarah Henderson
The Scene:  Colorado was blessed again this year with a place on Flogging Molly's "Green 17 Tour," the group's 8th annual run of 17 shows leading up to St. Patrick's Day.  With St. Patrick's right around the corner, the sold-out Ogden Theatre was filled with the energy of a crowd three times its size.  As LUD! contributors Sarah, Johne, and I fought our way into the pack of rabidly excited fans, I could tell this show was going to be incredible.
Flogging Molly:  The seven piece attack of Flogging Molly came out swinging with the title track from their gold certified, 2002 release, Drunken Lullabies. The crowd erupted into a frenzy and the roof literally felt like it was going to blow of the theatre.  As the mosh pit engulfed the area in front of the stage I was taken back to my first mosh pit, which also took place in this very same room when The Bloodhound Gang and Electric Eel Shock stopped by on the Jagermeister Music Tour back in 2005.  After losing my hat, and hitting the deck twice, I feared for a fleeting second that this may be the last mosh pit of my life…and this was only three minutes into the show.
Needless to say, I made an escape to the railing and spoke with some fellow fans in between the next couple songs.  In a few conversations with people up at the front of the crowd, I learned that folks had been anticipating this show for months, cancelled plans, and even told a few lies to get here.  That's the type of dedication that comes from true fans and it showed as the energy in the building fluxed from the stage into the crowd and back again.
Crashing through a laundry list of songs and showing no signs of stopping, Dave King and the rest of Flogging Molly ran through tracks off of every one of their studio albums along with five or six new ones from their 2011 release Speed of Darkness.  Unfortunately all good things must come to an end and, after 20 brilliantly selected songs, Flogging Molly stepped off stage.  Tossing traditional encore chants aside, the Flogging faithful erupted into something a little more fitting and "Olé, olé, olé, olé" echoed through the auditorium and undoubtedly made it's way back stage.  Applauding the band for what had been an amazing evening of sharing song and throwing each other around like ragdolls, the crowd erupted once more as Dave and the gang made their way on stage for the encore.
In a three song encore that, dare I say, rivaled the rest of their set, Flogging Molly gave us time to reflect and dance with a lass during "The Worst Day Since Yesterday" and a incredible cover of Bob Dylan's "The Times They Are A-Changin'."  Bringing the evening full circle, Flogging Molly tore into "Salty Dog," a song played to encourage the throwing of loved ones into dangerous circle pits and the like.  Howling like the salty dogs we are, the Flogging faithful applauded the group once again as they made their way off stage.  As the lights came up, "Always Look on the Bright Side of Life" began to play over the PA and lads and lassies joined hands and danced their way home.  A beautiful ending to a beautiful show.
Set List: Drunken Lullabies, Requiem for a Dying Song, Speed of Darkness, Revolution, Life in a Tenement Square, Whistles the Wind, Saints and Sinners, The likes of you Again, Swagger, The Power's Out, The Sun Never Shines (On Closed Doors), A prayer for me in Silence, Float, Black Friday Rule, Oliver Boy (All of our Boys), Rebels of the Sacred Heart, The Devil's Dance Floor, If I Ever Leave This World Alive, What's Left of the Flag, The Seven Deadly Sins
Encore: The Worst Day Since Yesterday, The Times They Are A-Changin', Salty Dog
Energy: A+
Sound: A
Musicianship: A
Stage Presence: A
Set/Light Show: A-
Overall: A
In a day and age where music plays as big of a role in shaping who we are as our parents do, I have my parents to thank for how I turned out – musically inclined at least. Growing up in a house with music literally stacked to the ceiling, I remember swiping an array of albums from my parent's collection, only to be called out on it once they wanted to listen to one. As I grew so did my taste in music, which now encompasses everything but pop-country (I just can't do it). So whether its electro-funk or dub-step, punk rock or hip-hop, jam-grass or reggae, you can catch me there, loving life and the beautiful sounds that surround us in it.