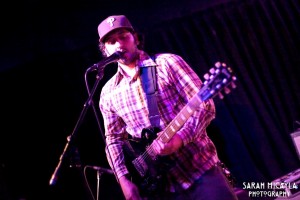 Photos by Sarah Henderson
The Scene:  When Mike Pinto is in town you can count on a good group of people showing up for his show.  And when Mike invites hometown heroes P-Nuckle out to open, they call their friends, and they call their friends, and so on.  It can quickly become one of those magical nights at the Marquis Theatre where the faces are all too familiar and the energy is just right.  Not to mention $5 PBR 2X4s and $2 slices – Hello Thursday night!
Opener: Transverse Waves.  I've been listening to 'The Waves' for a while now and I can say I was genuinely excited to catch their opening set.  So you can imagine my disappointment when they were bumped on 15 minutes early and I missed half of their 30 minute show.  Thankfully, I was still able to dance with Transverse Waves as they laid out an improvisational jam to burn their last 5 minutes on stage.  Listen up Denver! because these boys are coming up; I expect to be seeing more of them real soon, especially if P-Nuckle has anything to do with it.
Opener: Green River Vibe.  Straight out of Denver, Green River Vibe has set the mark for progressive reggae-rock music that knows few stylistic boundaries. The result is highly energetic dance music that solidifies with G.R.V.'s passionately positive message.  This positive message was shining off of G.R.V.'s lead vocalist Alex Mackenzie-Low's face last Thursday evening as he kept the growing crowd's dancing feet moving throughout their 30 minute set.
Opener: P-Nuckle.  With eclectic musical influences ranging from Dancehall Reggae to straight ahead Punk Rock, P-Nuckle has always created a memorable live experience.  There were plenty of loyal Nuckleheads in attendance as the local boys played a mixed set of (fairly) new material from their 2009 release Stand Up and some great oldies off of Colfax Satisfaction and Resident 303.  The skanking reached a high for the evening when the boys broke into "Gas on the Fire: and the crowd echoed the chorus back at the stage "Gas on the fire (x4) / Flames getting higher (x2) / Together we watch the city burn."  The 303 residents had done a great job and as they stepped off the stage, the crowd was undeniably ready for the Mike Pinto Band.
The Mike Pinto Band:  I had heard rumors that the Mike Pinto band had picked up a pair of horn players but they were not in attendance for tonight's show – not that there would have been space for them on the stage but that aside Mike, Matt, and Todd put on a great show.  As Mike tore into the opening chords of "Bad Luck" the entire crowd burst out into song, song that would last for the rest of the evening.  Mike and the boys played all of the classics from "Tricky Nicky" to "One More Time" there wasn't a song they laid down that the mob didn't know word for word.
By mid-set Mike and the boys had dumped the go-to oldies and were belting out new stuff from The West is Still Wild EP and the fun loving Denverites in attendance didn't miss a beat.  Singing right along with Mike to everything from "Feet Don't Fail me Now" to "The Cool and The Deadly."
During our interview before the show Mike had mentioned that Vancouver was holding the title of "best show of the tour."  However, by the time the band finished their set, the passionate fans of Denver had won Mike over in the intimacy of the Marquis.  "You guys have been the best stop so far" Mike told the crowd before stepping back stage for what I imagine was another shot of Jagermeister.
The encore was short but sweet (in a Ska infused circle pit kind of way.)  Mike broke into "Bill's Song," a fantastic story telling piece about a bank robbery and so much more.  With one ecstatic fan gripping the front of the stage and yelling "FULL  SPEED!! FULL SPEED!! FULL SPEED!!," Mike cracked a joke about playing a couple of acoustic tracks to finish the night.  "Just kidding" Mike said into the microphone, "this one's called Full Speed."  A perfect cap to the evening, "Full Speed" featured a shout out to "all you stoners," and, as the circle pit consumed the entire crowd I'm pretty sure I even saw a guy ride Transverse Waves bassist Doug Maes into the center of the fray.  As Mike and the boys made their way off stage, a group of guys broke into their best Wayne's World impression and chanted "we're not worthy, we're not worthy" allowing us to catch one last Mike Pinto smile as he disappeared back stage.
Set List:  Bad Luck, Temptation, Addictions, One More Time, Tornado, Feet Don't Fail me Now, It Ain't Easy, Turn You On, Darlin', The Cool and The Deadly, Backburner, The West is Still Wild, Tricky Nicky.
Encore: Bill's Song, Full Speed 
Energy: A-
Sound: B+
Musicianship: B
Stage Presence: B+
Set/Light Show: B-
Overall: B+
In a day and age where music plays as big of a role in shaping who we are as our parents do, I have my parents to thank for how I turned out – musically inclined at least. Growing up in a house with music literally stacked to the ceiling, I remember swiping an array of albums from my parent's collection, only to be called out on it once they wanted to listen to one. As I grew so did my taste in music, which now encompasses everything but pop-country (I just can't do it). So whether its electro-funk or dub-step, punk rock or hip-hop, jam-grass or reggae, you can catch me there, loving life and the beautiful sounds that surround us in it.