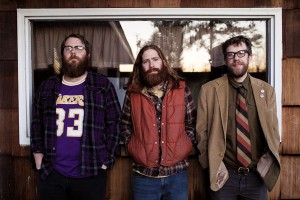 Six years ago, the band DeYarmond Edison called it quits. They had moved from Eau Claire, Wisc., to Raleigh, N.C. together a few years earlier; but that strong southern sun must have cast a different light on the paths in front of them.
The group's vocalist and guitarist, Justin Vernon, headed back to the woods of Wisconsin, while brothers Phil and Brad Cook decided to keep pickin' in the pines along with drummer Joe Westerlund. The Tar Heel trio declared themselves Megafaun, while Justin Vernon went on to form Bon Iver.
Megafaun released their fourth and self-titled album in the fall of 2011, and Bon Iver won the Grammy for best new artist just last month. Both bands have taken separate roads that have led to different definitions of success; and both seem content with their choices.
Megafaun just returned from a European tour last week, and we got to chat with banjo player Phil Cook while the band was in the Bordeaux region of France. During this chat, Cook gave The Marquee his description of Megafaun's goals and sound. "We view this band as a vehicle to better ourselves in life. Negotiation, humility and courage are probably what our music sounds like. We've only ever been interested in the music. Music is what guides us," said Cook.
Considering that they are being led through their lives by music, it is no surprise just how versed these men are in all periods and types of it. "Well, we all started in jazz, and are influenced by lots of old jazz cats. Bill Evans Trio with Scott Lafaro and Paul Motion. Mingus, always. Miles Davis electric group. Over time, artists who use rock music to improvise and cultivate spontaneity opened doors for us. Bill Frisell. The Slip. John Zorn. Phish. The Grateful Dead. Much later on, Chicago bands like Califone and Wilco were big for us. Yankee Hotel Foxtrot introduced us to Jim O'Rourke which was a big one. From there, it went in a million directions. Producers. Composers. Obscurities."
One of the largest collections of obscurities the band delved into is the revered Anthology of American Folk Music, which was released in 1952 on Folkways Records and compiled by folk music collector Harry Smith. Comprised solely of recordings made between 1927 and 1932, this American treasure captures some of the most unusual, and hauntingly beautiful, snapshots of days gone by. "Joe has the vinyl box set and I have Volume 4 (released in 2000). We've definitely dove into it. There are quite a few folks from North Carolina represented on there. Mainer's Mountaineers! Clarence Ashley! My favorite player is Garley Foster, who played harmonica with Ashley. Still to this day, as a harp player myself, I have absolutely no idea how he does that warble!" Cook said.
Finish This Article Over At The Marquee Magazine Site . . .

Catch Megafaun Live:
The Hi-Dive :: March 27th
The Marquee is an independent, Colorado-based, PRINT & ONLINE Free Music Magazine. The Marquee strives to be the Farmer's Almanac of the regional music scene — providing readers with facts, tid-bits, in-depth feature stories and a Calendar section that is unparalleled on Colorado's Front Range, covering every live music venue from large venues such as Red Rocks Amphitheatre to small clubs and coffee shops.