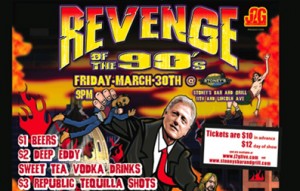 Why You Should Go: Who didn't love the 90's but most of all who didn't love the music in the 90's? Well now it's time to relive it all! Last year, J2G Live decided that the music of the 90's needed to be celebrated, and "Foolin' Around in the 90's" was born. It was such a blast that these guys decided to do it again! This Friday at Stoney's Bar and Grill, the 90's are back….with a vengeance. "Revenge of the 90's" will feature over 40 musicians from more than a dozen local bands, and they will be covering all types of music from the decade. Since there are 10 years and countless genres to choose from, "Revenge of The 90's" won't be just a repeat of a great party, but an entirely new experience.
The great thing about these songs is their ability to evoke emotion. They will make you think of your senior prom, the best spring break you ever had, the first person who broke your heart, or the best day you ever had ditching school. The 90's doesn't seem all that long ago, but some of the songs have had over 15 years to root themselves in our brain. Here is a sneak peak of some of the covers you will hear:  "California Love" – Dr. Dre and Tupac, "Hunger Strike" – Temple of the Dog, "This Is How We Do It" – Montell Jordan, "Man in a Box" – Alice in Chains, "The Sign" – Ace of Bass, "Smells Like Teen Spirit" – Nirvana, "The Impression That I Get" – The Mighty Mighty Bosstones…and many more favorites.
Music will be performed by members of: Rose Hill Drive, Kyle Hollingsworth Band, Yamn, Fox Street Allstars, Kinetix, MTHDS, The Congress, Filthy Children, Future Jazz Project, Oak Creek Band, Jonah Wisneski, Broken Tongues, Hot Soup, Filament and many more!
Drink Specials: $1 Beers (Miller Lite and Coors Light), $2 Deep Eddy Sweet Tea Vodka, $3 Republic Silver Tequila Shots.
Listen Up Denver! has a couple of pairs of tickets to see "Revenge of the 90's" on Friday night at Stoney's.
All you have to do to enter this contest is post "I Love The 90's" on our Facebook Wall.  
PLEASE NOTE: Entry deadline is 5pm MST Thursday March 29th and the winner will be notified by email or Facebook no later than 7pm MST the same day.  Please be prepared to respond quickly to confirm you can attend or we'll pick another winner.
Venue: Stoney's Bar & Grill, 1111 Lincoln Ave, Denver, CO 80203 – 303/830-6839
Show:
9:00 PM
*Price:
$10.00 ADV, $12.00 DoS
Buy Tix
*All times and prices are gathered from other sources and we are not responsible for mistakes or inconsistencies. They are intended only as guidelines. Please, always call the venue if you desire the most accurate information possible.