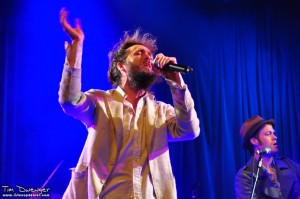 All Photos By Tim Dwenger
The Scene: The Ogden was packed on Wednesday night.  From Hipsters, to Hippies, to a ton of teenagers, the room was a melting pot of Denver demographics, but everyone had turned out for the same reason, to see Edward Sharpe & The Magnetic Zeros.  In the nearly two years since they last graced the stage of The Ogden, this group hasn't released any new material, but they have steadily become more and more popular.  Whether it was their tour with Mumford & Sons, or just that their music has that power to worm its way into your head and stay there for ever, I don't know, but I do know that the excitement in the room was at a fever pitch by the time Alex Ebert, Jade Castrinos, and the rest of the Magnetic Zeros took the stage.
Opener: Rocco DeLuca. When we walked in to the room, Rocco DeLuca was silhouetted onstage by a stark white light coming from his lower right side as the haunting tone of his resonator guitar rang out in the rapidly filling room.  As DeLuca served up "Snake Oil Salesman" and other backwoods Blues numbers like from his recent release Drugs 'N Hymns, he wove "I Trust You To Kill Me" and several other older songs from his days with The Burden into the set.  Throughout the captivating performance, DeLuca accompanied himself by stomping on a hollow box on the floor which gave a deep and booming drum feel to his music.  It was an emotional and moving set that I wish more people in the room took the time to pay attention to.  It's constantly amazing to me how many people stand directly in front of fabulous musicians – who were frequently hand picked by their favorite bands – and pay them absolutely no attention at all.  Ironically, these are often the same artists these same fans will be paying top dollar for in a few years.
Edward Sharpe & The Magnetic Zeros: There are very few concerts that truly transform the spaces they are held in, but Edward Sharpe & The Magnetic Zeros managed to turn the Ogden, a 95 year old theater on Colfax, into something akin to a tent revival that could well have taken place out on the plains right here in Colorado a hundred years ago or more.
The moment this 10 piece band took the stage, the energy in the room changed as people fell under the powerful spell of lead singer Alexander Ebert.  Whether he was dancing around, or sitting on the lip of the stage, Ebert commanded the attention of every one in the room as he directed the band through "40 Day Dream' and "Carries On" from the band's 2009 breakout record Up From Below.  With hordes of screaming teenage girls pressing up against the stage, Ebert couldn't have looked any less like the sex symbol they seem to think he was with his long hair piled up on his head, and his threadbare and tattered white suit hanging loosely from his shoulders.  Instead, Ebert sang, and at moments looked, like a man possessed.
That didn't seem to matter to the crowd as everywhere you looked, people's faces lit up with ear to ear smiles as they threw their heads back to sing along at the top of their lungs.  As the band ran through "Janglia," "Black Water" and "Up From Below," there was almost a spiritual feeling that hung in the air.  It was as if somebody had paused real life for a few hours and let us all descend into this psychedelic revival together.  Despite being packed shoulder-to-shoulder in the sold-out room, people were kind and accommodating as I moved around the theater.  In short, this wasn't like most other concerts you go to see at The Ogden, it was an escape into an alternate reality.
While most of the bands set was a variation on revivalist, Psych-Folk-Pop, the band showed off their ability to rock out 50's style with a version of the unreleased tune "If You Wanna" that just intensified the dance party around the room and included a call and response section with the audience where Ebert encouraged us to scream the top at the top of our lungs.  Around this point in the show, Ebert broke from his charismatic persona and addressed those of us in the crowd who would be reviewing the show by saying: "I just want you to know we've been playing for ninety minutes now.  At our last show, we played for two straight hours, and the next morning the review said 'it was a short set.'"  The one thing I'll say here is that in all honestly, I had the opposite opinion of the reviewer who said it was a "short set."  If anything, I think the band stretched things out a bit too long at The Ogden.  They have only released one album to date (not counting the Alex Ebert solo release Alexander), and it clocked in just short of an hour.  That means that the band played around an hour of material that most fans in the room had never heard before.  Don't get me wrong, it was a great show, but I wouldn't have been complaining if they had chopped 30 minutes or so out, at least until the next time they come through town and I have time to hear the new record. (Editor's Note: Edward Sharpe and The Magnetic Zeros new record, Here, will be released May 29th)
As the show wound to a close Ebert treated us to the single, "Truth," from Alexander.  Complete with the album's whistled introduction, the song was decidedly more mellow than much of the full band material that was showcased during the night and it proved to be a very solid number that peaked my interest in Ebert's solo record.  Then, more than two hours into the night, the introduction to "Home" rang out and the room went berserk as girls, and even a few guys, took it as their cue to jump up on stage and dance their hearts out.  By the time all was said and done, there must have been 30 people gyrating up on stage as the band ran through their biggest hit to date.
While it was a joyful moment to end a memorable show, if you've ever seen the HBO show Carnivale I imagine that most of Edward Sharpe and The Magnetic Zeros could have been a group of travelling minstrels integral to the plot that supernatural drama about life in a travelling circus.  Yes, they make joyful and beautiful music, but there was something otherworldly and eerie about their presence at the Ogden last week.
Energy: A
Sound: A
Musicianship: A-
Stage Presence: A
Set/Lights: B
Overall: A
Music has always been a part of my life. It probably all started listening to old Grateful Dead, Peter Paul & Mary, and Simon & Garfunkel records that my parents had, but it wasn't long before they were taking me to concerts like Starship, Crosby, Stills & Nash, and Huey Lewis & The News. I got the bug to write about music after reviewing an Eric Clapton concert for a creative writing project in high school but didn't really take it up seriously until 2002. Since then I have published countless articles in The Marquee Magazine and done some work for Jambase.com, SPIN Magazine, and various other outlets. I started Listen Up Denver! as a way to share the music information that is constantly spilling out of my head with people who care. Please enjoy!