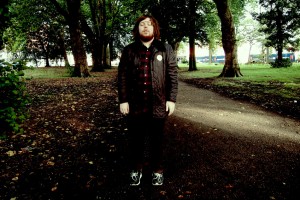 The Scene: For the most part I always thought of the Larimer Lounge as more of a place to catch punk rock, bluegrass, and the likes of that. Never really had I thought of it as a place to witness a funky Tuesday night electronic dance party. Last week, my mind was changed. The small venue began filling up around 10 with a rather unique blend of people. The fact that it is a 21+ venue really added to the character of folks that decided to come out for Star Slinger. It felt as if most walks of life were represented. I noticed everything from Hip-Hoppers to Rock and Rollers.
Star Slinger: When I had first heard Star Slinger was coming earlier this year, I was surprised and enthused to find out he would be playing the Larimer Lounge. Unfortunately that show had to be rescheduled due to some sort of travel issue which can't too uncommon since he hails from the other side of the world.
Now, to describe his sound has proven to be rather difficult. He is not only a producer of original tracks, but a mash-up artist and remix master. On top of all of that he has the ability to keep the crowd grooving with his DJ skills. Throughout the night I feel like he touched on almost every tempo imaginable.  While this may sound a little overwhelming, somehow he was able to do it flawlessly. Not only did he touch every tempo but he displayed a ridiculous knowledge and understanding for music.
He went from a Bone Thugs-n-Harmony remix that had everyone singing, into The Jackson 5's "I Want You Back." He followed this up with his own song, "Mornin'," which has become my new official summertime jam and samples another Jackson 5 classic.  To say the crowd was "going off" would be a vast understatement. It was, as they say in Hip-Hop culture, "live." I forgot it was a Tuesday night many times. I even noticed him take time away from working his dials and pressing his buttons to take out his iPhone to take a picture of the wall to wall crowd getting down to his eclectic sound.
Throughout the night I was impressed in his ability to sample just the right song, and transition from one genre to something completely different. He dropped his own remix of R. Kelly's "Remix to Ignition," and whipped the crowd into a complete frenzy but not before remixing a song from The Avalanches, an Australian group I hardly ever hear anyone around these parts mention, let alone sandwich between Gangster Rap and R&B.
His set was well thought out from the start to the finish. He brought back samples used in the beginning to give the whole performance the feel of just one long song as opposed to multiple tracks smashed together. This is something many DJ's forget to do, or just can't accomplish properly. It was anticipatory in every right way. His style had me waiting for a hell of a lot more than just a bass drop. I found myself constantly just wondering what in the world he was going to do next. I mean that literally, I constantly found myself on the metaphorical edge of my seat in anticipation of where geographically in the world he was going to pull his next sounds from. Everything from Jungle, to Dancehall, to southern Gangster Rap had me and, as far as I could tell, everyone else in the room enthralled completely from start to finish.
I can only hope that he plays a bigger venue the next time he comes around. The small high school dance feel that the Larimer's sound system and light rig create is fun and all, but I could just only imagine what Star Slinger would be able to do at the likes of a venue more suited for someone of his ability. I can also only hope that he decides to come back to Colorado much more often despite the fact he has to make such a long journey. His sounds are so fresh, unique, and eclectic that I could see him breathing some new life into the Front Range scene.
Energy: A
Sound: B
Musicianship: A-
Stage Presence: B
Set/Light Show: C
Overall: B

I rode my skateboard from school in 7th grade to my buddy Vince's house where he put on the song "Perfect Government" by NOFX and I was hooked. The next day I bought the album Duh by Lagwagon. The next year I saw Against Me! at the Starlight Theater in Fort Collins, my mom dropped me off. I've since devoted every waking hour to anything done with passion. My speakerbox bumps everything from Lil' Wayne to Pablo Casals. I was never very good at making music, but I am damn good at listening to it. I've been filling up yellow notepads with random thoughts and misspelled words for as long as I can remember. I enjoy whiskey of all sorts, Newport cigarettes and the company of my family. I've got an addiction to run-on sentences that I'll probably never cure. A solid handshake with a stranger who has become a friend over a few beers means the world to me. You'll often find me wide eyed and wandering with an ear to ear grin. I live for funky break beats and spreading the love.