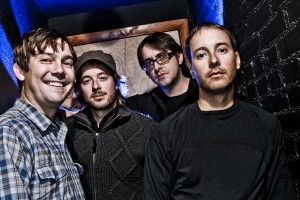 For the first time since 2003, Colorado festival producer Planet Bluegrass (producers of Telluride Bluegrass, RockyGrass, and the Rocky Mtn Folks Festival) is adding another major event to their festival calendar in Lyons, CO. The Kinfolk Celebration featuring Yonder Mountain String Band will be held August 24-25. Tickets and camping go onsale on April 20 at 9am MDT at shop.bluegrass.com or 800-624-2422.
The Kinfolk Celebration will welcome 4,000 music fans to the 15-acre Planet Bluegrass Ranch in Lyons on the weekend after the Rocky Mountain Folks Festival. Camping will be available onsite at the Planet Bluegrass Ranch and under the cliffs in Meadow Park (5 minute walk from Planet Bluegrass).
The 2-day concert will feature several full sets from Yonder Mountain String Band each evening, with several other artists performing earlier in the day.  Details about the other bands and gate times will be announced in the coming weeks.
The Colorado-based progressive acoustic quartet Yonder Mountain String Band formed in late 1998. Within their first year, they made their Planet Bluegrass debut on the RockyGrass main stage, followed by Telluride Bluegrass in 2000. Widely considered one of the most successful bluegrass bands of all-time, Yonder Mountain now consistently sells-out large venues across the country, including Red Rocks (capacity 9,450). The Kinfolk Celebration will be the band's only Colorado show of the summer season, besides their annual sets at Telluride Bluegrass.
The Kinfolk Celebration arrives during a historic year of ticket sales for Planet Bluegrass. Telluride Bluegrass and RockyGrass each sold-out 2 months earlier than ever before, while the Rocky Mountain Folks Festival (Aug 17-19) is tracking more than 60% ahead of last year's sellout pace.
Says Yonder Mountain guitarist Adam Aijala: "The Planet Bluegrass Ranch has become a home to Yonder Mountain. Since our first play for RockyGrass in 1999, we have always enjoyed being both performers and fans of the PB music scene. Great scenery, great people, and great times.  In light of this, it's no surprise we chose this site to host our annual Kinfolk Celebration. It's been 9 years since Planet Bluegrass has hosted this event and we're excited to bring it back to Colorado."
Yonder Mountain String Band's last Kinfolk Celebration on Planet Bluegrass in September 2003 is documented in their popular live double-CD "Mountain Tracks 3."
Ticket prices for the Kinfolk Celebration (Planet Bluegrass charges no handling fees on any tickets):
Two-day pass ($90 advance)
Single-day ticket ($50 advance)
Onsite camping + 2-day pass ($130 advance)
Meadow Park camping ($30 advance) – requires 2-day pass