*Listen Up Denver! was on the road last week and caught a couple of shows in Vermont.
The Scene: The Higher Ground is a converted movie theater just outside of Burlington and it is a really nice venue. Whoever laid this place out did it right. With two large bars there was no problem getting service and there were several tables and bar stools that provided plenty of seating for those looking to rest their feet.
The crowd was an diverse mix of old and young from all walks of life. The Afrobeat rythyms of Femi Kuti & Positive Force clearly appeal to a wide range of music fans. More than anything it was nice to get to a show outside of Colorado and see the inside of a new venue and some new faces in the crowd.
Opener: Japhy Ryder. This band put on a stellar opening set. We caught about 30 minutes of their show but they could have gone on all night for all I cared.
This quartet seemed to be from the same Jam/Jazz school as bands like The Slip and Soulive. As with most good bands of this nature a solid rythym section is critical and Japhy Ryder delivered with the stellar bass & drums combination of Patrick Ormiston and Jason Thime respectively. The band is fronted by fantastic Trumpeter Will Andrews and the only place where the band seems to lack a bit is in the guitar department. Jeremy Kizina is clearly talented but seemed to be playing catch up all night with his band mates as if he wasn't quite up to their level. His solos were a bit flat and while every other member of the band moved me at some point during their set the guitar faded into the background most of the time.
Japhy Ryder had the crowd moving and it seemed that many in the crowd were familiar with their music and had in fact maybe come out to see them rather than the headliner. While their shows seem to be largely confied to the East Coast at this point, I did hit the merch table to bring a little piece of their sound home with me and the album does not dissapoint.
Femi Kuti & Positive Force: Femi Kuti (son of the legendary Afrobeat innovator Fela Kuti) and his Positive Force brought their good word to the stage with the force they are named for. 14 members strong, they crammed the ample stage at the Higher Ground with all manner of instruments. A 5 piece horn section (supplement by Kuti himself), keyboards, guitar, bass and two drum sets provided lush undulating rythyms that were harnessed by 3 sensuous female dancers who gyrated tirelessly all night long.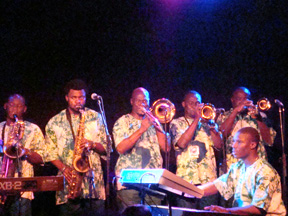 The band took the stage in show band fashion with the rythym section and guitarist and keyboard player taking the stage first and laying down a groove that welcomed the horns to the stage. Once the horns were in their place the dancers joined the fray and once the band got into full swing the man of the hour, Femi Kuti, took the stage front and center and they launched right into their first vocal number.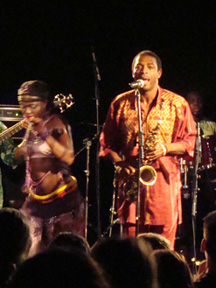 The sheer number of performers on the stage ratcheted the energy in the room up a notch as they filled our ears with upbeat music that wouldn't stop for the next two hours. Rarely stopping to catch his breath Kuti masterfully conducted the band and led them from song to song pausing only occasionally to thank the appreciative crowd who danced as tirelessly as the band played.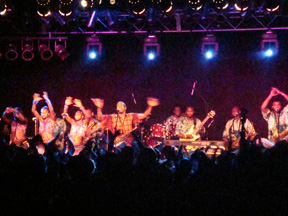 While the music was definately upbeat, fun and very well played I have to confess that as the evening wore on I began to notice that very few songs really broke the mold. There didn't seem to be any slow ballads or really charging numbers. The majority of the songs followed a similar rythmic pattern that was accented with great horn fills and Kuti's positive lyrics. I am not complaining as I thoroughly enjoyed the show, however, I do think that it should be noted that this was not a show that was full of changes in pace or style.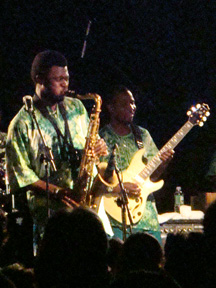 Kuti and his band were full of energy all evening and the half capacity crowd at The Higher Ground was treated to a night of Afrobeat that was effortlessly married to the more familiar American traditions of Jazz and Funk.
Energy: B+
Sound: A-
Musicianship: A-
Stage Presence: B+
Set/Light Show: C+
Overall: B
NOTE: You can catch Femi Kuti & Positive Force at The Boulder Theater on Tuesday July 31st.

Music has always been a part of my life. It probably all started listening to old Grateful Dead, Peter Paul & Mary, and Simon & Garfunkel records that my parents had, but it wasn't long before they were taking me to concerts like Starship, Crosby, Stills & Nash, and Huey Lewis & The News. I got the bug to write about music after reviewing an Eric Clapton concert for a creative writing project in high school but didn't really take it up seriously until 2002. Since then I have published countless articles in The Marquee Magazine and done some work for Jambase.com, SPIN Magazine, and various other outlets. I started Listen Up Denver! as a way to share the music information that is constantly spilling out of my head with people who care. Please enjoy!