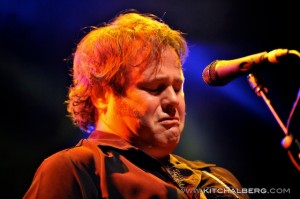 Photos by Kit Chalberg
The Scene: When Martin Sexton walked on The Ogden Theatre's stage, the microphone became a pulpit, and the venue a house of worship. No, we weren't worshiping the man, but what the man represents. Like a Catholic priest leads a mass, Sexton lead us in the direction of the light. His voice rang through the air, struck with power, and reminded an ecstatic crowd that music is a religion. For some reason, the room felt like it was full of people searching for truth through music; the kind of people who come to a show, not to simply be entertained, but to be enthralled and moved.
The crowd really did feel like a congregation, and a connecting energy seemed to flow from the stage, and through everyone in front of it. He may not have played "Halleluiah," but we were all shouting it as we celebrated the power of raw emotion, music, and the communal spirit that floated through the air.
Martin Sexton: Sexton started the night of with the sultry "Can't Stop Thinking About You," and the stresses of the outside world were instantly washed away by soothing sound waves and a strong current of seductive soul. "Diggin' Me" got our feet moving with its bouncy jazz feel, but "Freedom of the Road" stopped us in our tracks as Sexton tilted his head back, and belted out the chorus with a shuddering power. I guess the best way to describe Sexton's voice is "angelic," and I don't think I have ever described a man's voice with that term. I guess it's because most depictions of angels are women, or cute little cherubs. Well, this man proves that real men can be angels too!
"Living the Life," off of Sexton's 2010 release Sugarcoating, was filled with the politically aware lyrics that are threaded throughout the album, and it was one of the most Pop/Adult Contemporary sounding songs of the night. Over the past 20 years, Sexton has drawn from Soul, R&B, Gospel, Folk, Rock, Country and Blues and combined this unique genre bending approach with wide vocal range and stellar guitar playing to come up with songs that are extremely independent of each other. This also makes his songs not only unique from each other, but from anything else out there. When a musician's songs all sound the same, I tend to think it's because they are limited by their abilities, and they can only work within small confines. For Sexton, the sky is the limit and his reach was not only displayed by his originals, but also by his choice of covers.
The first one we got was Led Zeppelin's "Your Time is Gonna' Come," which was a great representation of early acoustic-guitar based Zeppelin. The fun loving and humorous side of Sexton came out with "Diner," as he sang praises of comfort food which actually made me hungry. This man tells you what's on his mind, no matter what the subject, and I think that's exactly way people love this guy; he exudes nothing but honesty. I would definitely classify Sexton is a romantic, and a lot of his songs strongly stoke the flames of love. "Things You Do To Me" had a frivolously frisky feel, and let us know that food isn't the only thing on his mind!
The second cover of the night was simply amazing; a precise and inspiring version of Pink Floyd's "Wish You Were Here." As we all sang along, Sexton recreated electric guitar solos with his voice, and he "sang" the solos better than most guitarists could play them. Sexton doesn't just recreate guitar sounds, but he also beat boxes and uses vocal scat to punctuate his songs. He truly uses his voice as an instrument, and that's one of the main reason his sound is so distinct and why he is so much more than your average singer songwriter with a guitar.
The perfect combination of Sexton's romantic and fun loving sides was shown off on "Angeline," and it got us all showing our beautiful side! As I danced up in the balcony, I looked down and noticed there wasn't a face without a smile. After closing out the night with a cover of Buffalo Springfield's "For What it's Worth," Sexton was joined by opener Stephen Kellogg for  a "Black Sheep" encore. With his mouth opened wide, Sexton held long and powerful notes as the Ogden Theatre choir backed him up.
Music has always been a source of emotion for me. Since a young age I have used it to escape, to inspire joy, to ponder the mysteries of the universe, to remind me of the beauty of life, to connect to others, and to get me through day. Others may rely on religion for these comforts, but music is my religion and Martin Sexton gave me one of the best sermons I have ever heard. Halleluiah!
Set List: Can't Stop Thinking About You, Diggin' Me, Freedom of the Road, Living the Life, Real Man, Your Time is Gonna' Come , Beast in Me, Diner, Fall like Rain, Friends Again, Things You Do To Me, Gypsy Woman, Glory Bound, Wish You Were Here, Angeline, My Faith Is Gone, For What It's Worth
Encore: Black Sheep (w/ Steven Kellogg on Harmonica)
Energy: A
Sound: A
Musicianship: A+
Stage Presence: A+
Set/Light Show: B+
Overall: A
Brian Turk grew up in the shadow of the Catskill Mountains, near Woodstock, NY. He comes from a family of music lovers, audiopliles, Dead Heads and avid concert goers.The musical magic that can only be created in the Catsklills, both past and present, is what Brian cosiders the epicenter of his music addiction. The music of The Band, and most recently The Levon Helm Band, is the soundtrack of home for him. Brian's mother took him to his first concert at 5years old...it was Johnny Cash and Roseanne Cash at Jones Beach Amphitheatre. For Brian, music is a family affair. He feels the same way about live music...we all convene to celebrate together. Brian's writing life started when he wrote his favorite author, southern fiction writer Clyde Edgerton, a fan letter at age 13. When most kids were idolizing baseball players and television, he was worshipping writers and musicians. The two became friends and Clyde shared his craft with Brian. The next year Brian attended Duke University's Young Writers Camp. This is the extent, of what Brian considers, his "formal" training in writing. From then on his goal was to capture snapshots of life through words. Brian has been involved with live music in various facets over the years, and combined with his enthusiasm and love for Denver's music scene, he creates a vivid description of what he sees and hears. If you see him out at a show, dancing with a notebook in hand, say hello.