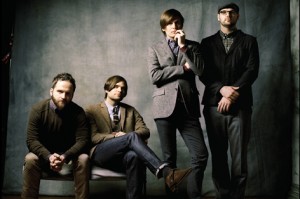 Seattle's Death Cab For Cutie kicks off a unique tour right here in Denver next Tuesday at the Ellie Caulkins Opera House.   The tour, which features Minna Choi's Magik*Magik Orchestra, will showcase some rearranged and reimagined versions of some classic Death Cab songs alongside some rarely heard material.  The shows are sure to be a treat for longtime fans of the band and will no doubt introduce many new listeners to their sound.
Listen Up Denver! recently had the privilege of getting to speak with Death Cab's bassist, Nick Harmer, who told us a little about this tour came together, gave people an idea of what to expect from the show, and shared his thoughts on the bands recent remix project.
Listen Up Denver!:  You guys kick off the next leg of the tour right here in Denver with some special guests.  Can you talk a little about how this tour with Magik*Magik Orchestra came together?
Nick Harmer:  When we were making Codes & Keys, Chris [Walla] had said early on that there were a couple of songs that he could hear strings on.  We had been kicking around the idea of using strings on an album for a long time, but for some reason we had never really found a song where they would stand out, so we kept putting it off.  Suddenly, when we were recording this album, we had these two songs where we could all instantly hear strings and we said "yeah, let's do it! and wait, how do we do this?"  Turns out that a friend of ours, John Vanderslice, had played some shows and done some recording with this woman named Minna Choi who is an excellent conductor and arranger.  She has been working on this idea of bridging the gap between Classical music and Indie Rock or Rock and Roll, so John forwarded her name on to us and Chris and Minna hit it off and made plans to bring a quartet of strings into the studio.
Then, a couple of months down the road, we were doing an episode of VH1 Storytellers and since we were going to be doing both of those songs, we thought "man, we should have at least the quartet who recorded with us in the studio, come and do it live with us."  So we invited Minna to join us with a quartet and we did a few songs on Storytellers together, but while they were there we had them write some string parts for a couple of extra songs.  Those went really well so we thought "why don't we just go for it?  Why don't we have Minna write parts for an entire set with a bigger orchestra and take that on the road?"  The rest is, as they say, history.  It was a really organic process.
LUD!:  What can fans expect from these shows?
NH:  There will be nine additional people on stage with us.  Minna will conducting an eight piece string section made up of violins, violas and cellos.  I'm really excited, I think it's going to be plenty of depth and volume to really make an impression.  We'll be playing some familiar songs that people have seen us play a few times, but they will be presented in a fresh and compelling way.  We are also looking at playing a few songs that we have never played live, or songs that we have only played a very few times that people have been wanting us to play more.  I think there are going to be some great surprises like that and then possibly some covers and other interesting things as well.  I wouldn't say it's going to be a new set from top down, but it's certainly as new feeling as anything I've experienced in this band in a long time.  It awesome after this many years as a touring band, that something like this can come along and make things feel 100% brand new again.  I'm really inspired by that as a player and think it's going to be great for everyone involved.
LUD!:  Is the plan for the Magik*Magik Orchestra to be onstage with you for the entire performance?
NH:  They are going to part of the set.  A little bit about how we are structuring it will unveil itself as we start doing the show but I would say that they are going to be on stage with us for about 75% of the time and there will some moments where we go back to being a four piece and do a song or two without strings.
LUD!: This tour brings you to some rooms that you might not otherwise play, like an opera house here in Denver, the Walt Disney Concert Hall in LA, and even a church in Montreal.  Are you excited to play some different kinds of venues?
NH:  It was definitely part of the scope of the tour when we were dreaming it up, not only did we want to try something that was brand new for us as players and look at new presentations and arrangements of songs we have been playing for years, but we also wanted to play in new venues to keep this entire experience as fresh and as new feeling as possible.  Not only for us as a band but for people coming to the shows who have maybe only seen us at rock clubs or in theatres and suddenly they get to experience it in a new environment and get a new set.  I think it's gonna be a really unique thing.
LUD!:  On another note, you guys released a Remix EP last fall.  Can you tell me how that project came together?
NH:  We live in such an awesome with people's access to be able to make and record music.  With almost every album that we've made I have heard remixes, mash-ups, and different versions of our songs that people have done and we have been totally interested in all of them.  Finally we just got the point where we wanted to encourage it.  Frankly we really didn't have to do any work on that project.  All we said was "hey, if you want to remix our songs, we would like to help package it and get it in the hands of people that might be interested in it."
It was great, we sent out a call saying we were looking for remixes and while we were only looking for remixes of one or two songs originally, suddenly it started to grow into this huge project.  All of them are really exciting and the best way I can describe it is like a birthday where someone hands you a present and you unwrap it and you are like "AH! I didn't even know I wanted that!  That's amazing, thank you so much!"  It feels like that.  You are getting remixes from people, you don't know what to expect, and everyone of them is so unique and different in their own way.  It is just so exciting to see that unfold and see how your music can stretch and grow and twist.
When we heard the RAC Maury remix of "Some Boys" we were all immediately like "that's so cool!  Why isn't that the version on the album?"  All of the remixes that came in had a similar lightning effect, where we hadn't even thought about hearing the song move in the direction the artist took it, and that was really exciting for us.
Music has always been a part of my life. It probably all started listening to old Grateful Dead, Peter Paul & Mary, and Simon & Garfunkel records that my parents had, but it wasn't long before they were taking me to concerts like Starship, Crosby, Stills & Nash, and Huey Lewis & The News. I got the bug to write about music after reviewing an Eric Clapton concert for a creative writing project in high school but didn't really take it up seriously until 2002. Since then I have published countless articles in The Marquee Magazine and done some work for Jambase.com, SPIN Magazine, and various other outlets. I started Listen Up Denver! as a way to share the music information that is constantly spilling out of my head with people who care. Please enjoy!