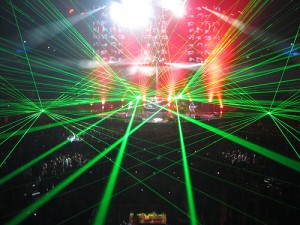 SAVOY
w/ Modestep, SOFI, Robotic Pirate Monkey, Heather Bright and others
Friday, September 7th
Red Rocks Amphitheatre
Tickets: $34.50
On-Sale: Saturday, 4/14 @ 10am
PURCHASE TICKETS
LOTUS
w/ Emancipator & EOTO 
Saturday, September 8th
Red Rocks Amphitheatre
Tickets: $37.50
On-Sale: Saturday, 4/14 @ 10am
PURCHASE TICKETS
The Red Rocks schedule just keeps getting more and more stacked as the spring moves on.  Frankly, we can barely keep up with the pace of the announcments!  Live Nation announced today that they have booked Lotus & Savoy to headline the legendary Amphitheatre on back to back nights in early September.  Joining Lotus will be Emancipator and String Cheese Incident side project EOTO, and Savoy will be joined a cast of thousands as Modestep, SOFI, Robotic Pirate Monkey, Heather Bright and others will round out their bill for a near festival like night of music.
Grounded in their own distinctively powerful brand of electro, Savoy bridges the gap between high-quality studio production and dominating live performances. The trio has performed live at multiple major music festivals and over the years, they have shared the stage with top touring acts including Phoenix, Sound Tribe Sector 9, The Glitch Mob, Pretty Lights, Chromeo, and Passion Pit, to name a few. Their music moves effortlessly between the sounds of rock, pop, funk, French house, German minimal techno, world music, and many of the other genres in between. Regardless of opinion, the fact is that Savoy continues to draw mass appeal as they bring their rock-show attitude and dance floor tactics to the coast-to-coast venues that host their hoards of anxious fans.
Lotus has crafted a unique musical style outside of simple genre limitations. On a given weekend the band could be the only group with guitars at an all electronic music festival and then the next night crash a traditional rock festival with their dance heavy beats, synths and samples. Equal parts instrumental post-rock and electronic dance, the band's distinguishing feature is the ability to maintain a decidedly unique musical voice and remain current while bucking passing trends.