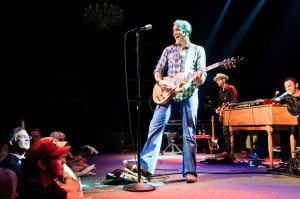 Photo by John Margaretten
Listen Up Denver! has a pair of tickets for you to see JJ Grey & Mofro and Toots & The Maytals
on Friday night April 13th at The Fillmore Auditorium for FREE.
Click HERE To Find Out How To Win!
Why You Should Go: Down-home roots, rock and soul artist JJ Grey and his band Mofro will celebrate the release of his first-ever live DVD/CD two-disc set, Brighter Days, with a live performance at the Fillmore Auditorium this Friday with long time friends Toots and the Maytals.
JJ Grey's songs are inspired by legendary musicians, including Southern rockers Lynyrd Skynyrd, soul greats Otis Redding and Toots Hibbert, and country stars George Jones and Jerry Reed. Whether it is a narrative passed down to him from his grandmother or the tribulations of a childhood friend, Grey's ear for detail rings through in true storyteller fashion. As old fans know well and new ones keep discovering, a JJ Grey & Mofro show is a musical celebration shared between Grey and his audience, with each driving the other to greater heights.
Toots and the Maytals, originally called simply The Maytals, are considered legends of ska and reggae music. Their sound is a unique, original combination of gospel, ska, soul, reggae and rock.  The band won the 2005 Grammy award for best reggae album with their True Love, an album consisting of re-recorded versions of their classics alongside popular and legendary musicians such as Bonnie Raitt, Willie Nelson, Eric Clapton, and Keith Richards, as well as popular artists today such as No Doubt, Ben Harper, The Roots, and Shaggy.
Toots and the Maytals remains a relevant influence on today's global music scene with artists from Amy Winehouse to Sublime re-recording classic tracks. Toots recieved another Grammy nomination for his 2008 release "Light Your Light. In recent years Toots has toured with The Rolling Stones, Dave Matthews, Sheryl Crow and Los Lonely Boys.
Venue: The Fillmore Auditorium – 1510 Clarkson, Denver, CO  80218 – (303) 837-0360
Doors: 6:30 PM
*Price: $25.00 Buy Tix (4 Pack Offer – $18.75 / Ticket)
*All times and prices are gathered from other sources and we am not responsible for mistakes or inconsistencies. They are intended only as guidelines. Please, always call the venue if you desire the most accurate information possible.