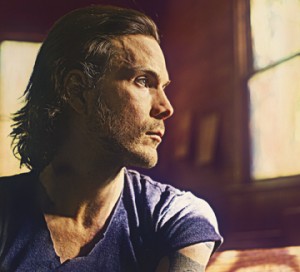 15 years ago I was introduced to Simone Felice the poet. The upstairs room of Joshua's Cafe in Woodstock, NY was dimly lit, and the dark and mysterious poetry of Felice filled the room as he was backed by a group of musicians. I left Joshua's with a CD that night, and repeatedly listened to a poem about an opium den in New York City's Chinatown. Although I had never experienced a narcotic high, hearing that song brought a wave over me. Even in the very beginnings of his musical journey, his words had power.
Years later, I was introduced to Simone Felice the musician when he and his brother's Ian and James formed The Felice Brothers. After playing numerous festivals and releasing three albums with his brothers, Felice was lead to a cabin in the woods by personal tragedy. In 2009 he emerged with a stack of songs written with his friend Robert Bird Burke, and the two formed The Duke and The King. After two albums with the Duke and The King, a knock on death's door resulted in open heart surgery, and after the birth of his daughter, Simone Felice rises once again with the release of his first solo effort. Simone Felice's self-titled debut was written while recovering from his life changing operation, and according to an interview with Entertainment Weekly, "on heavy doses of Morphine." This time I got to hear Felice's narcotic imagery in a whole new light…or darkness.
Simone Felice is raw and honest, and knowing that he wrote the songs after literally being ripped open makes it easy to connect with his healing heart and scars. Even though his chest is now closed, he faces the world as if he was still totally exposed, and his soul is still able to pour directly out of his core. Also a published author, Felice is clearly a writer at heart, and this album defines him as a true wordsmith. It seems as if the past 15 years have brought him closer to his beginnings as he beautifully combines poet, musician and author on this record.
The first track, "Bobby Ray", opens the album in a dramatic fashion, and with a heavy theme. The descriptiveness, use or proper names, and clearly explained setting, shows the literary prowess of Felice and most of the songs are approached like a short story. "You and I Belong" is the most freeform and light hearted song on the album, and with the help of members of Mumford and Sons, he creates bouncy barefoot Folk that conjures thoughts of dancing free in an open meadow. Yes, Felice's songs can withdraw into darkness, death, and pain, but songs like "You and I Belong" remind us of hope and the celebration of life.
"New York Times" is a highlight reel of painful stories culled from the famed newspaper, and the song builds as instruments and sounds are slowly layered on top of each other. The album is set at a slow and thoughtful pace, and the proper names, dates and stories aren't the only details revealed. As songs like "Courtney Love," "Dawn Brady's Son," and "Saron Tate" flow by, you begin to hear the true honesty of the album which is in the recording process. Recorded mostly in a barn in the Catskills, sounds like the rustle of a pair of pants, and the creak of a chair, make their way onto the warm and textured recording. The most powerful sound that the recording picked up comes in the last 20 seconds of the closing track "Splendor In The Grass," when the music fades and the only sound left is the mechanical ticking of an artificial heart valve.
A departure from the full-band boisterousness of The Felice Brothers and The Duke and The King, this is an amazingly introspective and thought provoking album. As much as I love the music Felice has created with bands, I feel like he has stepped onto a path that is leading him in the intended direction of writing raw, self-reflecting material for himself, and presenting it in a stripped down and simple form.

Brian Turk grew up in the shadow of the Catskill Mountains, near Woodstock, NY. He comes from a family of music lovers, audiopliles, Dead Heads and avid concert goers.The musical magic that can only be created in the Catsklills, both past and present, is what Brian cosiders the epicenter of his music addiction. The music of The Band, and most recently The Levon Helm Band, is the soundtrack of home for him. Brian's mother took him to his first concert at 5years old...it was Johnny Cash and Roseanne Cash at Jones Beach Amphitheatre. For Brian, music is a family affair. He feels the same way about live music...we all convene to celebrate together. Brian's writing life started when he wrote his favorite author, southern fiction writer Clyde Edgerton, a fan letter at age 13. When most kids were idolizing baseball players and television, he was worshipping writers and musicians. The two became friends and Clyde shared his craft with Brian. The next year Brian attended Duke University's Young Writers Camp. This is the extent, of what Brian considers, his "formal" training in writing. From then on his goal was to capture snapshots of life through words. Brian has been involved with live music in various facets over the years, and combined with his enthusiasm and love for Denver's music scene, he creates a vivid description of what he sees and hears. If you see him out at a show, dancing with a notebook in hand, say hello.