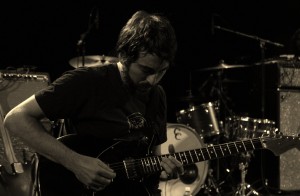 Photos by Jon Prins
The Scene:  Upon my arrival at the famous Boulder Theater in downtown Boulder, I was greeted by an wide array of twenty somethings. Hipsters, stoners, Emo kids, and professionals stood in very long lines at both the box office and the entrance of the theater while many more folks were prowling the street for a spare ticket to this sold-out and highly anticipated show. Ticket in hand, I was excited to finally catch these guys after being turned on to them a few years ago.
Explosions In The Sky: Explosions in the Sky.  It was this name that originally grabbed my attention but their music is what sucked me in and didn't let me go. The Austin post-rock quartet have been one of the top touring bands for quite a few years now, selling-out gigs all over the US and playing large festivals in the UK and Europe. Their music is very emotional and hits me in ways other bands do not.
On Thursday night the quartet hit the stage as a quintet to a thunderous roar from the crowd. Explosions is a instrumental group who offer up a brilliant three guitar attack on most of their compositions and on this tour they have added a percussion player who would switch over to bass from time to time to round out the sound. They kicked off show with "First Breath After Coma," a slower, melodic number, and went on to showcase many tunes off their newest release, Take Care, Take Care, Take Care.
The group refers to their music as "cathartic mini-symphonies," which is pretty accurate. Throughout the night Explosions built one huge distortion laden wall of sound after another that were laced with beautiful melodies that the crowd devoured.  Both the band and the crowd were beaming with happiness as monstrous crescendos washed over us all.
Explosions in the Sky is a force to be reckoned with and something every music fan should witness. Their unique and impressive sound lifts your spirit and takes you to new levels of bliss. Check these guys out anytime they come anywhere close to you!
Energy: A
Sound: A
Muscianship: A+
Stage Presence: A
Set/Light Show: B+
Overall: A-
I am a live music junkie, photographer, traveler and free spirit living in Boulder, CO. Going and seeing live music is my passion. Taking photos of various subjects has become a very enjoyable hobby for me over the years. Going out and capturing live music, scenic landscapes and candid shots of people are what I really like best.