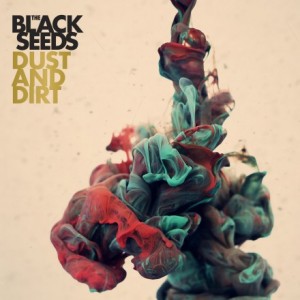 New Zealand reggae-soul band The Black Seeds dropped their new full length album Dust and Dirt in North America yesterday.   This thick, bass-heavy, but melodical album calls to mind The Clash's album Sandanista.  Like the Clash's 1980 brilliant mess,  Dust and Dirt introduces new sounds and styles not heard on The Black Seeds previous releases.  Their trademark reggae-funk fusion sound, although never completely abandoned, is taken in several different directions on this Easy Star Records release.  The opener, "Out Of Light," starts the album out with a dubbed out 60's psychedelia feel that would have made Syd  Barret proud.  The tracks "Cracks In Our Crown," "Loose Cartilage," and "The Bend" all represent explorations into the funkier side of music, while the playfully bouncy "Don't Turn Around" finds the band doing a fresh take on a disco-boogie jam.  Dust And Dirt's 13-tracks represent an organic evolution of reggae music as the band brings all these new styles into the mix in a seemingly effortless natural way.
Below you can check out the video for  "Pippy Pip," the upbeat first single off the new album, and download the mp3 right here.  Like what you hear?  Grab the album on iTunes or at Easy Star Records, then come on out this weekend Colorado, and catch The Black Seeds live as the make two tour stops locally.  This  Kiwi eight piece band will bring a genre blending fusion of dub, funk, afro-beat and soul, mixed with vintage reggae, that is sure to please.
April 13 @ Cervantes'
2637 Welton Street, Denver, CO 80205
8:30 pm, $15
Wherever the music is, you'll find me with my camera, shooting on street corners, from barstools at clubs, from the side of the stage at theaters, and from photo pits in places like Red Rocks. Clicking away, trying to capture the emotive essence of music, and all those moments that we forget because of one too many Pabst Blue Ribbons.