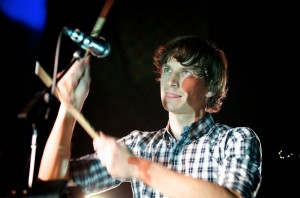 Photos by Ty Hyten
The Scene: The sold-out crowd at The Ogden Theatre had no idea what to expect from Australian phenom Gotye. His name has only been floating around The States for a few months, and he made his American Television debut just over two months ago, but none of that mattered once people heard the single "Somebody That I Used To Know."  This show was originally booked at The Bluebird, but tickets went so fast, and were in such demand, that the show was moved to the larger Ogden Theatre. People heard one song, heard his name from the mouths of celebrities and co-workers, and decided to jump on the Gotye express whether they heard any of his other work or not. After months of water cooler talk, and playing "Somebody That I Used To Know," and possibly "Eyes Wide Open," over and over, people were ready to believe the hype.
The problem is that the hype was based on one song, and one that is totally different than everything else he has recorded. It would be like going to see The Grateful Dead only knowing "Touch of Grey," and thinking all their songs sounded like that.  The best way to sum up the night is the title of one of Gotye's songs, "Smoke and Mirrors." If he had a song called "Dog and Pony Show," I would have chosen that. A massive screen behind the stage distracted the audience from the band, who besides Gotye himself, seemed artificial and drone like. Gotye did his thing, and he did it well, but the opener and accompanying musicians just seemed fake and lack luster.
Opener: Kimbra. When a drunken suburbanite in a visor and cross trainers turned to me after opener Kimbra's set and said, "Wow! That was amazing! She just tore the house down!" I knew the venue was filled with a different radio friendly breed. Why? Because the group I was with were just waiting for her set to be over. People hardly moved, everyone was talking and distracted, the sound was hollow, and everyone on stage looked like puppets on a string moving to a prerecorded set. Her outfit was what stood out the most, and her best contribution to the night was joining in on "Somebody That I Used to Know," and I am so glad she was there for that!
Gotye:  Opening up with his second most well-known single, "Eyes Wide Open," the images on the screen behind the band quickly established themselves as the focal point of the evening. I had a hard time deciphering the synthetic sounds from what musicians were actually playing on stage, and musicianship seemed to be a superfluous concept.  Gotye could have easily just taken the stage on his own, layering sounds over prerecorded tracks and I think I actually would have preferred that. As Gotye was set up behind a central command station of drums, pads, computers and buttons… his talent was evident, but the rest of the musicians were just accessories. He created most of this music on his own in bedrooms and barns with computers and sampler pads. I wished he had either presented it as it was created, individually, or bring a band that can add value to the production and take the recorded material to new heights; it would have felt way more authentic.
Regardless of all the illusory elements, Gotye put on a great set. "State of The Art" was bass heavy and filled with a reggae funk vibe, and as I bounced to the groove, my eyes stayed locked on the images that were overloading my senses. The computerized vocal effects were hypnotic and deepened my trance even more. If that screen was not part of the show, I would have a totally different take on the evening, for sure.
About three quarters of the way through the show, Kimbra bounced back out on stage to lend her vocals to "Somebody That I Used To Know." The crowd went bananas! Before this, people were chatting, turned away from the stage, or talking about when he was going to play "that one song." I have to say, it is an amazing song, and just hearing "that one song" live with such a dramatic backdrop was worth having to sit through Kimbra's set. I dig all the stuff that Goyte has put together over the past few years, but "Somebody That I used to Know" will never leave my mind.
Gotye's music is computer driven indie-pop with bits of funk and reggae, but most of it is not dance provoking. The combo of "In Your Light" and "I Feel Better" brought the mood up a notch, but most of the crowd stayed stiff. Looking from the balcony, it looked like an army of plainness was standing at attention in front of a master of deception. No, I didn't feel duped or tricked per se, because it was a great show, but I did feel the event was all about hype. If you can make it far enough into Gotye's bio on his web site, you will find this passage: "Perhaps I could just 'con the world.' Even for a little while, that would already be pretty massive. Lots of media savvy and conniving necessary there I'll bet." Well, I think he's doing it! Selling-out shows based on one song, to people who don't know any better just because they want to be hip to the scene, sounds like "conning the world" to me.
If Gotye never makes a song like "Somebody That I Used To Know" again, I think he will be able continue selling-out venues based on that song because a fan base just as large as this artificially created commercial one will eventually evolve, and all his music will be appreciated. If he keeps bringing that screen with him, I'll be there every time!
Energy: B
Sound: A
Musicianship: B
Stage Presence: A-
Set/Light Show: A+
Overall: B+
Brian Turk grew up in the shadow of the Catskill Mountains, near Woodstock, NY. He comes from a family of music lovers, audiopliles, Dead Heads and avid concert goers.The musical magic that can only be created in the Catsklills, both past and present, is what Brian cosiders the epicenter of his music addiction. The music of The Band, and most recently The Levon Helm Band, is the soundtrack of home for him. Brian's mother took him to his first concert at 5years old...it was Johnny Cash and Roseanne Cash at Jones Beach Amphitheatre. For Brian, music is a family affair. He feels the same way about live music...we all convene to celebrate together. Brian's writing life started when he wrote his favorite author, southern fiction writer Clyde Edgerton, a fan letter at age 13. When most kids were idolizing baseball players and television, he was worshipping writers and musicians. The two became friends and Clyde shared his craft with Brian. The next year Brian attended Duke University's Young Writers Camp. This is the extent, of what Brian considers, his "formal" training in writing. From then on his goal was to capture snapshots of life through words. Brian has been involved with live music in various facets over the years, and combined with his enthusiasm and love for Denver's music scene, he creates a vivid description of what he sees and hears. If you see him out at a show, dancing with a notebook in hand, say hello.