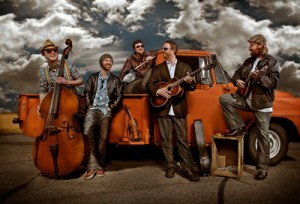 Colorado DanceGrass quintet WhiteWater Ramble announced five new dates around the Front Range over Cinco de Mayo weekend billed "Ramble de Mayo." The announcement comes at the end of a successful Midwest tour and SOLD OUT Crested Butte show for the high-energy band, who will keep the momentum rolling and bring the Cinco de Mayo party, Ramble-style. Chicago bluegrass group Henhouse Prowlers will support WWR for 3 nights of control-frenzied bluegrass instrumentation.
Their debut studio album All Night Drive is genre defying and is complemented by a who's who of guest artists that showcases this formula. Produced by Tim Carbone of Railroad Earth, fresh off projects with Greensky Bluegrass and Great American Taxi, All Night Drive leverages 6 years of touring, writing, and arranging the very best of WWR's original pieces. Download it for free from their website, www.whitewaterramble.com.
WhiteWater Ramble Self-described as "High-Octane Rocky Mountain DanceGrass," WhiteWater Ramble uses a simple recipe to craft its sound – bluegrass instrumentation, add drums, and a boundary-less approach to grassing-up everything from disco house grooves to roots Americana. The Colorado-bred quintet combines the elements of Mandolin, Fiddle, Acoustic Guitar, Upright Bass, Drums and Vocals to explore the musical boundaries of multiple genres to fuel their own mixture of original music and innovative cover song interpretations. Whether playing an intimate encore, acoustic and unplugged in the crowd, or surfing on top of the upright bass, WhiteWater Ramble delivers a powerful and memorable live performance.
Ramble de Mayo 2012 Dates:
5/2: Aspen, CO: Belly Up
5/3: Boulder, CO: Fox Theatre w/ Henhouse Prowlers
5/4: Fort Collins, CO: Hodi's Half Note w/ Henhouse Prowlers
5/5: Denver, CO: Cervantes' Other Side w/ Henhouse Prowlers
5/18: Bond, CO: State Bridge Lodge Opening Weekend