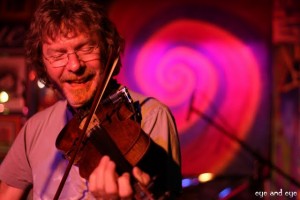 Photos by Ben Wilson's eye and eye photography
The Scene:  When I got the call around 6 that Sam Bush would be taking the stage promptly at 8 o'clock, I was coming to the end of a tall beverage while cruising down the fairway on the 16th hole and panic rushed over me. How in the world was I going to make it to Denver by 8pm and why in the hell was Sam Bush going on at 8pm on a Friday? By the grace of whatever is holy I somehow managed to wrangle a ride to Denver and made it to Quixotes' right on time.
Outside there were a handful of long haired folks with fingers in the air which led me to believe the show was sold-out while inside the small size of the crowd inside had me believing that no one else got the memo that he was going to be taking the stage so early. Within 30 minutes the entire place was as packed as I had anticipated it to be with hippies, flannel shirts, and grey haired music lovers from all walks of life. Before I knew it the entire venue was wall to wall all the way out the door towards the patio.  There were even a few folks standing on the couches near the back and craning their necks for a better view.
Sam Bush: Sam Bush and his band emerged from back stage around 8:30 to a massive eruption of applause and hollers. For those that may not know, Sam Bush is widely responsible for a lot of the progressive bluegrass we hear today. He and his band New Grass Revival paved the way for many of the bands and sounds that are now popular in the bluegrass community.
He came out fast and strong with a Fiddle in hand and started the set off with John Hartford's "With A Vamp in the Middle."   This got everyone in the place moving as much as the scarce floor space would allow. Many people aren't aware that he is not only a Mandolin virtuoso but a monster on the Fiddle as well. After a short while he finally took the time to thank everyone for showing up early and joking that it had to be so early because a man of his age couldn't stay up much later.
As most Bluegrass fans know, we recently lost Banjo pioneer and legend Earl Scruggs. Sam did not let that fall to the wayside. After a short speech, he dedicated the next couple tracks to Scruggs and let his Banjo player kick things off with a ripping Banjo solo for the fallen icon. Around this time, Sam picked up his mandolin and the party really got started. What I love about Sam and his band is that they don't let the traditional laws of bluegrass get in the way of their sound even though they may look like a traditional bluegrass band. They are masters of mixing Bluegrass standards with classics from the world of Rock. A Reggae-grass version of Leon Russell's "One More Love Song" was a perfect example of their capacity to impress and bend genres.
They went from the Russell tune into the boot stompin' Bill Monroe number "Roll On Buddy, Roll On." This took us right into an early New Grass Revival single "Unconditional Love" which offered itself up as a great sing along. They then stretched it out into quite the impressive jam which gave Sam the chance to really showcase his prowess on the mandolin.
Throughout the set "Yee-haws" and "Wahoo's" echoed around the room and Sam's face lit up each time.  It was clear that everyone in the place was having the time of their lives. I checked my watch once and was pretty amazed at the amount of fun I was having at a quarter after nine. On most nights I hardly even have my plans together by that time. Sam Bush and his band were able to take us on a journey through countless time changes and musical styles. He nodded to Scruggs again with the legend's "Girl Down in Tennessee," before ripping into a song that many of us relate to very well in this fine state, "Circles Around Me." I have to admit that this tune caused me to get a tad emotional while also filling me with a sudden urge to be on top of the highest mountain I could find underneath the stars
By the end of the long performance it was obvious why he started early and I was grateful that he once again chose to play at Quixote's. He easily could sell out any of the larger venues in town but the intimacy of a Sam Bush show, being right there next to the man, adds so much more to the experience.  After his flawless rendition of "One Love," I found I needed a breath of fresh air and headed out to the back patio to catch a smoke and reflect. His masterful picking, his ability to switch from instrument to instrument, and the fact that he is still able wow and amaze after all these years really put a lot of things into perspective for me musically. It was obvious he does it because this is what he loves doing. He without a doubt deserves the title of "King of Telluride." As I finished up my cigarette to head back in for one more round of knee slapping before he left the stage, I chuckled to myself. I may not be a religious man in any sense of the word, but at that moment I realized it was Good Friday, and a good Friday it was indeed.
Energy: A
Sound: A
Musicianship: A
Stage Presence: B
Set/Light Show: C
Overall: A
I rode my skateboard from school in 7th grade to my buddy Vince's house where he put on the song "Perfect Government" by NOFX and I was hooked. The next day I bought the album Duh by Lagwagon. The next year I saw Against Me! at the Starlight Theater in Fort Collins, my mom dropped me off. I've since devoted every waking hour to anything done with passion. My speakerbox bumps everything from Lil' Wayne to Pablo Casals. I was never very good at making music, but I am damn good at listening to it. I've been filling up yellow notepads with random thoughts and misspelled words for as long as I can remember. I enjoy whiskey of all sorts, Newport cigarettes and the company of my family. I've got an addiction to run-on sentences that I'll probably never cure. A solid handshake with a stranger who has become a friend over a few beers means the world to me. You'll often find me wide eyed and wandering with an ear to ear grin. I live for funky break beats and spreading the love.