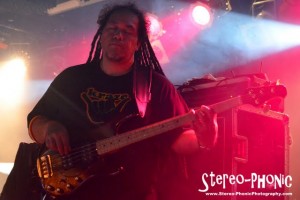 The Scene: I did not know that there were so many Pacific Islander transplants in the Mile High City.  Cervantes' Masterpiece Ballroom was filled not only with the normal crowd that would come out for a weekend Reggae show, but with people from Hawaii, Guam, Tonga,  and Samoa all out to represent and celebrate their shared island culture.   The night's lineup of Katchafire, Common Kings, K'Nova, Policulture & BloodPreshah was the perfect catalyst to bring Denver's diaspora together under one roof.
Katchafire: Katchafire rode the wave from Oceania into Five Points on Friday with Silver Surfer Vaporizer and took to the stage around eleven o'clock.  After ten years and four albums, the eight piece all Maori band had a litany of material to choose from for the night's set.  Throw a cover of Bob Marley's "Three Little Birds"  in the  middle of all the original New Zealand Reggae and you have all the ingredients for a great evening.
Playing song after song, Katchafire gave the diverse crowd just what they wanted, a  conscious dance party that blended pop sensibilities and elements of dub, with straight forward  Reggae rhythms.  The Trumpet and Sax imparted a classic Trojan Records sound that went on for nearly an hour and a half before Katchafire left the stage.  With hands in the air, the faithful were rewarded, and the band came back out on stage to the chants of "I say Katcha, you say Fire…Katcha, Fire,  Katcha,  Fire."  They played not one, but two butt shaking and body swaying encores, not wrapping up until after one in the morning.
Cervantes' and the Other Side are quickly becoming this writer's favorite venues in Denver.  Gone is the pretense of people on their cell phones (you know, the ones in attendance to be seen and not necessarily for the music at all).   With the intimate size of the venue, and a crowd that's there for the band, Friday's show seemed more like a family reunion in someone's backyard. The crew at Cervantes' books bands and carefully creates an atmosphere, including vendors and live artists, that takes you beyond the music into more of a cultural experience.   Thanks again for making Welton Street the place to be for live music.
Energy: A
Sound: A-
Musicianship: A
Stage Presence: A-
Set/Light show: B
Overall: A-
Wherever the music is, you'll find me with my camera, shooting on street corners, from barstools at clubs, from the side of the stage at theaters, and from photo pits in places like Red Rocks. Clicking away, trying to capture the emotive essence of music, and all those moments that we forget because of one too many Pabst Blue Ribbons.