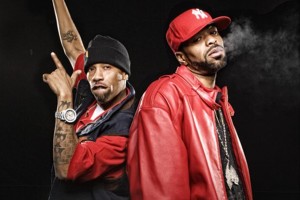 The Scene: There is something about the gritty side of life that has always intrigued me. In the early to mid-nineties, it was Hip-Hop from the streets of NYC that filled a void well before The Sopranos and Sons of Anarchy. Walking up to Cervantes' Masterpiece Ballroom on Saturday night I knew I was going to get a taste of the down and dirty. Armed security guards were posted in front of the venue, and the wall of security at the door frisked everyone as if a shooting had already happened, and everyone was a suspect. Each time I reentered the venue after getting some fresh air, I was patted down just as thoroughly. Props to Cervantes' for calling in the calvary to make sure things were run tight! It may have seemed like overkill to some, but the best line of defense is a strong offense, and it's best to prepare for the worst.
Cervantes' has always been known to embrace hip-hop, and they do whatever it takes to keep making the shows happen. As blunts burned and drinks drained, necks tightened and stayed on a swivel. Was the situation really that dangerous? No. But could it quickly get out of hand? Damn skippy. When artists like Method Man and Redman bring two decades worth of hardcore Hip-Hop to the stage, the shit gets deep.  "Just how deep can shit get? Deep as the abyss…"
Blkhrts: BLKHRTS started the night off with some homegrown hip-hop. Live instruments and a dark, experimental sound backed MC's who got the hard vibe going right from the start. Their track "Sex, Drugs, Violence, Money, Death" is their mission statement, and they let you know it.
Black Pegasus: Hailing from Colorado Springs, Black Pegasus has been in the game for a bit. For the past ten years BP has battled, toured, and recorded, and his tenacity has pushed him to the fore-front. His underground following has been there for a while, but his work with artists like Jay-Z, 50 Cent, Nas, Snoop Dog, and Tech N9ne has brought his name to all corners of the country.
Bringing a crew with him, BP proved why his name is known. The song "Snicker Licker" caught a lot of the audience by surprise, and I about lost my shit. As four fair skinned volunteers from the audience were told to hold a giant Snickers bar on stage, they danced along to a song that referenced, well, picture any of these girls licking a Snicker's Bar…yup, you got it. As the pale faces on the stage turned red, a lesson was learned; don't ask for the spotlight of you can't take the heat. Jumping up on a stage doesn't always result in a Bruce Springsteen "Dancing In The Dark" moment. After DJ Chonz took the audience through an old-school hip-hop set for an hour, it was time for the main event.
Method Man and Redman: What an amazing experience to see these two hip-hop idols of mine on stage, and in such fine form! As they burst on the stage blunts in hand, I couldn't believe these guys were in their forties. Their electric stage presence and interaction with each other was intense. After almost twenty years of friendship and musical collaboration, these two have become forefathers of a genre, and they look like they are still having a blast doing it.
Taking us through a set spanning the entire career of the two, the impact on the hip-hop world became even more evident as each song passed. Redman got the smoke shrouded crowd going with "Pick It Up" and Method Man pulled out the legendary "Method Man." People of all ages, sizes, shapes, and colors enthusiastically rapped along to every word, and I realized that I have way too many song lyrics jammed in my head. Especially hip-hop. I blame it all on DJ Resin, straight outta Barclay Heights.
Meth and Red brought a bit of Blackout 2 with "A-Yo" and "Errbody Scream," but my favorite jam of the night was the classic love song "I'll Be There For You/You're All I Need." It may not have the most romantic imagery, but it tells it like it is. Memories of driving with the windows down and trading verses of this song with a high school fling flashed in my head, and I still think the song features a great list of relationship guidelines.
Energy: A+
Sound: A
Musicianship: A
Stage Presence: A+
Set/Light Show: B
Overall: A

Brian Turk grew up in the shadow of the Catskill Mountains, near Woodstock, NY. He comes from a family of music lovers, audiopliles, Dead Heads and avid concert goers.The musical magic that can only be created in the Catsklills, both past and present, is what Brian cosiders the epicenter of his music addiction. The music of The Band, and most recently The Levon Helm Band, is the soundtrack of home for him. Brian's mother took him to his first concert at 5years old...it was Johnny Cash and Roseanne Cash at Jones Beach Amphitheatre. For Brian, music is a family affair. He feels the same way about live music...we all convene to celebrate together. Brian's writing life started when he wrote his favorite author, southern fiction writer Clyde Edgerton, a fan letter at age 13. When most kids were idolizing baseball players and television, he was worshipping writers and musicians. The two became friends and Clyde shared his craft with Brian. The next year Brian attended Duke University's Young Writers Camp. This is the extent, of what Brian considers, his "formal" training in writing. From then on his goal was to capture snapshots of life through words. Brian has been involved with live music in various facets over the years, and combined with his enthusiasm and love for Denver's music scene, he creates a vivid description of what he sees and hears. If you see him out at a show, dancing with a notebook in hand, say hello.