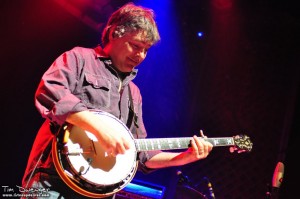 Photos by Tim Dwenger
The Scene: For many an ideal Easter Sunday evening would be spent around family in the comfort of a living room, but for lovers of all things awesome in the music world, the perfect Easter Sunday would be spent listening to world class musicians blow minds. Luckily for the fine folks of Denver, this opportunity was reality last Sunday when Béla Fleck and The Original Flecktones took over The Ogden Theatre. By 8:30 the venue was filled with families in their Sunday best, 20 something's in flowing sundresses, and even the Easter Bunny decided to show up and post up right next to the stage. It easily took the cake as one of the best dressed crowds I've been a part of for quite some time.
Béla Fleck and the Flecktones: For decades now the banjo behemoth Béla Fleck has been picking five strings and constantly challenging the norm when it comes to all genres of music. He has an honorary doctorate, more Grammy nominations in more categories than any other human to walk this earth, and has been a constant innovator of sound. In the late eighties he assembled a super group of musical X-men known simply as The Flecktones. Since that time the group has gone through line-up changes, many, many ups, and I'm sure a few downs. Then, in 2010 the original members crossed paths once again after almost 18 years of not playing together in order to form like Voltron in order to defend the musical universe from all wrongdoers. After the first tour together as the Original Flecktones, they recorded their latest album "Rocket Science" and proved once again that the finer things in life only get better with age.
This past Sunday these sonic super heroes returned to the Mile High City for a no holds barred Easter extravaganza. As soon as they took the stage the crowd roared then a silence fell as Bela's fingers rolled ever so eloquently around those five strings. Soon Victor Wooten made his presence known with the deep bass sounds and funky flair that only he can bring to the stage. One by one the pieces came together and the oh-so-sweet sounds of The Original Flecktones filled room. The set started with "Gravity Lane" off of their previously mentioned release Rocket Science and as they found their groove it became very apparent that these fellas came to amaze us.
Howard Levy then arose from behind his grand piano and made his way to a microphone stand at the edge of the stage for a tantalizing rendition of one of my all-time favorite songs, "Michelle," by none other than The Beatles. They went on seamlessly for a good 30 minutes before a single word was even spoken and then came the introductions, each followed by a thunderous ovation. The banter was short, but witty. They really didn't need to say much as each of their instruments spoke volumes.
Throughout the night each member took turns under the spotlight as they kept my, and I'm sure many others, jaw firmly planted on the floor in complete amazement. Futureman, the pirate of percussion, kept perfect rhythm while strumming (if you can call it that) away on his one of a kind Drumitar. Levy was constantly back and forth between the ivory's and the mouth harp, playing notes I could only one day dream of creating with my harmonica.
Many folks rumbled in line before the show wondering if they were only going to stick to the "new stuff," or dive into their memory banks and bring some nostalgia…and bring it they did. Béla explained at one point: "There are a lot of things on this stage we haven't played in years, so we're going to have a little fun with you guys." Then, stating that the next song hadn't been played since 1992, they ripped into "Tell it to the Gov'ner," and it was executed as if it had never been shelved in the first place.
At this point the rest of the band disappeared leaving only Béla and his banjo on a stool in the center of the stage. He gave a short speech on the recent passing of banjo legend Earle Scruggs and a monstrous Scruggs tribute followed. The rest of the band soon joined back in full force proving over and over again why they are all respected as some of the greatest musicians on the planet.
Between Victor's mind blowing Bass guitar gymnastics and Futureman's supreme understanding of everything percussive, they left no stone unturned and left me wondering "what in the hell do these guys eat for breakfast in order to make these noises happen?" It was some of the tightest musicianship i have ever witnessed. It was a spectacle like none other. By the end I feel like I understood what all the hub-bub was about. It may have been a mellow crowd. with little to no dancing going on, but I can see how it would be hard to focus on dancing when you are riding the edge of your seat is complete awe and anticipation of what heavenly sound may come from that stage next.
For what it's worth, the Easter Bunny didn't stop moving for a single second during the entire marathon of music they put forth. I can only hope they keep doing this together for many more years to come, I sure didn't get my fill of Béla Fleck and the Flecktones.
Energy: B+
Sound: A+
Musicianship: A+
Stage Presence: A+
Set/Light Show: C
Overall: A-
I rode my skateboard from school in 7th grade to my buddy Vince's house where he put on the song "Perfect Government" by NOFX and I was hooked. The next day I bought the album Duh by Lagwagon. The next year I saw Against Me! at the Starlight Theater in Fort Collins, my mom dropped me off. I've since devoted every waking hour to anything done with passion. My speakerbox bumps everything from Lil' Wayne to Pablo Casals. I was never very good at making music, but I am damn good at listening to it. I've been filling up yellow notepads with random thoughts and misspelled words for as long as I can remember. I enjoy whiskey of all sorts, Newport cigarettes and the company of my family. I've got an addiction to run-on sentences that I'll probably never cure. A solid handshake with a stranger who has become a friend over a few beers means the world to me. You'll often find me wide eyed and wandering with an ear to ear grin. I live for funky break beats and spreading the love.