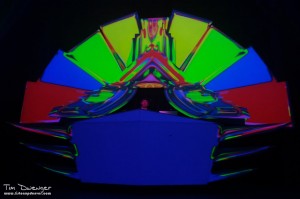 Photos by Tim Dwenger
The Scene: On Saturday night The Ogden was a surprisingly warm and loving place where all night long Hippies danced alongside raver kids and 30 somethings out for a night on the town.  Smiles were flashed from one face to another and people flowed through the crowd with ease in the full, but not overcrowded theater.  Anywhere you went, two things were there at every turn, dancers, and the overpowering smell of DMT, a strong hallucinogenic drug that smells of mothballs, plastic, and bad breath when burned.  Honestly, everything about this evening was great except for that damn smell.
The Opener: Phutureprimitive. When we walked into the theater, Portland's Phutureprimitive was on stage warming the growing crowd up with some psychedelic downtempo.  I didn't recognize many of his tunes, but when he dropped the Gary Jules remix of the Tears For Fears classic "Mad World" mid set I took notice, and so did many other people.  I was also thrilled to hear him close out his set with Massive Attack's "Teardrop."  All in all it was a good opening set, but it ran a bit long at 90 minutes and it didn't really hold a candle to the main event.
Shpongle: I've seen Shpongle a few times now, but this time, I got Shpongled.  I'm hooked.  I'm not sure what it was about this show that made it different from the others I've been to, but I finally understand what my friends have been talking about when they rave about Simon Poshford and Shpongle.  It was truly an amazing evening and, coupled with my JC Brooks experience on Friday night (read about that here), it rewarded me for continuing to pursue truly unique performances with a great weekend of music.
First off, the new stage build, The Masquerade, is pretty amazing.  It's a huge structure that holds Poshford's equipment and fans out above his feathered hat beautifully.  While the structure itself is markedly Art Deco in it's design, the images that are projected on it by a huge projector mounted above the soundboard make for a unique marriage of psychedelia and Art Deco architecture.  It was truly amazing eye candy that changed every second for the duration of the two hour performance.  I have seen the Shpongletron, and while I did miss the dancers used in that installation, I have to say this new set might just be better!
Now on to the music.  I've always associated Shpongle with vaguely Indian and Eastern musical textures, but on Saturday, Poshford took us "Around the World In A Tea Daze."  While there were obligatory stops in South Asia, one of my favorite passages of the night was when he stopped off in the Caribbean and let us get lost in the sunny rhythms of the islands.  There was no telling where one song stopped and another began as Poshford wove them seamlessly together to keep the dance party going as moved around the globe.
Tracks like "Levitation Nation" showcased Shpongle's amazing ability to blend organic sounds with hard edged Electronica to create a fusion that appeals to all kinds of music lovers.   At moments it sounded like an army of drummers on stage but then, slowly the drum sound would warp, wobble, and sharpen as Poshford pushed the energy in the room up a notch and built towards a climax.  The evening was one climax after another and the crowd ate up every second but I have to admit that one of the biggest reactions of the night came when Poshford dropped the track "Divine Moments of Truth" which contains the lyric "DMT DMT DMT do do do DMT LSD do DMT LSD do DMT, I love every body."  The hellish smell in the air and a few blissed out faces in the crowd told me people definitely took his suggestion to heart.
Seeing Shpongle live is more than a concert, it's an experience, and it's one that every music lover should have.
Energy: A
Sound: A
Musicianship: B+
Stage Presence: A-
Set/Light show: A
Overall: A-
Music has always been a part of my life. It probably all started listening to old Grateful Dead, Peter Paul & Mary, and Simon & Garfunkel records that my parents had, but it wasn't long before they were taking me to concerts like Starship, Crosby, Stills & Nash, and Huey Lewis & The News. I got the bug to write about music after reviewing an Eric Clapton concert for a creative writing project in high school but didn't really take it up seriously until 2002. Since then I have published countless articles in The Marquee Magazine and done some work for Jambase.com, SPIN Magazine, and various other outlets. I started Listen Up Denver! as a way to share the music information that is constantly spilling out of my head with people who care. Please enjoy!