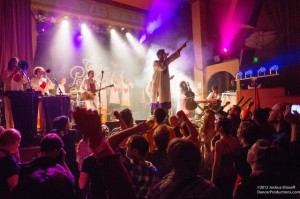 Photos by Joshua Elioseff 
The Scene: When I first walked into The Bluebird Theatre, the crowd was small and lifeless. The opener was set to start an hour before, but the gypsy caravan known as The Polyphonic Spree was running late. It was a Tuesday night, and I wasn't looking forward to being out an hour later than expected, but that all changed as the night progressed. People of all types celebrated the psychedelic sunshine sounds of a band that hasn't toured North America in four years, and the show wound up being the best I have seen all year.
The energy and passion that The Polyphonic Spree threw out was overwhelming and the crowd threw it right back. I actually felt like I was on some kind of hallucinogen, which I am sure I was not, but the lights that shone from the stage into the audience seemed to distort the objects and people on stage. By the end of the band's two hour set, I would have gladly donned a robe and gotten on the bus with them. They may not be a "religious" band, and they haven't been raided by the ATF so I am sure they aren't some kind of LSD fueled cult, but they definitely tap into a spiritual side of life. Praises to love, life, and the sun were sung with a Pentecostal revivalist snake charming fervor as my brain questioned its own existence, and I wondered if someone slipped something in my drink. I figured if I woke up on a day-glo bus with a white robe on and 12 (or 13) musicians standing over me with fire in their eyes, well, that was just the next trip I was meant to take. Even though The Polyphonic Spree did not drug and abduct me (sigh), I was captivated by their performance.
Opener: New Fumes. Daniel Huffman, the sole force behind New Fumes, put on a set filled with sensory overload and deep bass bombs. It was 9pm on a Tuesday night, but it felt more like a late night/sunrise set you would see in a packed warehouse. Hidden behind an animal mask and a table of electronics, New Fumes strategically controlled his creations in front of their accompanying psychedelic video montages, and shredded his guitar as well. It was a sight to behold, and quite overwhelming. The sparse vocals were indistinguishable and layered with effects, and he at times disappeared to the floor, tweaking knobs and pedals. This was no normal opening set, but an onslaught of creativity and sound. If the show had started on time, I would have totally missed New Fumes, and he totally shifted my frame of mind. The opening set was like buying a ticket on the "Mind Deconstruction Express," and The Polyphonic Spree helped put it all back together.
The Polyphonic Spree: I first saw The Polyphonic Spree on a Bonnaroo 2003 DVD they performed "It's The Sun." While they were just bursting on to the scene back then, when the 12 (or 13, the lights were really messing with me) members of The Polyphonic Spree dramatically took the stage at The Bluebird, it felt like something big was about to happen. Voices, sounds, and lights erupted upon an audience that had been waiting years to see this band again.
Opening up with "I'm Calling," front-man Tim DeLaughter immediately picked the crowd up with his charismatic lyrics. As four female singers bounced and bobbled their heads, DeLaughter coiled the microphone cable around his arm, confetti cannons erupted, and the lights brightened to reveal nothing but wide eyes and smiling faces. Boom! Every Tuesday should be like this!
"Two Thousand Places" continued with the same energy, before slowing down to allow the crowd to sing along. This band may have not filled a North American stage in a few years, but their fans have obviously been waiting for them.
DeLaughter is the obvious ring leader of this wandering band of tripped out minstrels, and he has infected his band mates with his charisma. Horns blared, a cello was held overhead, and the stage was in constant motion. The uniqueness of this band and the flowing theme throughout their work makes it hard to imagine what songs a band like this would ever cover. Their three full length albums are presented in 30 sections, and the songs can be arranged in any order and still tell the same story since most of the songs talk about feelings and concepts like hope, faith, love, and the sun. So, when the first few notes of The Who's "See Me Feel Me" were played, I was quite surprised. Flowing right into "Pinball Wizard," the crowd went insane, and so did the stage! They killed it, and the crowd shouted the chorus with fists pumping and hair flying. Without a breath they went right into "Soldier Girl," and I was all in.
The entire night just seemed to happen, and before I knew it, they were closing with "Light & Day/Reach For The Sun." The imagery and emotion this band creates with its communal theme of nature, spirituality, and living life filled with smiles and sunshine, is truly captivating. The use of strings, horns, keys, drums, and synth sounds combined with the psychedelic choral vocals and a mind expanding light show that gave a "vintage" feel to the night, the show seemed timeless and otherworldly. Cult or commune, band or band of Gypsies, The Polyphonic Spree is an enigmatic group of musicians standing behind a charismatic and wild eyed leader. I hope they come back for me…
Energy: A+
Sound: A
Musicianship: A-
Stage Presence: A+
Set/Light Show: A
Overall: A
Brian Turk grew up in the shadow of the Catskill Mountains, near Woodstock, NY. He comes from a family of music lovers, audiopliles, Dead Heads and avid concert goers.The musical magic that can only be created in the Catsklills, both past and present, is what Brian cosiders the epicenter of his music addiction. The music of The Band, and most recently The Levon Helm Band, is the soundtrack of home for him. Brian's mother took him to his first concert at 5years old...it was Johnny Cash and Roseanne Cash at Jones Beach Amphitheatre. For Brian, music is a family affair. He feels the same way about live music...we all convene to celebrate together. Brian's writing life started when he wrote his favorite author, southern fiction writer Clyde Edgerton, a fan letter at age 13. When most kids were idolizing baseball players and television, he was worshipping writers and musicians. The two became friends and Clyde shared his craft with Brian. The next year Brian attended Duke University's Young Writers Camp. This is the extent, of what Brian considers, his "formal" training in writing. From then on his goal was to capture snapshots of life through words. Brian has been involved with live music in various facets over the years, and combined with his enthusiasm and love for Denver's music scene, he creates a vivid description of what he sees and hears. If you see him out at a show, dancing with a notebook in hand, say hello.