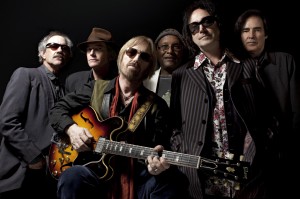 Photo by Sam Jones
Why You Should Go: Rock 'n' Roll Hall Of Fame inductees Tom Petty and the Heartbreakers released their debut album in 1976. They have since sold more than 60 million records. Between the Heartbreakers' recordings and his solo work, Tom Petty has won two Grammy awards and been honored with lifetime achievement awards including induction the Rock n Roll Hall of Fame, Billboard's Century Award, and MTV's Video Vanguard Award. Tom Petty, with the Heartbreakers at his side, has become a rock and roll icon lauded by fellow musicians and music lovers worldwide.
When they stop at the 1stBank Center for two nights this week, they are sure to drop the classics, but they are also sure to drop a bunch of songs from their stellar recent release, MOJO.  There have been side projects and experiments since the band last went into the studio to cut a new Tom Petty and the Heartbreakers album. With MOJO, they have gone off the reservation and all signs indicate they aren't coming back. This is the sound of a band playing together in a room – not a studio – facing each other, all singing and playing at the same time.  The music is alive, with no overdubs or studio trickery. What you hear is what they created on the spot at that time. Tom Petty says, "With this album, I want to show other people what I hear with the band. MOJO is where the band lives when it's playing for itself."
Venue:
1st Bank Center, 11450 Broomfield Lane, Broomfield, CO 80021 – (303)410-8497
Doors:
6:30 PM
*Price:
$49.50 – $99.50
PURCHASE WEDNESDAY TICKETS
THURSDAY IS SOLD-OUT
*All times and prices are gathered from other sources and we are not responsible for mistakes or inconsistencies. They are intended only as guidelines. Please, always call the venue if you desire the most accurate information possible.