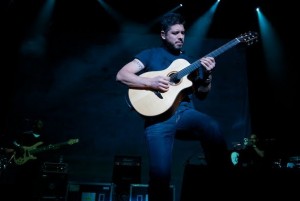 Photos by Ty Hyten
The Scene: There were no lines leading into the 1stBank Center last Tuesday night when international guitar virtuoso's Rodrigo Y Gabriela came to town. Inside the drink lines were short and people slowly filtered into the venue at a constant rate. Families with small children, couples enjoying a relaxing Tuesday night, and music lovers of all ages made up the audience. The floor seats were nearly filled by 8 o clock when U.K. artist Bobby Long made his way to the front of the stage.
Opener: Bobby Long. I had never heard of this man before, and honestly didn't even know there was to be an opening act for the show. His short set consisted of songs about ex-girlfriends he hates, ex girlfriends who hate him, life, and death. Between songs he took the time to mention how the altitude makes one beer feel like 6. His set was only 30 minutes and each song touched on some of my most and least favorite things and vices. It was a nice and easy way to start off the night. By the time he finished up around 8:30 most of the venue was full as we all awaited Rodrigo Y Gabriela.
Rodrigo Y Gabriela: For a while now I have thought of set break music as an art in and of itself. I always find what bands choose to play before they come to the stage interesting. Tuesday night it was a compilation of heavy metal and in your face hip-hop from Cypress Hill.  While this may not seem a logical choice before a classical guitar concert, it lent itself perfectly to C.U.B.A.'s version of Tool's "The Pot," which warmed up both the band and the crowd before international guitar virtuosos Rodrigo Y Gabriela made their entrance.
For this tour the duo has done something different by bringing the full band, C.U.B.A., along with them. After recording their most recent album, Area 52, with C.U.B.A. as a backing band, they decided that it went so well that they had no choice but to bring them on tour. The entire ensemble performed together for three songs as they slowly built the energy in the room. After a short break during which Rodrigo thanked everyone and spoke of how much he loves Colorado because it was one of the first places to fully embrace their sound when they came to America, the band then departed and left only the duo on stage together.
The two perfectly compliment each other's playing in wondrous ways. Gabriela uses her guitar almost as a percussion instrument while strumming in a way not often seen. Rodrigo intricately picks the strings almost as if he was a doctor delicately performing surgery. Cameras strategically placed around the stage captured close-ups that were projected on the massive screen in the rear so every member of the audience could see everything the musical magicians were doing. They had a way of bringing the crowd to their feet with energetic riffs then depositing them back to in seats with jaw dropping precision.
Both Rodrigo and Gabriela took turns stopping time and soloing alone on stage. They walked from one end to the other making sure to incorporate every member of the audience into the performance. They ended this segment of the show with a wild version of "Buster Voodoo," which they dedicated to the guitar god himself, Jimi Hendrix.
At this point C.U.B.A. returned to the stage and each member was introduced and given the opportunity to wow the crowd. Wow them, they did. As they played, I could imagine the pressure they were under to keep up with such masters as Rodrigo Y Gabriela. While I sure wouldn't want that responsibility, C.U.B.A. was a perfect choice for the project. Their sound brought the crowd to their feet on multiple occasions and added a real "south of the border" flair to the night.
From Rodrigo's epic rock star poses with an acoustic guitar on the amplifiers, to Gabriela's bouncing around stage with boundless energy, they displayed complete confidence in their abilities to transcend classical guitar playing and enter the realm of being world class rock stars.
Earlier in the night, before they blew my mind, I had the privilege of meeting a little fellow sitting directly in front of me. As fate would have it he shared the same name as me and I couldn't help but be a little jealous that his parents were cool enough to bring him out this late on a school night to see something I had only just discovered no more than a year ago. Throughout their performance (before he found slumber in his mother's arms) I couldn't help but notice him drumming in rhythm on the seat back in front of him. When he wasn't drumming, it was amazing to see his tiny hands attempt to strum along in what I can only describe as a world class display of air guitar.
By the time it was all said and done they had taken us on a journey through so many sounds and countries. There were times when everyone in the place was on their feet dancing along, then there were times when each person in the venue was perched at the edge of their seat in complete amazement. I can only explain what they do on their guitars as some strange form of mystical science. They are wizards in the way that they can manipulate the sounds coming from those 6 stringed pieces of wood and consequently the emotions of each person listening. As the show was coming to an end I was brought back to something Rodrigo had said at the beginning of the performance. He explained why they decided to take this type of show on tour after completing the album. So, excuse my language, little Levi who was sitting in front of me; but as Rodrigo said at the start of the night: "It was just fucking cool."
Energy: A+
Sound: A+
Musicianship: A+
Stage Presence: A+
Set/Light Show: A
Overall: A+
I rode my skateboard from school in 7th grade to my buddy Vince's house where he put on the song "Perfect Government" by NOFX and I was hooked. The next day I bought the album Duh by Lagwagon. The next year I saw Against Me! at the Starlight Theater in Fort Collins, my mom dropped me off. I've since devoted every waking hour to anything done with passion. My speakerbox bumps everything from Lil' Wayne to Pablo Casals. I was never very good at making music, but I am damn good at listening to it. I've been filling up yellow notepads with random thoughts and misspelled words for as long as I can remember. I enjoy whiskey of all sorts, Newport cigarettes and the company of my family. I've got an addiction to run-on sentences that I'll probably never cure. A solid handshake with a stranger who has become a friend over a few beers means the world to me. You'll often find me wide eyed and wandering with an ear to ear grin. I live for funky break beats and spreading the love.