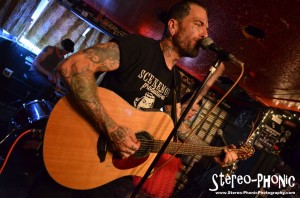 Photos by Johne Edge
The Scene: As I made my way East on Colfax to my final destination for the evening, I was pulled into The Satire Lounge by the fifty year old neon promise of mixed drinks and a good time.  A half hour later, with my glass emptied and Pete's promise kept, I decided to make my way further down the block to catch some music and a cheap buzz. I stopped into the Lion's Lair, a daily drinking spot for some, and live music venue Thursday through Sunday night.  The dark and, some might say, seedy bar's walls are covered with fliers and stickers from all the punk, rock, and garage bands that had come before.  Since 1991, local up and comers have shared the stage with national touring acts like Reverend Horton Heat, Graham Parker, and Mojo Nixon.  The former Jazz club has easily become one of Denver's best dive bars.  At ease in my own element, I made my way to the corner of the horseshoe bar and ordered a beer as I waited for the evenings bands to take the stage.
The Opener: Champagne Charlie.  Denver's own Champagne Charlie took to the stage and played the amalgamation of Jazz, Blues, Waltz, and Americana that makes up their dirty cabaret sound.  Ryan "Peepers" King, is sporting a full beard now, and as he stared into the spotlight singing he looked like a black velvet painting of Jesus Cristo (a painting that I am sure would find a welcome space on the walls of the Lion's Lair).  Ryan, who had lost his voice earlier in the week, apologized to the crowd before the start of the set, but managed to power through songs about love, loss, and life with the help of a few shots of Whiskey.  Squids Madden, with horn in hand, musically led the rest of the boys through fan favorites like "Let It Burn," "Devil Bone," and "Dough Boy."    Denver, if you have not caught these guys yet, what are you waiting for?  The full and entertaining sound that this six piece band of multi-instrumentalists produces is not to be missed.
Jason and The Punknecks: Next up to take the slightly elevated stage at the front of the bar was the self proclaimed "Hillbilly Band of Sexy Punky Tonkers" known as Jason and The Punknecks.  The band has made a name for themselves with their DIY ethic and nearly seven years of non-stop touring.  The L.A. via Nashville couple of Jason and Polly Punkneck have a sound that is reminiscent of early X.  That said, their punk country sound  is rawer and more dangerous than the songs of John Doe and Exene Cervenka.
Jason Punkneck's high energy and intense delivery is perfectly offset by Polly's fun and flirtatious style.  Illuminated by the light pollution from the beer neons in the venues front window, Nick Parisi on drums kept rhythm and lent his voice as the trio lit through their set of songs about drinking, drugging, and Jesus.  Their high energy show definitely reminded me what Rock and Roll music is supposed to be about.  If you missed this show don't fret, because with their constant touring from East to West Jason and The Punknecks are already scheduled to play another show at the Lion's Lair on July 27th.  Until then keep visiting the Lion's Lair for live music, and don't forget  if you are drinking with Lincoln, the Lion's Lair has a Budweiser and a well shot for $3.50 everyday until 8pm.
Energy: A+
Sound: B
Musicianship: A-
Stage Presence: A
Set/Light show: N/A
Overall: A-
Wherever the music is, you'll find me with my camera, shooting on street corners, from barstools at clubs, from the side of the stage at theaters, and from photo pits in places like Red Rocks. Clicking away, trying to capture the emotive essence of music, and all those moments that we forget because of one too many Pabst Blue Ribbons.