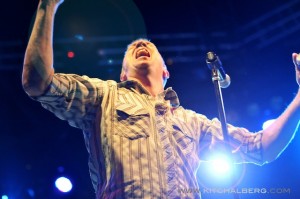 Photos by Kit Chalberg
The Scene: The Fillmore Auditorium was filled with soul on Friday night and a crowd made up of everyone under the sun got to hear it from two very different sources. First, 67 year old roots/ska reggae legend Toots Hibbert gave it to us from a Jamaican standpoint, and then JJ Grey and Mofro brought their own version from the Deep South. I don't know which singer had a thicker accent when they spoke, and their vernacular added to the authenticity of the night, you knew this shit was coming straight from the source.
Toots and The Maytalls: I have seen Toots and The Maytals a couple of times before, and have always been a huge fan of this reggae legend. The show started at 6:30 pm with opener Eric Krasno and Friends, and the place was still nowhere near half full when Toots took the stage. Sounding a little rough, he opened up with his classic "Pressure Drop." Every Toots tune is a classic, and nearly his entire set was material recorded before 1971.
Not as energetic or in tune as when I last saw him, Toots showed his age during this set, but who cares! When you come to see legendary artists in their late sixties or older, you come to support someone who's music has impacted you for decades, and others for decades before that. The fact that Toots is still bringing his stuff to the stage is a gift to his fans. We all sang along to songs like "Bam Bam," "54-46," "Monkey Man," and Toots' version of John Denver's "Country Roads." Toots moved around the stage, sometimes with a guitar strapped to him, and gave us a set of his greatest hits. The audience was filled with love and respect for this man, and so was JJ Grey, who joined him on harmonica for a song.
JJ Grey and Mofro: Going from Toots and the Maytalls to JJ Grey and Mofro was a complete 360. By now the place The Fillmore had filled in, and the energy in the venue in was electric. Opening up with "Georgia Warhorse," JJ Grey and Mofro brought the night up a notch and really let the soul fly. Hailing from Jacksonville, which is just 25 miles or so south of the Georgia border, the band's sound really captures where they are from. Blues, Soul, Funk and Gospel are blended to form a smooth and sweaty Southern sound.
JJ Grey has a voice that is gritty and smooth at the same time, and when he put down his guitar for "A Woman," he made everyone weak in the knees. "Country Ghetto" is probably the best way to explain this bands sound, and the thick bass line and harmonica told it like it is. "Lochloosa" was the crowd favorite, and it was well placed about halfway through the set.
As the night went on, the vibe just got sweatier and sexier, and music got better and better. The highlight of the night for me was a funky taste of "Ho Cakes," that featured blaring horns and thumping bass as the band simply killed it! After wrapping the set up with "Orange Blossoms," the band returned for an encore of "Brighter Days," that closed out a very soulful night on Colfax.
Energy: B+
Sound: B
Musicianship: A-
Stage Presence: B+
Set/Light Show: B
Overall: B+
Brian Turk grew up in the shadow of the Catskill Mountains, near Woodstock, NY. He comes from a family of music lovers, audiopliles, Dead Heads and avid concert goers.The musical magic that can only be created in the Catsklills, both past and present, is what Brian cosiders the epicenter of his music addiction. The music of The Band, and most recently The Levon Helm Band, is the soundtrack of home for him. Brian's mother took him to his first concert at 5years old...it was Johnny Cash and Roseanne Cash at Jones Beach Amphitheatre. For Brian, music is a family affair. He feels the same way about live music...we all convene to celebrate together. Brian's writing life started when he wrote his favorite author, southern fiction writer Clyde Edgerton, a fan letter at age 13. When most kids were idolizing baseball players and television, he was worshipping writers and musicians. The two became friends and Clyde shared his craft with Brian. The next year Brian attended Duke University's Young Writers Camp. This is the extent, of what Brian considers, his "formal" training in writing. From then on his goal was to capture snapshots of life through words. Brian has been involved with live music in various facets over the years, and combined with his enthusiasm and love for Denver's music scene, he creates a vivid description of what he sees and hears. If you see him out at a show, dancing with a notebook in hand, say hello.