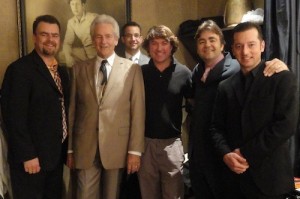 The Scene: The Ogden Theatre was home to a Bluegrass bonanza on Saturday night, and everyone was getting down! The combination of the Travelin' McCourys and Keller Williams brought out lovers of all types of Bluegrass, and the musicians brought out the best in each other. I love Bluegrass, especially traditional, so the Travelin' McCourys were who I came to see, and my initial thought was that Keller was just an interesting addition. While I had never seen Keller live, and I never really got into the silliness of his lyrics, this show was a perfect introduction to KDub, since his songs were only a portion of the night and he was on-stage with musicians more my speed. String Cheese Incident fans, Bluegrass traditionalists, dready hill people, good ol' boys, and Festivarians all danced the night away as a stage full of well-loved musicians whipped together a perfect set list for a fun loving Colorado crowd.
Travelin McCourys and Keller Williams: Over the past year, I have experienced Bluegrass of all types. (Here is a partial list: Punch Brothers, Whiskey Tango, Greensky Bluegrass, David Grisman Bluegrass Experience, Crooked Still and Dead Winter Carpenters.) All of those nights provided a different Bluegrass flavor, and while they are all part of Colorado's musical gumbo, Saturday night provided something for everyone's taste.
The night started off with a nod to Earl Scruggs, and homage was paid with a hot "Foggy Mountain Breakdown," that let the crowd know that all the men on stage were connected to the roots of Bluegrass. Two of those men, Ronnie McCoury (Mandolin) and Rob McCoury (Banjo), are sons of Bluegrass legend Del McCoury, whose roots certainly run deep. Joined by Jason Carter on fiddle and Alan Bartram on bass, the stage was set for a night of screaming strings and smiles.
The traditional theme continued with Ola Belle Reed's "High on a Mountain" before the crew got into Keller's "Kidney In A Cooler." Del McCoury just couldn't stay away from his travelin sons, and he and Keller switched places for Del's song "Beauty of My Dreams," which Phish has covered and played live with Del.
Now, as much as Colorado loves it's Bluegrass, choice Grateful Dead or Dead related covers are the way to our hearts. We got a few on Saturday, and the first was Old and In the Way's "Hobo Song." What other Deadhead faves did we get early in the night? How about a rockin' "Women Are Smarter" and Del just killing "Cold Rain and Snow!" Keller bounced around in his bare feet as the whole crew tore through "Rollin' In My Sweet Baby's Arms."
There was a short set break at some point (by now I was in full on fun mode) and Keller got his time in with a killer cover of "Pumped Up Kicks" and his own "Freaker By The Speaker." I wasn't kidding when I said this night had something for everyone! The mind blower for me was the closing "Franklin's Tower."
These guys filled the whole night with tight playing and a good mix of tunes, and there wasn't a single person in the audience or on stage who wasn't totally digging what was going on. How could you not? This lineup is simply a formula for fun! Traditional while still progressive, silly while still tight, these musicians meshed together much more than I expected and I think it was just the right amount of Keller for my first time.
Energy: B+
Sound: A
Musicianship: A+
Stage Presence: A-
Set/Light Show: C
Overall: A-

Brian Turk grew up in the shadow of the Catskill Mountains, near Woodstock, NY. He comes from a family of music lovers, audiopliles, Dead Heads and avid concert goers.The musical magic that can only be created in the Catsklills, both past and present, is what Brian cosiders the epicenter of his music addiction. The music of The Band, and most recently The Levon Helm Band, is the soundtrack of home for him. Brian's mother took him to his first concert at 5years old...it was Johnny Cash and Roseanne Cash at Jones Beach Amphitheatre. For Brian, music is a family affair. He feels the same way about live music...we all convene to celebrate together. Brian's writing life started when he wrote his favorite author, southern fiction writer Clyde Edgerton, a fan letter at age 13. When most kids were idolizing baseball players and television, he was worshipping writers and musicians. The two became friends and Clyde shared his craft with Brian. The next year Brian attended Duke University's Young Writers Camp. This is the extent, of what Brian considers, his "formal" training in writing. From then on his goal was to capture snapshots of life through words. Brian has been involved with live music in various facets over the years, and combined with his enthusiasm and love for Denver's music scene, he creates a vivid description of what he sees and hears. If you see him out at a show, dancing with a notebook in hand, say hello.