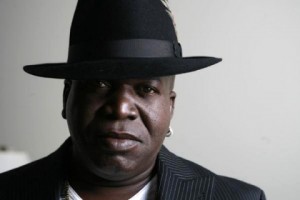 Dancehall reggae began to take shape in the late seventies, and Barrington Levy has been in the scene since the beginning. When he was just 14 years old he began performing and recording this more stripped down version of reggae, and he literally grew up in the Dancehalls of Jamaica. Listen Up Denver! had the honor of speaking with Barrington Levy, and he gave us his thoughts on where dancehall has come from, and where it is headed.
Listen Up Denver!: You started off in Reggae when you were fourteen years old. What was it like growing up in the dancehall and sound system scene?
Barrington Levy: It was very exciting. It was something I had a lot of passion for; a lot of love for it.
LUD!: Was it a rough scene?
BL: No, it wasn't a rough scene. Now it's rough. The scene has gone to the dogs.
LUD!: What's different about it now?
BL: The lyrical content of it. The lyrical content of it sucks. They say anything on a record now, and don't even care about what they talking about, and what they put on a record. Now I think it's the roughest. It's reached a pinnacle at the top. In my time it was fun, it was laughter. Everyone was enjoying it. Put it this way, the dancehall scene was from the 80's to the 90's. That's it. It's done.
LUD!: That's when I first got exposed to dancehall music, in the early 90's. I would hear dancehall and hip-hop blended on DJ Mix tapes. Do you think the merging of dancehall and hip-hop hurt dancehall?
BL: I don't think that hip-hop did anything to dancehall. What you have to understand is that hip-hop was already made up of the reggae music, so it was still going to be a part of it no matter what. I am just pissed-off with where the younger ones are taking it now. The beat was supposed to change. Yes, I know the beats was gonna change, but the lyrical content wasn't supposed to change.
LUD!: Do the younger ones just not have the right intentions?
BL: Alot of dem is not in it for the love of it anymore. When I come into it, I didn't even know that there was money to make. I was just doing it for the love of it. Now a day they just do it for the money and the big cars. I think hip-hop has a lot to do with that. These young artists watch BET and MTV, and see these rappers and certain people talk about wealth, and not talking about humanity. You have to understand that those who put their trust in vanity have no love for humanity, and dem fade away.
LUD!: So speaking of that, you have been doing this for over thirty years now, and have never faded away. What do you attribute your longevity to?
BL: I would say it was because I come in the business for the love of it, ya know?  My records have my real name. In Jamaica you will have Beanie Man or Bounty Killer. My name is Barrington Levy. That's what's on my passport, so I'm real. I come in a time when people was makin' real music. Live musicians was playing tings. There's so many producers in the business right now. Everyone is a producer. Everyone have a beat. Then they just find any artist to sing on it. The beauty of the music is not there anymore. The liveness of the music is no longer existing. Anyone can just go grab a sample now.
LUD!: Since you were there when dancehall started, can you define dancehall for me. Maybe explain the differences between original dancehall and dub?
BL: To me, dancehall really have the dub in it. When you listen to my song, you hear that thumping bass line, the rub a dub style. The dancehall today, it's not like that anymore. A  man just take a "Boof, Boof…Boof, Boof…Boof Boof", and then they put a little ting in it.
LUD!: So if someone wanted to learn about real dancehall, and real dub, besides you, who should people be listening to? Also, who influenced you?
BL: Well, as an artist growing up, I get influences from the Jackson Five, from outside of Jamaica. But my favorite artists would be Dennis Brown, Gregory Issacs, John Holt and Skatalites. But my favorite, favorite artist is Dennis Brown.
LUD!: What about King Tubby?
BL: Yes, definitely! My first album was made at King Tubby studio.
LUD!: So, since you are playing a show here in Denver on 4/20, what are your feelings about celebrating herb on that day?
BL: Remember, I am the original man to sing "Under Me Sensi!" It's a good thing. I think they should definitely legalize the thing. Although a lot of people don't want them to legalize it. They say if they legalize it, a lot of people won't survive off of it, won't make a living anymore, because it's gonna be planned by the government, and they gonna get pushed out.
LUD!: Do you think Marijuana is a medicine?
BL: I don't think…IT IS.
LUD!: Some people say that if you look for the right things from the plant, you will get the right things from the plant.
BL: Definitely. I have seen with my own two eyes that marijuana cure people. There was this white youth from England, his name was Dominick. He come from England with dangerous asthma. From the time he come here and start to smoke weed, that guy do not have the asthma problem again. I mean the guy used to walk around with four or five pumps, for when he got his asthma attack. The guy start to smoke weed, and now he don't have that problem anymore. It is definitely a medicine.
LUD!: You are working on a new album, correct?
BL: Um hum.
LUD!: And it's called It's About Time?
BL: Yes.
LUD!: What should we expect from this album?
BL: What you should expect? It's an uplifting album. I have tracks on the album that will uplift everyone. Teaching. It's all about teaching the positive side of life on this album. I try to keep it like that at all times.
LUD!: Are other people going to be featured on the album at all?
BL: I was doing some hip-hop thing with Snoop Dogg and Jadakiss and Busta Rymes, all of dem. This time I think I am going to do a straight Barrington Levy album. My fans have been expecting an album from me for the longest. I don't put out an album for seventeen years now.
LUD!: So this album is just you then?
BL: That's what I want to do. Then I am going to put that Hip-Hop blend out after I put out this album.
LUD!: Got it. I have read that this is going to be your last album. Is that true?
BL: That's what I was thinking, but people keep saying to me I must not say that, because I am well and alive , and I need to keep this thing going, and I talk like I don't believe in what I was doing. People are saying "you're not 70 years old" and they love my music.
LUD!: So is that why you wanted to make it your last album? Are you just not happy?
BL: I just don't like where the music has gone to. Disc jockeys asking you for money to get air play. Disc jockeys becoming producers and if you don't sing for them then you don't get played. Politics in the business now. It sucks. Then record companies pack up. It is very discouraging, ya know.
LUD!: I hope it's not your last record Mr. Levy. Maybe once you see the fans reaction to another straight Barrington Levy album, you will see that we need you to bring that positive vibe back. If we are not going to get it from you, who are we going to get it from?
BL: Um hum. Thats true.
LUD!: Well, I know you have to run, so thanks for taking the time to speak with us Mr. Levy
BL: Yeah man, definitely. Big up Colorado!
Barrington Levy will be headlining Incredibowl's 4/20 Extravaganja at City Hall in Denver today!

Brian Turk grew up in the shadow of the Catskill Mountains, near Woodstock, NY. He comes from a family of music lovers, audiopliles, Dead Heads and avid concert goers.The musical magic that can only be created in the Catsklills, both past and present, is what Brian cosiders the epicenter of his music addiction. The music of The Band, and most recently The Levon Helm Band, is the soundtrack of home for him. Brian's mother took him to his first concert at 5years old...it was Johnny Cash and Roseanne Cash at Jones Beach Amphitheatre. For Brian, music is a family affair. He feels the same way about live music...we all convene to celebrate together. Brian's writing life started when he wrote his favorite author, southern fiction writer Clyde Edgerton, a fan letter at age 13. When most kids were idolizing baseball players and television, he was worshipping writers and musicians. The two became friends and Clyde shared his craft with Brian. The next year Brian attended Duke University's Young Writers Camp. This is the extent, of what Brian considers, his "formal" training in writing. From then on his goal was to capture snapshots of life through words. Brian has been involved with live music in various facets over the years, and combined with his enthusiasm and love for Denver's music scene, he creates a vivid description of what he sees and hears. If you see him out at a show, dancing with a notebook in hand, say hello.