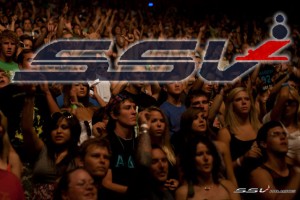 Silver Surfer Vaporizers have been well known in certain circles for almost ten years, and now the live music scene here in Colorado and nationwide is getting to know the name as well. These two circles, live music, and people who know what in the hell a Silver Surfer Vaporizer actually is, most definitely overlap and for some the circles don't exist independently.  Listen Up Denver! had the chance to catch up with Matt Epp, Director of SSV's Artist Relations Department, and he told us how SSV began getting involved with live music.
"It started out with the bands taking our product out on the road, and telling whoever they thought was appropriate about SSV. We started with giving them free stuff, and then started using our web site to help market the bands, and to expose people to music they might not have heard before. It's all just expanded from that. We wound up creating a whole other site, SSV Music, which has been up for three or four months now. On the site we have almost 300 official SSV bands, but close to a thousand bands are out there with our stuff, but don't feel comfortable saying they use the product. Living here in Colorado, I forget that the rest of the world is a little different. "
The new SSV Music site is where SSV will also be releasing the videos from another new creation; The Vape Lab. Built in the original SSV warehouse, The Vape Lab houses an arsenal of top of the line audio and video recording equipment. According to Epp, "the Vape Lab is something we are doing to help bands put something cool together for fans of both the band and SSV to check out. And for smaller bands, they get a great video that they may or may not have been able to get elsewhere."
SSV not only supports artists by offering exposure on their site, and access to The Vape Lab, but they also give bands various levels of tour support. The relationship is reciprocal, and all parties seem to be extremely happy with what is going on. Epp knows that SSV is a successful company, and he knows working with artists is a big part of that. "We're doing fine, and we're going to be fine because of them. We want to do as much as possible to help them in return, and always bring in new artists and keep it fresh."
Epp and the rest of the crew at SSV are all into music, and that is a huge factor in the music side of their company. These guys are behind the music, and they keep the needs of the artists they work with in the forefront. Epp gave us a great example of how connected they like to be with SSV artists: "This summer I am going on the warped tour for two weeks.  I'll be riding with 12 different bands that SSV Music works with to build our relationship with these bands and to see what they need, and I will be telling music and SSV fans about the experience."
It is rare that a company without a direct connection to the music being made puts this much effort into supporting musicians and the music scene in general. Companies that make guitars, drum sticks, or other gear used on stage are known for these types of relationships, but this company provides gear that is more meant for green rooms, tour busses, living rooms, or anywhere else there is a plug and a need to "Ride the Wave." Artists appreciate that SSV is paying attention to their off-stage life as well as their more "professional" needs, and fans go nuts over an SSV with their favorite bands logo on it. Watch out, because this wave will hit you like a tsunami!

Brian Turk grew up in the shadow of the Catskill Mountains, near Woodstock, NY. He comes from a family of music lovers, audiopliles, Dead Heads and avid concert goers.The musical magic that can only be created in the Catsklills, both past and present, is what Brian cosiders the epicenter of his music addiction. The music of The Band, and most recently The Levon Helm Band, is the soundtrack of home for him. Brian's mother took him to his first concert at 5years old...it was Johnny Cash and Roseanne Cash at Jones Beach Amphitheatre. For Brian, music is a family affair. He feels the same way about live music...we all convene to celebrate together. Brian's writing life started when he wrote his favorite author, southern fiction writer Clyde Edgerton, a fan letter at age 13. When most kids were idolizing baseball players and television, he was worshipping writers and musicians. The two became friends and Clyde shared his craft with Brian. The next year Brian attended Duke University's Young Writers Camp. This is the extent, of what Brian considers, his "formal" training in writing. From then on his goal was to capture snapshots of life through words. Brian has been involved with live music in various facets over the years, and combined with his enthusiasm and love for Denver's music scene, he creates a vivid description of what he sees and hears. If you see him out at a show, dancing with a notebook in hand, say hello.